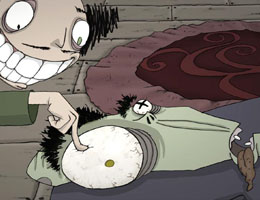 Annette Jung adapts Edgar Allan Poe's story The Tell-Tale Heart, and invites us into a world of psychological horror.
Ed hates the disgusting eye of his father and so he made up his mind to take the life of the old man to rid himself of the eye forever. Based upon the novel The Tell-Tale Heart by Edgar Allan Poe.
Expressionistic style and a grotesque spirit are readily available in this captivating short, which follows its character from intention to execution to punishment.
Annette Jung studied animation at the University of Film & Television (HFF) Potsdam. The Tell-Tale Heart was her graduation thesis. She is now working as a  freelance 2D-animator, comic-artist & film-maker at Talking Animals. The Tell-Tale Heart is distributed by magnetfilm.de  
CREDITS
Co-Directed, Animation, Backgrounds: Gregor Dashuber
Music: Max Knoth
Sound: Daniel Griese, Michał Krajczok
Narrated by Andreas Fröhlich