Festivals
Animation Festivals' October: 6 Events, 6 Cities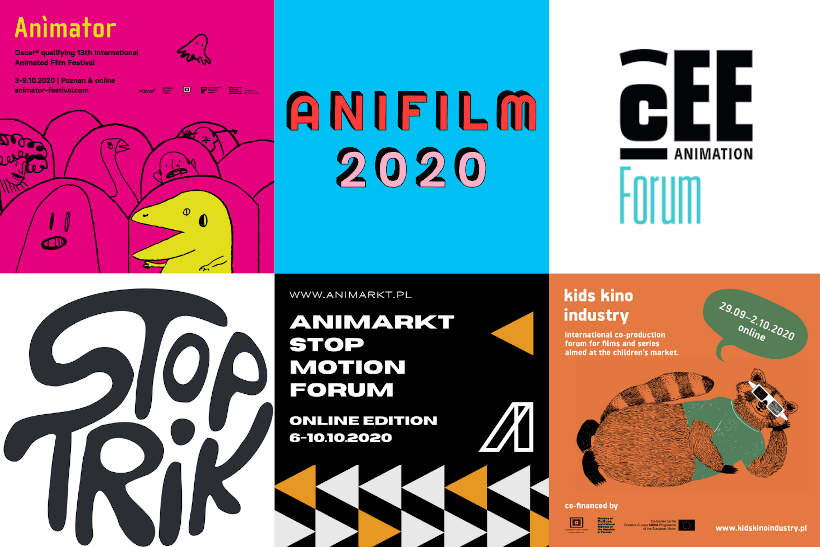 Due to pandemic restrictions that enforced postponing cultural events we are coming up with Animation October! Last year we had a chance to meet up locally but as separate events. Since 2020 revealed itself to us with the "wind of change" we decided to team up and promote European animation together this year! 6 cities, 6 inspiring events will take place between 29.09 - 10.10.2020 offering professional workshops, film screenings, pitching sessions, online and offline gatherings.
Plan your October Animation journey well as a producer, creator or as a movie-goer and schedule the highlights of upcoming festivals and forums in Czech Republic, Poland, Slovenia and online.
Not only for kids!

Kids Kino Industry is an international co-production forum that focuses on the children's market. Despite the fact it is originally organized in Warsaw, this year it will be performed fully online, between 29.09 - 02.10.2020. The Kids Kino Industry programme includes the pitching sessions, one-to-one meetings, masterclasses and workshops. Out of 66 submissions the jury selected 27 projects, which are divided into two sections: Projects in Development and Works in Progress. Each year, we host more than 200 international guests and around 70 decision makers (distributors, sales agents, VOD platforms, broadcasters, film institutes). Accreditation costs EUR 20 for a four-day programme. Follow the racoon and join us!
Beyond My World

The largest festival dedicated to animation in Poland is coming back for the 13th time! Animator - International Animated Film Festival will be held on 3-9.10.2020 in Poznan and for the first time – also online. The main theme BEYOND MY WORLD seems to refer to the current global situation and it is reflected in a new form of screenings offering also online activities.

What's to see? Selection of animated films participating in two international competitions for shorts films and features, as well as Polish Animated Film Competition. Participating in Animator online doesn't exclude networking - this year organizers came up with a facebook group for online participants that give a great opportunity for discussions.
Anifilm - Hear Animation

Definitely worth joining for the enormous amount of competitions! 7 international categories and 5 categories focused on national Czech productions – Czech Horizon. This year's theme is music and sound in animation – Hear Animation. Anifilm International Festival of Animated Film is the largest event dedicated to animation in Czech Republic, promoting new trends and technologies. Film projections include children content, pitching sessions for specialists happening online and offline. Winners of Czech Horizon will be available for free during the festival on aniont.com platform. After 18 years in Trebon, Anifilm takes place in Liberec for the first time - October 6 -11.2020. The visual identity of Anifilm 2020 is created by directors duo Michaela Mihalyi and Dávid Štumpf (Sh_t Happens, 2019)

Focus: Stop Motion

ANIMARKT Stop Motion Forum focuses on stop motion animation and offers a unique opportunity for business meetings, creating a platform to share experiences and good practices between stop motion filmmakers, distributors, broadcasters, producers, animation service providers, and industry representatives from all around the world. Pitching session will be performed online on 9.10.2020 participating in competition with awards including: art residency in Cordoba (Argentina) and vouchers of a total amount of PLN 100,000. Artists working for Oscar-winning productions - Kim Keukeleire, Andy Gent, Tobias Fouracre, Malcolm Hadley will teach workshops on animation and puppet building. Programme also provides one of the kind recruitment for the legendary Laika Studio in the USA. Animation industry, B2B market and pitching forum

CEE Animation Forum went online with live screenings at Animarkt Stop Motion Forum and Anifilm International Festival of Animated Films. The main goals of the event are to foster international cooperation in the region and in the EU and increase the visibility of animated projects of different formats in development. Pitching sessions and direct one-on-one meetings between project teams, juries, decision makers and professionals are provided using an online matchmaking platform. Event dates: 6 – 8 October, free online registration!
Two cities, One Film Festival

Last but not least - StopTrik International Film Festival - a unique international celebration of worldwide stop motion animation. This year marks the 10th annual gathering of stop motion professionals and enthusiasts with the highest quality film programme, additional events and professional workshops of stop motion technique and festival journalism. The program sections are: Animation as a weapon retrospective, the International Stop Motion, The Borderlands Competition and Panorama 2020! For organizers of StopTrik, it's important to discuss "what-s", "why-s" and "how-s" of the presented film works, moreover they call for a critical reception of films, authors' self-awareness and intersectional perspective on the problems of film and culture activism. In a period of one month Slovenian city Maribor and Lodz in Poland become alternative capitals of animation, so save the dates for StopTrik Maribor: 8-11.10.2020, and StopTrik Lodz: 6-8.11.2020.
SIGN UP: Want to read more free articles like this? Sign up for Our Newsletter
Read More About: