Production
Baba Yaga by Baobab Studios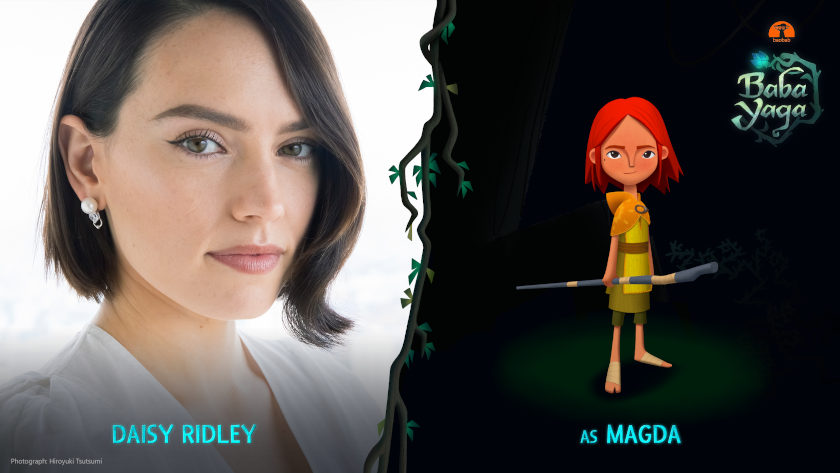 First announced  within the studio's special Work in Progress presentation at the Annecy International Animation Festival's 2020 Online edition, the studio also revealed a first look at Ridley's character, the story and style behind Baba Yaga, as well as insight into their unique approach to interactive filmmaking.
In Baba Yaga, viewers will be invited as a main character into a haunting fairytale world completely reimagined, and their choices will determine the ending of this story of love, fortitude and magic. Sometimes a force for evil, sometimes a force for good, the enigmatic witch Baba Yaga uses her powers to stop the villagers whose settlement encroaches upon her enchanted forest. When the viewer's mother, the village chief, falls deathly ill, it is up to them and their sister Magda to do the unthinkable—enter the forest, uncover its hidden mysteries and get the cure from Baba Yaga. Ultimately, every decision the viewer makes matters…even whether humanity and nature can live in balance.
"Baobab is at the very forefront of VR and interactive animation, so it's been exciting to work with Eric and the team to bring such a beautiful story to life. I love playing Magda, because she is brave, vulnerable and fiercely protective of her family all at the same time. The idea that the viewer will be able to genuinely interact with my character in this magical world and help steer the course of the narrative is so amazing," said Ridley.
"We are so fortunate to have Daisy breathe life into the role of Magda, as her talent and energy for the project fuels us all. She has such a way of always finding the right tone and delivering the most meaningful performance for any scene. Her work is such a huge inspiration to our animators." adds Eric Darnell, Baobab Studios' Co-founder/CCO and director of Baba Yaga.
Said Maureen Fan, CEO and Co-founder of Baobab Studios, "We're so honored to work with a talent like Daisy Ridley who is such a strong role model to women of all ages. She IS Magda - fierce, brave, and independent."  
Directed by Baobab Studios co-founder Eric Darnell and co-directed by Mathias Chelebourg, Baba Yaga is a contemporary portrayal of the Eastern European legend inspired by illustrative 2D pop-up animation, hand-drawn and stop-motion styles, creating a modern visual language for VR inspired by classic animation. Leveraging the studio's award-winning animation pioneers and interactive gaming veterans, Baba Yaga blends theater, cinema, interactivity, AI, and animation into a unique experience that explores themes of empowerment and environmentalism.
Baba Yaga will premiere in multiple formats later this year.
 The Baobab Studios team will also participate in a Live Q&A hosted by the Annecy festival on June 23rd at 9am PST/6pm France time, which will be available to the public. Featured panelists will include several key creatives from the "Baba Yaga" production, including Director and Baobab Studios Co-Founder and CCO, Eric Darnell, Co-director, Mathias Chelebourg, Development Producer Shannon Ryan and Animation Supervisor, Ken Fountain.  
ABOUT BAOBAB STUDIOS
Founded by Maureen Fan, Eric Darnell and Larry Cutler in 2015, six-time Emmy Award winning Baobab Studios is the world's leading independent interactive narrative animation studio. Our mission: Bring out your sense of wonder. Inspire you to dream. Make YOU matter. With a mission to inspire you to dream by bringing out your sense of wonder, Baobab Studios has released five projects to date -- Invasion!, Asteroids!, Jack, Crow: The Legend, and Bonfire -- all to commercial success and critical acclaim. Their work (traditional, VR, and AR) has gone viral landing on YouTube's trending category and is known for starring such diverse talents as John Legend, Oprah, Constance Wu, Diego Luna, Liza Koshy, Tye Sheridan, Elizabeth Banks, Ethan Hawke, Lupita Nyong'o, and Ali Wong.
SIGN UP: Want to read more free articles like this? Sign up for Our Newsletter
Read More About: