Festivals
'My Love Affair With Marriage', 'Sierra' Win at Viborg Animation Festival 2022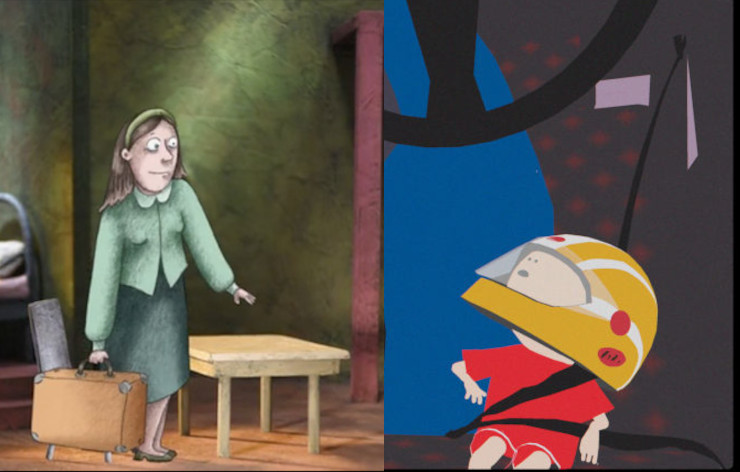 Viborg Animation Festival came to an end on 2 October 2022, crowning in its winners in an otherwise multivaried event, which encompassed film screenings and events, industry and education accompaniments.
The sophomore feature by Signe Baumane 'My Love Affair with Marriage' won in the festival's feature competition, while the Estonian 2D animation short 'Sierra' by Sander Joon was the corresponding winner in the shorts competition. Many diverse films were awarded, from comic horror to fantasy, with mediums ranging from traditional animation to VR and experimental.
The full line-up of winners:
VAF Best Feature
Jury: Lilian Klages (Germany), Damián Perea (Spain), and Irene Sparre (Denmark)

My love Affair with Marriage by Signe Baumane.
Jury Statement: A story of inner female rebellion, love, and gender in form of a musical It is a film about female identity. A topic that is very relevant for women of all ages. The film explains the female body's hormonal activities and challenges with the help of a narrator in form of a neuron in her endocrine system. It puts awareness on how to step out of controlling environments and relationships and how to free yourself of controlling expectations. Creatively, technically and storytelling wise it searches for new boundaries. It combines different animation and storytelling techniques cleverly - intertwining ancient Greek mythology in form of a singing chorus with her personal story . The contrast between the 2d characters and the meticulous backgrounds explores the gaps between identity, love, desire, and social acceptance.
For men, this might be an eye-opener to understand their sisters, mothers, girlfriends, and friends. We feel that this film manages to talk about the healing of a person and at the same time the healing of culture and social expectations. The protagonist realizes that she is part of the problem, she understands that she has to step out of her own prison. We hope to see this film travel the world because it encourages everyone to step up for themselves Therefore the jury has decided to give the first prize to Signe Baumane and her amazing commitment as an artist and storyteller in her film My Love Affair with Marriage.

Special Mention: Even Mice belong in Heaven by Jan Bubenicek and Denisa Grimmova
Jury Statement: A film about friendship and respect, very timeless topics. It convinced the jury through its masterful stop motion technique, poetic art form, heartfelt animation and expressions, and wonderful storytelling.
VAF Best Short
Jury: Claus Toksvig Kjaer (Denmark), Jennifer Zheng (UK), and Phillip Hunt (UK)

WINNER: Sierra, Sander Joon, Estonia, 2022

Jury Statement: We've chosen a film that draws you in from unassuming beginnings, is serially surprising and works in multiple layers. It's funny, unique, fresh and notably, this film would not be the same effect in live action. For celebrating and pushing the medium of animation to its limits we pick Sierra by Sander Joon.
SPECIAL MENTIONS: Black slide, Uri LOTAN, Israel, UK, 2021
for its masterfully crafted depiction of childhood grief. The staging, direction, and acting all worked together to create a film that really touched us.

SPECIAL MENTIONS: Steakhouse, Špela Čadež, Slovenia, 2021
for its grizzly style that served its narrative, capturing a deep atmosphere. The story was surprising, and the ending gave us a real sense of satisfaction as well grossing us out- this is a deftly directed piece of horror that we'd gladly watch again.
VAF Best Experimental
THE WINNER: A goat's spell, Gerhard Funk, 2022, Germany
Jury Statement: This playful and humorous film entertained the jury with its outrageous imaginative use of both form and storytelling. It took us on a wild journey of surprises at every turn and kept us engaged with its charming and original use of world-building.

SPECIAL MENTION: Zolle: Resign, Kristian Pedersen, 2021, Norway
We would like to give special mention to a film which stood out with its experimental use of form. It was hypnotic and deployed clever and original use of typography and design.

VAF Best Graduation
WINNER: Night of the living dread, Ida Melum, UK, 2022 ( )
Jury Statement: This film stands out as being solid in story, sound, and image. It plays well into the classic horror genre but still manages to surprise us with a generous and personal storyline, that invites us into the director's world. It also shows great craftmanship, is well scoped in both time and space and manages to have consistent humour and style, something that can be hard given the size of the team.

SPECIAL MENTION: Eyeshroom, Małgorzata Wowczak, Poland, 2022
A deliciously gross film. It has unpleasant and expressive aesthetics as well as a wonderfully weird story that none of us could quite forget after watching.

ANIMOK Youth Jury
WINNER: The Sausage run by Thomas Stellmach, Germany, 2022

Jury Statement: it is fantastically created with the use of a zoetrope, which none of them knew, but we thought was deeply fascinating and that it made good sense to use the zoetrope in relation to the story in the film. The film is funny and entertaining, but still asks a good questions about good and evil/right and wrong.
OW Danish animation talent
WINNER: Terra Incognita by Pernille Kjær and Adrian Dexter, Denmark, 2021
VAF Best Commissioned work
WINNER: The U.S. Syphilis Experiment, Ouros Animation, TED Ed, 2021

ANIDOX:VR JURY AWARD
WINNER: End of night, David Adler (DK)
SPECIAL MENTION: From the Main Square, Pedro Harres (BR/DE)
Viborg Animation Festival took place from September 26th to October 2nd in Viborg, Denmark.
SIGN UP: Want to read more free articles like this? Sign up for Our Newsletter
Read More About: