Viborg Animation Festival 2022: A Diverse and Animation-Immersive Program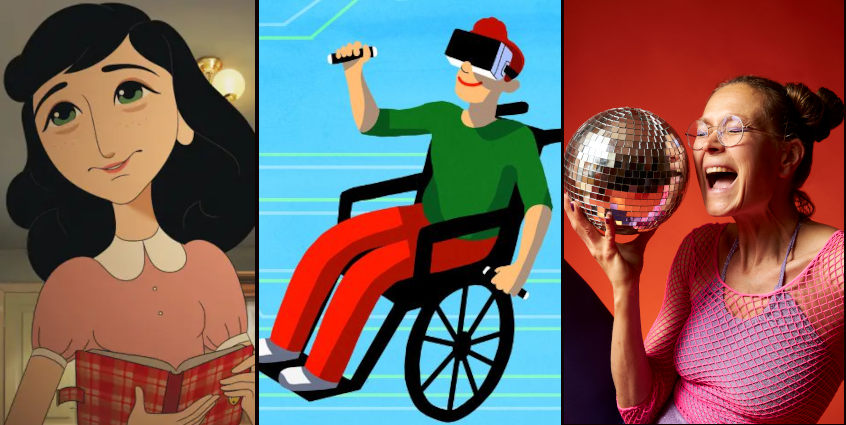 Viborg Animation Festival (now in its 11th edition, 26 September -2 October 2022) is a carefully orchestrated event whose focus on both animated filmmaking, industry, and culture seems to develop year by year.
With a constant attempt to bridge the artistic world of animation with the always evolving technology and forms of media expression (and their manifestation in culture and science), it presents its year a program that is also a testament to the rising Danish and Nordic animation industry and technology.
This year it starts with a bang (26th September), bringing the Danish premiere of 'Where is Anne Frank' by Ari Folman (Waltz with Bashir, The Congress). The film is a fictional account of the character Kitty  Anne Frank portrayed in her now famous diaries. The film moves on from the world of today (where Anne Frank is revered but not understood) to the events of WWII. Ari Folman will be present (via Skype) to address the VAF audience.
7 features overall grace the VAF feature competition, including Signe Baumane's sophomore animation feature (and a musical one) 'My Love Affair with Marriage' and the Rotterdam-premiered 'Archipel' by Félix Dufour-Laperrière Lilian Klages (Germany), Damián Perea (Spain), and Irene Sparre (Denmark)  are the feature competition jury.
There is more than meets the eye in the other 6 remaining competitions. The festival awards Best Feature, Best Short, Best Graduation, Best Experimental, Open Workshop Danish Talent, ANIMOK Youth Jury, and the new award Best Commissioned Film. 
19 animation shorts compete in VAF Short Film competition this year, while 20 experimental animation shorts are part of the festival's experimental competition. 27 films grace the graduation competition, and 14 films for kids and teens are showcased in the festival's Animok competition category. 
The lineup includes films already acknowledged in the festival run (like 'Steakhouse' by Špela Čadež and 'Bestia' by Hugo Covarrubias) and Danish and Nordic films that are here more prominently showcased, like the 20-minute fantasy 'Terra Incognita'  by Adrian Dexter and Pernille Kjær (scroll down for the full competition lineup).
Claus Toksvig Kjaer (Denmark), Jennifer Zheng (UK), and Phillip Hunt (UK) comprise the jury for the film (short film competition).
Sarah Koppel as a VAF artist 2022 is a one-of-the-kind event. The invitation comes as a result of VAF's initiative to invite each year a professional animator to join the festival and present their work, method, and passion.
She started out as a teenager interning at the studio "Tegnedrengene", and the pencil hasn't left her hand since. Her work is characterized by her use of oldschool pen and paper, sensual style, and wonderful colors - VAF festival organizers
During the festival, Sara Koppel will display her Augmented Reality works in Viborg City and it will be possible to go on guided tours where she tells about her works. She will also be introducing her all-time favorite animation, 'Son of the White Mare', and present a retrospective film program of her own short films.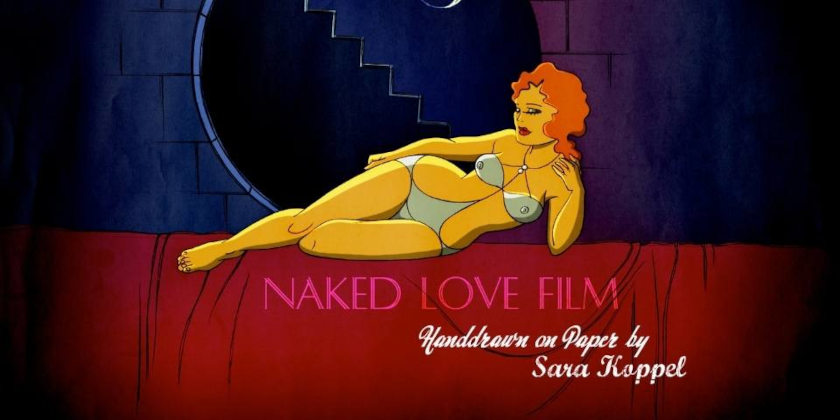 The complete lineup of the Sara Koppel retrospective:
FIX
Walking between each other and itself…
Appetizer for Naked Love
Naked Love – Ea's garden
Memories of an Absent Presence
Little Vulvah & her Clitoral Awareness
Clitorissima
Seriously Deadly Silence
1st Day & Next Minute
We got lost
Embraces & the Touch of Skin
VOID Conversation with Sara Koppel
Industry events are wide and varied, as the festival caters to the integration of the film and animation industry and everyday life. These include free EPIC and Unreal Engine workshops (how to use Unreal in film and game productions); the conference CAVE (by VizLab) has invited top-industry professionals to talk through their methods and work in World Building and Concept Art for AAA-productions.
"Whats cooking in DK" is an annual focus on Danish animation during VAF. This year is devoted to TV animation series and shows, both completed and in development/production. The aim is to channel the already boosting Danish animation into the hearts and minds of TV consumers, currently flooded with foreign TV content -and reveal unique stories of Danish life and culture. Programme includes the showcases of 'Kender du hende' (Copenhagen Bombay, Karla Von Bengtson), 'Team Nuggets' (Sparre Productions, Irene Sparre), 'Hunden Ib' (Minicosmos, Henrik Danstrup Holst), 'Hullet i Hækken' (Esben Toft Jakobsen, Petter Lindblad & Mette Ilene).


VAF focuses on the alternative use of animation in fx the healthcare industry (Animated Health Conference). The conference Animated Health 2022 focuses on the visual aspect of strengthening the patient's health literacy through animation and visual storytelling with a series of cases and presentations. Animation as a didactic and educational tool is explored in the Animated Learning Conference, and also as science dissemination and communication (Sci-Vi Conference).
Be sure to check out as well the new immersive world of Anidox VR event (29-30 Sep), both a seminar and a pitching event. The seminar discusses in-depth visual storytelling in immersive media with Simon Løvind (DK), Mathieu Gayet (FR), Klara Grunning (SE). The above will also be the jury members for the 5 VR works to be exhibited by the artists already selected.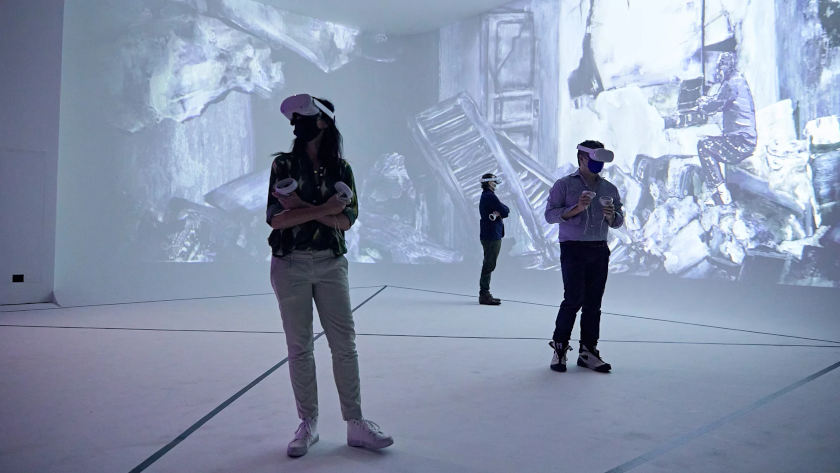 The separate strand of VAF Culture focuses on a wide variety of animation and film-related events, an ambitious exhibition of art pieces all in the matrix of animation, art, and technology. One of this year's highlights (together with Khora Contemporary and Viborg Kunsthal) is the presentation of the Danish artist group SUPERFLEX (Bjørnstjerne Christiansen, Rasmus Nielsen and Jakob Fenger) and their first ever VR-experience 'Psychoplakton'.
Plankton is too small to see, but they can form large enough masses to be seen from space. They are crucial partners in the work of keeping both the oceans and the air healthy. How does it feel to be a plankton?
To explore this question, SUPERFLEX designed computer-generated plankton in a VR environment. Unsettling our perceptions of scale and otherness, Psychoplankton allows the viewer to mentally drift along with a life form that bears no resemblance to human beings, though we share a planet, an ecosystem, and a future.
The full line-up of competition films
VAF Best Feature Film
Lille Alan, den menneskelig antenne – Amalie Næsby Fick – 2022 – Denmark
Where is Anne Frank? – Ari Folman – 2022 – Belgium/Luxembourg/France/Netherlands/Israel
Even mice belong in Heaven –  Denisa Grimmová, Jan Bubeníček – 2021 – Czech Republique
Captain's Heart – Simon Bang – 2021 – Denmark
Archipel – Félix Dufour-Laperrière – 2021 – Canada
My love affair with marriage – Signe Baumane – 2022 – US
My neighbors neighbors – Anne-Laure Daffis, Léo Marchand – 20271 – France
VAF Best Short Competition – Program 1
Lada, Ivan's Sister – Olesya Shchukina – 2021 – Russia
Zoon – Jonatan Schwenk – 2022 – Germany
Once there was a sea – Joanna Kozuch – 2021 – Poland/Slovakia
All At Sea – Kasia Nalewajka – 2021 – Poland
Steakhouse – Špela Čadež – 2021 – Slovenia
Pachyderme – Stéphanie Clément – 2022 – France
Frydenlund Hair Parlour – Hanne Berkaak – 2021 – Norway/Belgium
Terra Incognita – Adrian Dexter, Pernille Kjær – 2021 – France
Swallow the universe – Nieto – 2021 – France
VAF Best Short Competition – Program 2
Sierra – Sander Joon – 2022 – Estonia
YUGO – Carlos Gómez Salamanca – 2021 – Colombia
The Debutante – Elizabeth Hobbs – 2022 – UK
Bestia – Hugo Covarrubias – 2021 – Chile
Your bad animals – Ido Shapira, Amit Cohen – 2022 – Israel
Granny's sexual life – Urška Djukić, Émilie Pigeard– 2022 – Slovenia
Til We Meet Again – Ülo Pikkov – 2022 – Estonia
A story for 2 trumpets – Amandine Meyer – 2022 – France
The sprayer – Farnoosh Abedi – 2022 – Iran
The Best Grandfather in the World – Nina Bisyarina – 2022 – Russia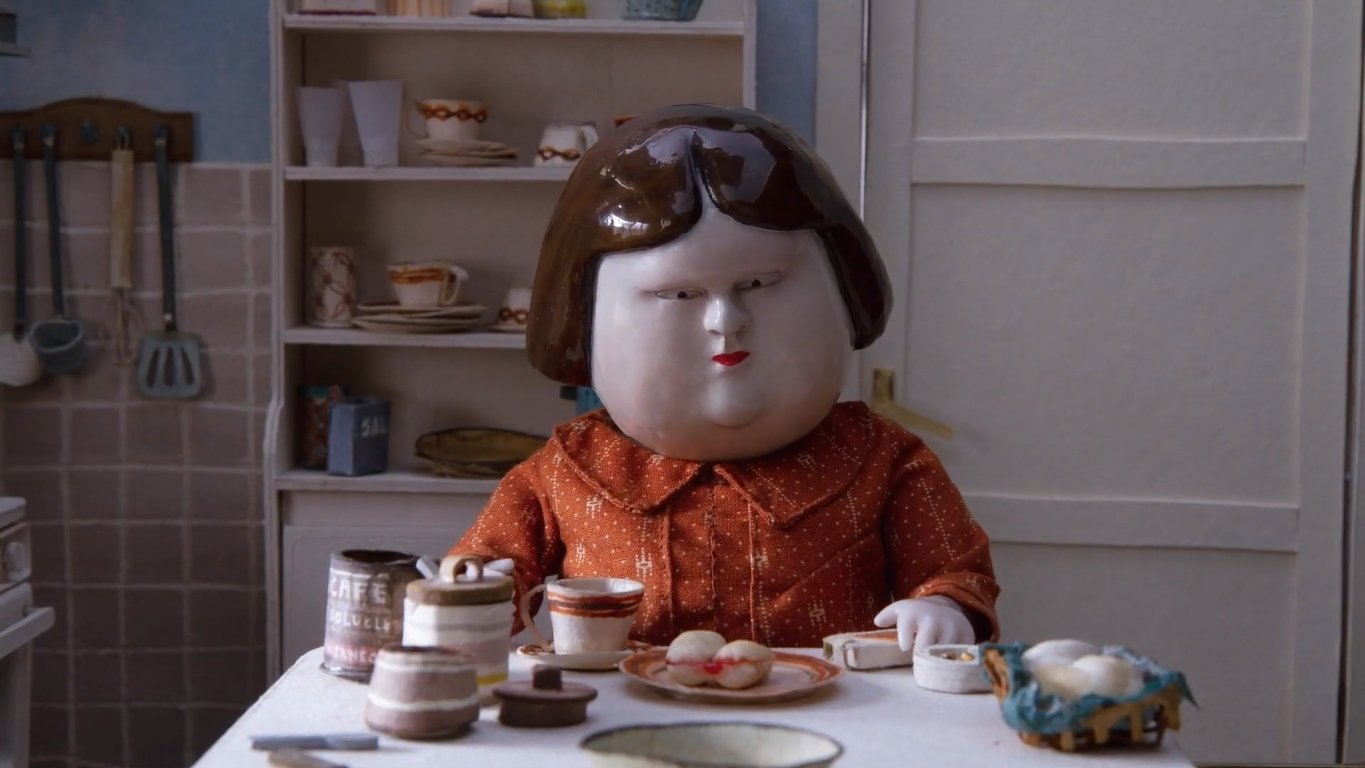 Bestia
VAF Best Graduation Film – Program 1
I Want To Be Bored – Magda Kreps – 2021 – Germany
The soloists – Mehrnaz Abdollahinia, Feben Woldehawariat, Razahk Issaka, Celeste Jamneck, Yi Liu – 2021 – France
Curiosa – Tessa Moult-Milewska – 2022- UK
Eyeshroom – Małgorzata Wowczak – 2022 – Poland
Pentola – Leo Černic – 2022 – Italy
We are not there tomorrow – Olga Kłyszewicz – 2022 – Poland
Red Giant – Anne Verbeure– 2021 – Belgium
The child and the Goose – Jade Chastan, Alice Failla, , Justine Hermetz, Sophie Lafleur, Vincent Lenn – 2021 – France
Sauna – Anna Lena Spring, Lara Perren – 2021 – Switzerland
Night of the living dread – Ida Melum – 2021 – UK
Lamina – Throstur "Bibi" Soring – 2021 – Sweden
Downfall – Rona Fayad – 2021 – Lebanon
My Grandmother is an egg – Wu-Ching Chang – 2021 – UK
Lament – Anne Sineád Hodgers – 2022 – Denmark
The frolic – Jhao Yi-Han – 2021 – Taiwan
VAF Best Graduation Film – Program 2
Orange Peel – Isidora Vulic – 2021 – Serbia
Press(ed) – Senne Driesen – 2022 – Belgium
Wind whisperer – Fernanda Caicedo – 2022 – Germany/Ecuador
The immoral – Ekin Koca, Annick Teninge – 2021 – France
Laika & Nemo – Jan Gadermann, Sebastian Gadow, Konrad Wolf – 2022 – Germany
Cufufu – Bruno Quast– 2021 – Estonia
This is Only getting worse – Michael Negari, Eran Luzon – 2021 – Israel
The luggage room – Daniela Cuenca – 2021 – Spain
Misophonia Orchestra – Daniela Hýbnerová – 2022 – Czech Republic
La Chambre Du General – Georges Marion – 2021 – Denmark
Dinner with Turkey – Hleb Kuftseryn Kuftseryn – 2021 – Estonia
I dreamed of – Piotr Tokarz – 2021 – Poland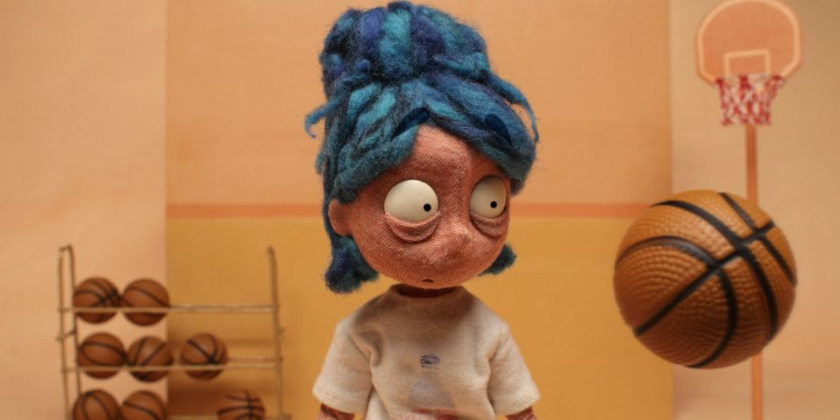 Night Of The Living Dread
VAF Best Experimental Competition – Program 1
Rites of spring – Yiorgos Tsangaris – 2021 – Cyprus
Reparations – Wilson Andres Borja – 2022 – Colombia
Backflip – NIkita Diakur – 2022 – Germany
Us – Nelson Fernandes – 2021 – Portugal
Lizuna Fair – Sumito Sakakibara – 2021 – Japan
Zolle: Resign – Kristian Pedersen – 2021 – Norway
In the Big Yard Inside the Teeny-Weeny Pocket – Yoko Yuki – 2022 – Japan
The Hour Coat- Amy Kravitz – 2022 – US
Solarix – Juli Tagger– 2022 – Argentina
VAF Best Experimental Competition – Program 2
Blinkity Fingers – Kenta Nomura– 2021 – Japan
Fire – Maro Margulis – 2022 – Argentina
The Music that you play – Nikolaus Jantsch – 2021 – Austria
Intercom – Hiroki Kurasawa – 2022 – Japan
Chiaroscuro – Elias Djemil-Matassov – 2022 – Canada
Only tourists – Niels Walter – 2022 – Germany
A goat's spell – Gerhard Funk – 2022 – Germany
Animal locomotion – Asa Rikin, Noga Sirota – 2021 – Israel
Tunable Mimoid – Vladimir Todorovic – 2020 – Australia
Quantum Shadow – Frank Ternier – 2021 – France
Despera – Alicja Liss – 2021 – Poland
ANIMOK, VAF Best Short for tweens
Black Slide – Uri Lotan – 2021 – Israel
The sausage run – Thomas Stellmach – 2021 – Germany
Cockroaches – Adel Khan Faroog – 2022 – Norway
Bear hug – Margrethe Danielsen – 2021 – France
I'm not afraid! – Marita Mayer – 2022 – Germany
Mom is always right – Marie Urbánková – 2022 – Czech Republic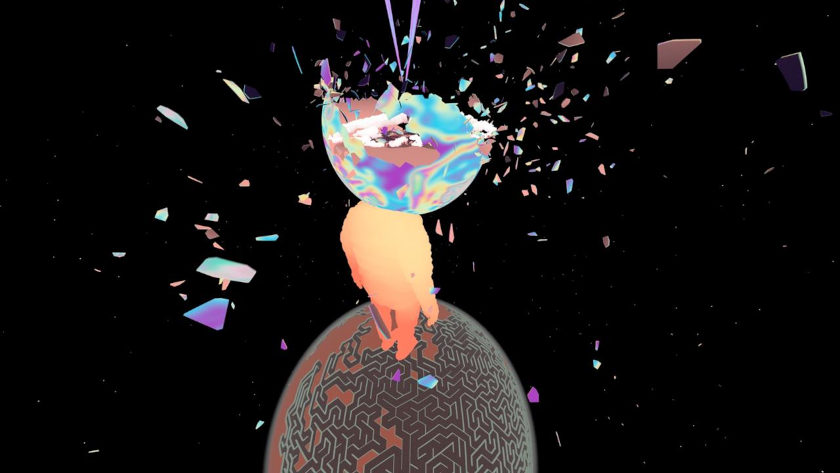 A Goat's Spell
ANIMOK, Shortfilm for kids
Oddland – An Vrombaut – 2022 – Belgium
Franzy's soup-kitchen – Ana Chubinidze – 2021 – France
Cat and bird – Franke Sachse – 2021 – Germany
Suzie in the garden – Lucie Sunková – 2022 – Czech Republic
Peter the beetle – Meelis Arulepp – 2022 – Estonia
Hush hush little bear – Māra Liniņa – 2022 – Latvia
Polar bear bears boredom – Koji Yamamura – 2021 – Japan
The Turnip – Piret Sigus, Silja Saarepuu – 2022 – Estonia
Open Workshop: Danish Animation Talent Award
BLIV, Lukas Damgaard, 2022
White Whale, Simon Macko 2021
Lament, Anne Sineád Hodgers, 2021
Terra Incognita, Pernille Kjaer & Adrian Dexter, 2021
Apex Point, Jacob Møller, 2021
Once And Never More, Simon Macko, 2022
Align, Mikkel Mainz, 2021
Cowboy Kevin, Anna Lund Konnerup, 2021
Carmen Avis, Mikkel Mainz, 2022
La Chambre Du General, Georges Marion, 2021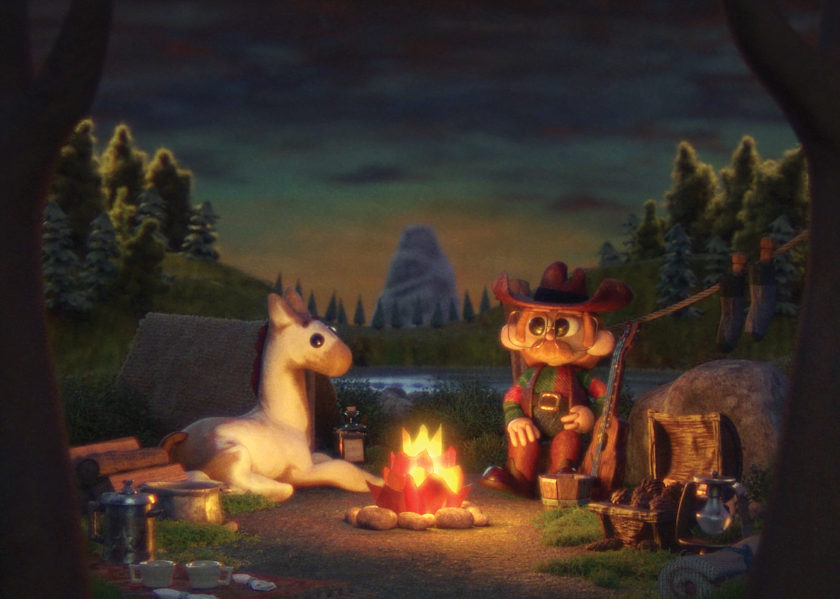 Cowboy Kevin
Anidox VR competition
Gondwana VR By Ben Andrews & Emma Roberts (AU)
Goliath: Playing with Reality By Barry Gene Murphy & May Abdalla (UK)
From the Main Square By Pedro Harres (BR/DE)
Genesis By Joerg Courtial
End of Night By David Adler (DK)
There's a lot to enjoy here, and Viborg promises to be the place and the hub of all things animated.
Watch the joyful, cooking VAF 2022 trailer and its promo
Viborg Animation Festival takes place from September 26th to October 2nd in Viborg, Denmark.
(central photo: Where is Anne Frank / Animated Health Conference / Sara Koppel: credits: Marlene Nelting)
SIGN UP: Want to read more free articles like this? Sign up for Our Newsletter