Animarkt Stop-Motion Forum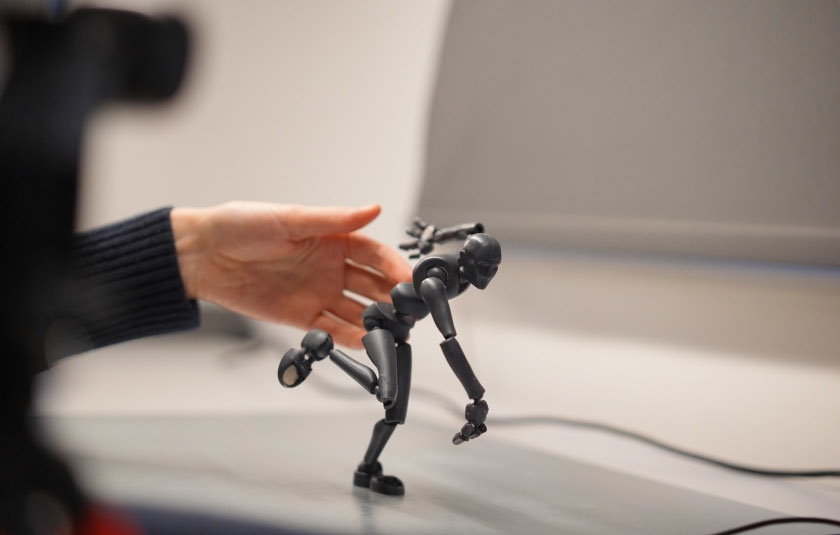 Category
PITCHING & INDUSTRY
Deadline | Event Dates (period)
Email
This email address is being protected from spambots. You need JavaScript enabled to view it.
Final submission deadline
2022-08-31
Submission/Registration Fee
No
Event Description:

ANIMARKT STOP MOTION FORUM is a unique meeting venue of the field's top artists, craftsmen, producers, distributors, broadcasters, and investors. Its diversified program offers a unique combination of workshop and vocation-oriented elements on the one hand with networking and business-to-business meetings on the other, while the pitching of short puppet animations is a unique opportunity for artists.
Apart from the Pitching Competition, the main programme will comprise workshops, masterclasses and panel discussions for students and young specialists (the Masters section), this year revolving around topics related to the making of a stop motion puppet as well as relations between animation makers and producers. The third part of the programme – Business, concentrates on establishing contacts in the industry and recruitment sessions for international animation studios or stop motion projects.
2022 Call for entries
PITCHING
This year, for the first time, applications for ANIMARKT Pitching have two formats. One of them is dedicated to short film projects in development (at least the first draft of the script and lasting less than 26 minutes). The second one is for feature films or TV series or TV specials at every stage of production. What's important is that 80% of the project has to be planned as a stop motion animation. From among all the submitted applications, the selection committee will choose 15 projects in the first category and 10 in the second.
WORKSHOPS (Masters Section)

Participants can choose from workshops dedicated to the development of series for children and character animation. The first one will be led by Christophe Erbes, who is an international consultant for children's media, previously worked, e.g. for Canal + International. He was also a program director at S-RTL Disney and Nickelodeon and managing director at Fox Kids Europe. During classes with Christoph Erbes participants will learn how to structure a created story and how to remain original, and at the same time meet market expectations.
Documents:  CV, description of the idea for an animated project (up to 1200 characters).
The second workshop – character animation will be hosted by Thiago Calçado, who has worked on such productions as Wes Anderson's Oscar-nominated "Isle of Dogs", and currently is animating on Guillermo Del Toro's Netflix film "Pinocchio". In Łódź, he will focus on acting for feature films and the work of the animator on such productions. He will talk about setting up a shot with riggers and the puppets, looking for live action reference, communication with the director or the ability to animate in relation to light or scenography
Documents: CV, showreel, exercise materials.
The number of places for both training courses is limited. 
The lists will be announced on October 1st.
2021 Coverage
2020 Event Coverage
Selected Stop-Motion Projects
1. A Rede (The Hammock), dir.: Beatriz Lima, prod.: Ana Luisa Lima, country: Brazil
2. Carcassonne-Acapulco, dir.: Marjorie Caup & Olivier Heraud, prod.: 12//24 FILMS, country: France;
3. Communication Lost, dir.: Pablo Muñoz and Vicente Mallols, prod.: Leticia Montalvá - Pangur Animation, country: Spain;
4. Electra. A Poem, dir.: Daria Kashcheeva, prod.: FAMU and co-producer MAUR film - Martin Vandas, Zuzana Krivkova, country: Czech Republic;
5. Fia dir.: Luciana Martinez & Iván Stur, prod.: María Rosario Carlino, country: Argentina;
6. Isolated, dir.: Juan Soto, prod.: Juan Soto, country: Spain;
7. Kabuki, dir.: Tiago Minamisawa, prod.: Wag Films and T Minamisawa, country: Brazil / France;
8. Labra Cadabra, Klaipeda Jazz, dir.: Olga Ti, Julia Titowa, prod.: Valentas Aškinis, country: Lithuania;
9. Roxanda, dir.: Dragan Jovicevic, prod.: Predrag Azdejkovic, country: Serbia;
10. Skin, dir.: Gabriel Nunes do Carmo, prod.: Matias Boeing Eastman & A. K. McCallum, country: Brazil and U.K.;
11. Steps to Fly, dir.: Nicolás Conte, prod.: María Rosario Carlino, country: Argentina;
12. Sweater (working title), dir.: Kinga Gorak, prod.: Kinga Gorak, country: Poland, South Korea;
13. The Day Vladimir Died, dir.: Fadi Syriani, prod.: Roland Fischer, country: Germany;
14. The Family Portrait, dir.: Lea Vidakovic, prod.: Drasko Ivezic, country: Croatia;
15. Yugen: open sky, dir.: Nayelli Ojeda, prod.: Isabel Figueroa, country: Mexico.
Animarkt Pitching 2020 awards:
vouchers worth PLN 60,000 (approx. 13500 EUR) and PLN 40,000 (approx. 9000 EUR) for using the studio and film production facilities – distinctions funded by the Audiovisual Technology Center (CeTA) in Wrocław
co-production contribution to the film – funded by the French studio Folimage
Dragonframe 4 software (with Bluetooth controller)
expert consultation with Marcin Zalewski – regarding the construction of a puppet
industry accreditation for Mifa 2021 in Annecy
2-week residence at the Quirino Cristiani Animation Center in Cordoba (Argentina) – funded by APALAB including accommodation and mentoring/devlopment
consultancy in scriptwriting, production and art for development stage, and meetings with Argentine producers


Experts:
Recognized journalist Nancy Denney-Phelps, member of the International Animated Film Association (ASIFA) and juror at many animation film festivals with links to AWN.com, or Edwina Liard, a French producer from Ikki Films, responsible for example for the success of the animated film "Negative Space" (an Oscar nomination). There will be also a possibility to take part in public speaking exercises with a composer and musician Nik Phelps or discuss scripts with Anna Bielak, a screenwriter and script consultant well known in the Polish animation community.
2020 Workshops 
Check the Animarkt Masters Workshops and Apply
2019 Event Coverage
2018 Event Coverage

 2017 Event Coverage

The event is organized by MOMAKIN, which combines the world of animation filmmaking with international production, distribution and promotion. It specializes in stop motion and supports animation projects at every stage of their development: from planning and financing through production to distribution.
NB: 2023 Festival Dates are tentative
Event Dates
From

05/11/2023

to

08/11/2023