Primanima World Festival of First Animations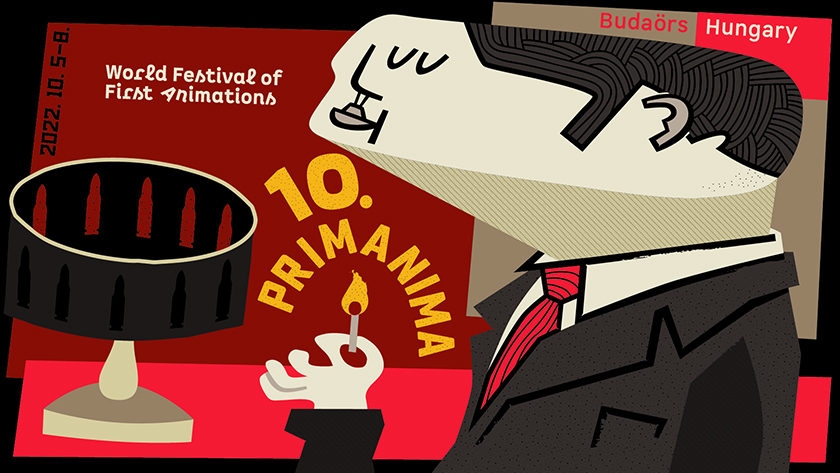 Category
ANIMATION & FILM FESTIVALS
Deadline | Event Dates (period)
Email
This email address is being protected from spambots. You need JavaScript enabled to view it.
Final submission deadline
2022-06-30
Submission/Registration Fee
No
Festival Description
Primanima is an international festival and competition of first animations. Its co-founders launched the festival in 2012 with a goal to provide a platform for talented young animators to introduce their first films, as well as with an aim to add animation and other educational programs to the cultural life of Budaörs.
(Archive) 2022 Call for Entries
The 10th edition apart from the screenings of the competition and panorama programmes will offer a revamped industry platform and international workshop, called Primanima Jumpstart.
Your submission should be an animated film, meaning that it is produced frame-by-frame using various techniques other than live-action or animation mixed with live-action;
it should be completed after January 1st, 2020;
it should be no longer than 25 minutes;
Categories: 
- STUDENT FILM = your first step in animated short film directing, produced at a high school, various workshops, university education, or any other training program as a student including DIY productions (The director should be older than 15 years old
 GRADUATION FILM = your BA, MA, or DLA school-leaving short film
First film = your first animated short film production made without an educational background
CHILDREN'S FILM = any animated short film made for children if it falls in any of the above categories (Student Film, Graduation film, First Film) or it is made by an up-and-coming director under the age of 40.
FILMS FOR TEENAGERS = films suitable for teenagers (aged 12–18) submitted for any of the above short film categories (Student film, Graduation film, First film) or made by an up-and-coming director under the age of 40 will also be considered by the programmers for the PrimaTeen competition category.
PRIMANIMA MASTERS COMPETITION = category for established filmmakers, all films are eligible which do not fit in the categories above; directors who previously competed in our festival and they are not first-time filmmakers anymore are encouraged to submit their films to this category; if you are teaching animation in an institution, please note it in your bio.
The visual identity of this year's festival is the work of Tamás Patrovits is reflecting on Primanima's anniversary and on the idea of celebration in our contemporary world.
++++++++++++++++++++
2020 Festival Coverage
The festival was postponed
2019 Festival Coverage:

THE AWARD-WINNERS OF THE 8TH PRIMANIMA
AWARDS OF THE JURIES
GRAND PRIX: Barbora HALÍŘOVÁ: Hide N Seek (CZE
GEORGE PAL PRIZE FOR THE MOST PROMISING HUNGARIAN TALENT IN ANIMATION: HORESNYI Máté: Jacques' Rampage or When Do We Lose Our Self-confidence? (HUN)
BEST FIRST FILM: Ryotaro MIYAJIMA: Castle (JAP)
BEST GRADUATION FILM: Daria KASHCHEEVA: Daughter (CZE)
BEST STUDENT FILM: Georis MATHIEU: Alfred Fauchet (BEL)
SPECIAL MENTIONS OF THE JURY MEMBERS:
Milen ALEMPIJEVIC – Michaela MIHÁLYI, David ŠTUMPF: Sh_t Happens (CZE/SVK/FRA)
Lucija MRZLJAK – Jung Hyun KIM: Sweet Sweat (EST)
Maria STEINMETZ' – Cécile BRUN: Letting Go (CHE)
THE AWARD OF THE CHILDREN'S FILM JURY: Rémi DURIN: Big Wolf and Little Wolf (FRA)
PRIMASOUND JURY – BEST SOUND DESIGN: Daria KASHCHEEVA: Daughter (CZE) // Sound by: Daria Kashcheeva, Miroslav Chaloupka
PRIMASOUND SPECIAL MENTION: GYULAI Panni: Broken Things (HUN) // Sound by: Kalotás Csaba, Karina SPECHT: Squaring the Circle (POL) // Sound by: Paweł Cieślak
THE AWARD OF THE PRIMALTER JURY: GYULAI Panni: Broken Things (HUN)
THE AWARD OF THE PRIMAPSYCHO JURY FOR THE BEST FILM IN THE PRIMATEEN SECTION: Siqi SONG: Sister (USA)
THE FAVOURITE FILM OF THE STUDENT JURY: Frederic SIEGEL, Benjamin MORARD: The Lonely Orbit (CHE)
THE FAVOURITE FILM OF PRIMAKIDS JURY: Rémi DURIN: Big Wolf and Little Wolf (FRA)

AUDIENCE AWARDS

MOST POPULAR INTERNATIONAL SHORT FILM: Michaela MIHÁLYI, David ŠTUMPF: Sh_t Happens (CZE/SVK/FRA)
GYULA MACSKÁSSY PRIZE FOR THE MOST POPULAR HUNGARIAN ANIMATION: ANDRASEV Nadja: Symbiosis (HUN/FRA)
MOST POPULAR INTERNATIONAL CHILDREN'S FILM: Fokion XENOS: Heat Wave (GBR)
TIBOR CSERMÁK PRIZE FOR THE MOST POPULAR HUNGARIAN ANIMATION: KELEN Bálint: The Thrilling Tales of Dreadful Draco (HUN)
MOST POPULAR FILM FROM THE PRIMATEEN SELECTION: Christoph SAROW: Blieschow (DEU)
Primanima World Festival of First Animations took place for the 8th time between 30th October and 2 nd November in Budaörs, where the spotlight is on young animated film directors for four days. By tradition the programme of the festival includes the competition of animated shorts and animated short for children made by Hungarian and i nternational students and first time filmmakers, as well as feature films, and additional off-screen programmes such as workshops, masterclasses, exhibitions and concerts.
2018 Festival Coverage ( 24-27/10/18):

2023 Festival Dates are tentative