A Strange Anomaly In the System: Interview with Primanima Team

Anna Ida Orosz, Dóra Bartal, Zsófi Herczeg
ZF: What are you proud of this year's Primanima programme, and I mean really proud.
Annaida Orosz: There are two gems in this year's programme I am really proud of. Apart from our usual film and professional sections (short films and films for children, masterclasses of the jury members) we introduced a new competition section dedicated to teenagers. We'll use a curated list of animated short films to let teenagers openly talk about issues related to their own lives. I managed to get a well known child psychologist to get on board with us, and she will guide a talk with the youngsters after the screenings. I'm very curious about the outcome of this section, since so far we've found this certain age group the most difficult to reach.
Initiated by my co-curator colleague, Dóra Bartal, a scholar of documentary films, we also have a curated section of animated documentaries – a sort of a festival within the festival. This programme includes the screening of Chris the Swiss, short films by students and débuting filmmakers, and a roundtable with Hungarian directors who are right now developing their animated documentary features, one by animation director László Csáki (Blue Pelikan), and another one by live-action film director Márton Szirmai (Where Did I Go Wrong?, an animated feature taking place in the 1950s, based on real-life events). By many people, animated documentaries are considered the "serious" type of animation, and I'm certain that with the help of this programme we can reach more viewers.
ZF: How has Primanima changed over the years? Or perhaps it hasn't changed at all, and it's business as usual.
Annaida: We just put together an exhibition about the past editions of Primanima festivals, its title is 2+8 Primanimas. Launched in 2012, our festival developed from a celebration of International Animation Day initiated by ASIFA in 2002. And my gosh, I had to realize how much it has changed over the years and I haven't noticed it at all, I still clearly remember the struggles and stupid mistakes we had while organizing the very first edition in 2012, which literally just the two of us with Tamás (Tamás Patrovits, co-director of Primanima) put together. Organizing a festival is very similar to having a child and not recognizing him or her in a photo that was taken a few months or years ago (true story, it actually happened to me with my very own little daughter.) As an organizer (or a parent) you are simply too much involved in each coming edition, and don't have time or even the ability to have an outsider's point-of-view to look at your "creature". I remember that in 2013 we gave an interview with Tamás, who is also my partner in life, that we see Primanima as our common child. This metaphor turned out to be absolutely accurate, I had to realize a few editions ago that our festival grew adolescent and is old enough to let it go in order to grasp more, to let it widen its horizon. Simply to let it grow bigger in terms of its fields of interests. It actually helped a lot that I learned to share the duties of programming with curators Dóra Bartal and Zsófi Herczeg, who is also a journalist of animation (Dot&Line).
Dóra: When I joined Primanima back in 2016 I was immediately amazed by its scope and ambition. I was used to film festivals in Hungary which were really just screenings in the center of Budapest with no real atmosphere and had no aim to build a community. Primanima was more unique and more similar to such festivals I visited abroad, where people could really connect through workshops, special events, volunteering and yes, parties (at Primanima it is not unusual to see jury members partying with volunteers). The fact that there is already a strong base of animation students in Budaörs and the warmth and familiarity the Annaida and Tamás gives to each participant is also contributing to its one-of-a-kind character. But festival is for sure business as usual, because its ambitions are again a lot bigger than its resources, and I don't mean just in terms of funding. The staff is overwhelmed by the workload and gets crazier and crazier each day as the festival approaches because we are coming up with ideas on the spot and trying to manage tight situations in the last minute with improvisation. So I definitely hope Primanima could develop in this regard too, so that its aspirations could match with its capacity.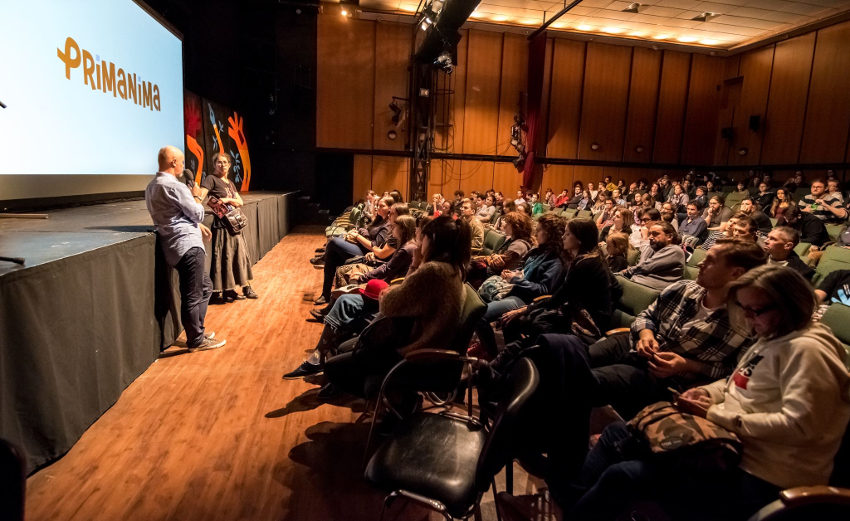 Zsófi: I founded my animation site, Dot & Line, in March, 2015, and Annaida wrote me in September if we would like to become a media partner or Primanima. That was a huge recognition for me, because the site was a small one at the time and the festival life was really scary for me as an introvert cub in the animation jungle. When I was just a visitor, honestly, it felt that I came home. I know it sounds ultra romantic, but it's true! The kindness of the staff, the sociability of young people brought together by the love of animation, the feeling that everybody is equal was so great. It really helped my social skills! I'm proud that we share the same values – to put the focus on the young filmmakers and give them a chance to be seen. I totally agree with Dóra. I saw Primanima from the outside and since 2016 from the inside as well, and there are a lot of work, sweat and tears, but the greatest thing is that Primanima could stay an open, friendly, tenacious festival which is committed to the animation filmmakers, and has its own values to stand for. The financial opportunities and political environment can change, and of course they can influence our possibilities, but the aim of Primanima is always the same.
ZF: Why Primanima continues to focus on first authors, and what are the results of this strategy over the years.
Annaida: Primanima is not the only animation event in Hungary, two further senior events focus on animation, Anilogue and KAFF – Kecskemét Animation Film Festival. Since we focus on first films, many young directors whose films are not recognized by bigger festivals, have a bigger chance to get into our programme. We see Primanima as not only a festival dedicated to the works of début filmmakers, but also as an opportunity of animation students and up-and-coming directors of animation to have their very first animation festival experiences. It is also a learning process to participate a Q&A or a Show&Tell event where the audience is not made up of your professors and fellow students but mainly non-professionals in the audience. Especially for animators who are used to working alone. Hence we lay a strong emphasis on their active involvement with our audience by arranging various types of programmes apart from screenings. Since Primanima is known for having a very cozy atmosphere, the discussions with the directors in competition programme, which take place after the screenings, grew to be the most popular and much-seeked events of Primanima.
Zsófi: In 2017, Fiasco by Szabolcs Nagy won the Gyula Macskássy Prize for the most popular Hungarian animation at Primanima, and the Best First Film at KAFF. It is an absurd stop-motion student film from a small high school, we barely heard about. I'm also the curator of the animation competition programme of Friss Hús Budapest International Short Film Festival, the biggest short film festival of the Hungarian film industry, but its primary focus is live-action films. I really loved Szabolcs's film, so no matter how much I had to argue with my fellow curators at Friss Hús, I managed to pick it for the competition programme. That one year Fiasco as an animated film won the Award for the Most Promising Hungarian Director Under the Age of 30, which had been only given out to live-action filmmakers up until then. It is a huge problem with many current festivals that they choose films based on the director's resume or the festival or award list of the film. I agree with Annaida, that by focusing on young directors, Primanima gives these young, up-and-coming filmmakers a better chance to get into other, bigger festivals too.
ZF: How festivals like Primanima can influence if at all cultural policy in the country they reside
Dóra: It's difficult to stay where do we stand in the Hungarian cultural landscape, but I do think Primanima is a strange anomaly in the system. We are definitely in the tolerated category because even if we are trying to push boundaries with our selection, at the same time, it is seemingly harmless because these are "just" animations and it is less threatening to the status quo. As Annaida, I'm also hopeful that these daring animations can be made and selected to our festival but a bit disillusioned too, because what if the topics raised in the films won't reach out to a wider audience and we are also creating a bubble of our own? A few years ago I was leading a Q&A with Jonathan Schwenk the director of Sog during Primania and I quite frankly asked him about my interpretation of the film, namingly about the refugee crisis and I got a comment from the audience later that I was being too pushy and I should have focused on the film's artistic merit and not on the topic. So it made me question what kind of an impact such parabolistic animations could have if even the animation community is reluctant to talk about politics. How can we assume that we are contributing to bigger discussions or initiate changes? The political mainstream and its cultural institutions won't support us more in these regards that's for sure, but that's why I think the best way forward for us to to build a network of non-governmental and independent organizations, schools who are sharing our values and bringing them our programme throughout the year and having active discussions after the screenings.

Annaida: Animation is still often seen as a form of art just made for shiny decorative or pure entertaining purposes, nothing serious. Also animators are often considered to live in a bubble and not to be much concerned with real-life issues. Fortunately many young directors simply refuse to work according to these stupid and old-fashioned traditions of animation, and touch upon very timely, strong social topics. Each year we can put together a programme which is full of films talking about important issues of the world, and students, young filmmakers many times dare to talk louder and be more provocative.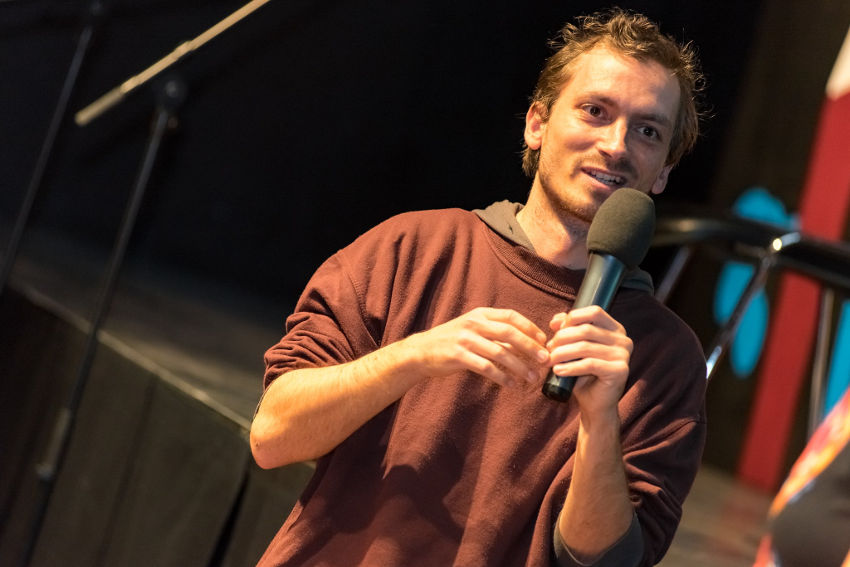 Olivér Hegyi, director of Take Me Please
Of course, small festivals like us have a limited number of audience, who are usually more open-minded, but as Dóra said, it's not always the case... This is why I am happy that for many years now – although only for a limited period – we've managed to put online a selection of shorts from each previous festivals on Indavideo, the movie channel of the most widely-read Hungarian news site, Index.hu, which reaches more than 1.700.000 users/day from Hungary. This year the selection includes films like EGG by Martina Scarpelli or Bless You! by Paulina Ziolkowska, but the previous year also SOG went online there, along with our curator's statement.
ZF: Are you optimistic about Hungarian animation and the modes of its production and support it gets from various national institutions?
Annaida: Hungarian animation used to be one of the premium export items of Hungarian culture before the Iron Curtain came down in 1989, for nearly 30 years, from the 1960s onwards, during the so-called Kádár era. Today I don't think it is much different. Young directors' films, such as Luca Tóth, Nadja Andrasev, Réka Bucsi, Zsuzsanna Kreif, Flóra Anna Buda, Péter Vácz and the list can go on, get selected to A-list festivals, and are awarded with top prizes. These can be put into the shop-window by the national cultural funds and their representatives, too. You must have noticed, I mostly listed names of young female directors, most of them with superb films about women's issues (consider Zsuzsanna Kreif and Borbála Zétény's Limbo-Limbo Travel, Luca Tóth's Superbia, Nadja Andrasev's Symbiosis or Flóra Anna Buda's Entropia). It was very-very much alarming that between 2012 and 2018, the Media Mecenatory Programme of the National Media and Infocommunications Authority, which is supposed to finance short films and TV-series, formed an only-men board, with a median age of 50+. These young directors had to present their first professional short films when applying for financial support.
Since today in Hungary a big percentage of animation directors are female, such an unbalanced composition of a representative body is baffling. I know that the ignorance of gender minorities is not a local issue, we discussed it in detail at this year's StopTrik in Maribor in a feminist roundtable. Yet, I am convinced that it is not only due to the present-day reshuffling of contemporary production schemes that there has been a growing number of co-produced animated short films too, where Hungarian producers had to find international partners and to become minor co-producers in a Hungarian director's film (e.g. Bella Szederkényi's The Wild Boar, Réka Bucsi's LOVE, Nadja Andrasev's Symbiosis or Luca Tóth's Mr. Mare).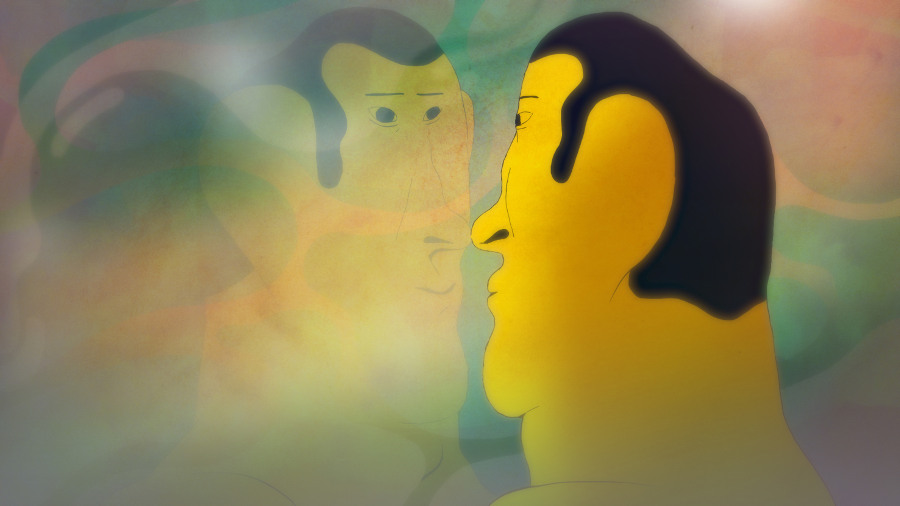 Mr. Mare
I hope that the name of the George Pal Prize given to the most promising Hungarian talent at Primanima, which is named after the Hungarian-born director, who left the country in the early 1930s, does not turn out to be a bad omen, and talented young directors receiving it will be able to produce their films in Hungary in the future, too.
Zsófi: It's a fun trivia that six young female directors won the George Pal Prize since 2012, and only one male director, Milán Kopasz was awarded with it (at the very first Primanima). I think it shows perfectly the current situation of the gender balance in the Hungarian animation industry. Young women created the internationally most successful Hungarian animations in the last few years, yet they struggle with the Hungarian financial supporting system because of their many times gender-based subject matters and their specific styles, since many of the directors of the older generation, who are in decision-making positions – and made great pioneering shorts back in the old ages – are not open enough to the new wave of animation directors and are not very supportive of their projects. The system maintains this situation, since they don't replace the board members in every three year or so (and yes, as Annaida mentioned it, there is no female members in the board). Most of the biggest animation hits of the last few years were rejected many times at the Media Mecenatory Programme before they finally (if at all) got their support. 
The most disappointing for me was that they rejected Péter Vácz's (Rabbit and Deer) short stop-motion project called Noah's Tree many times.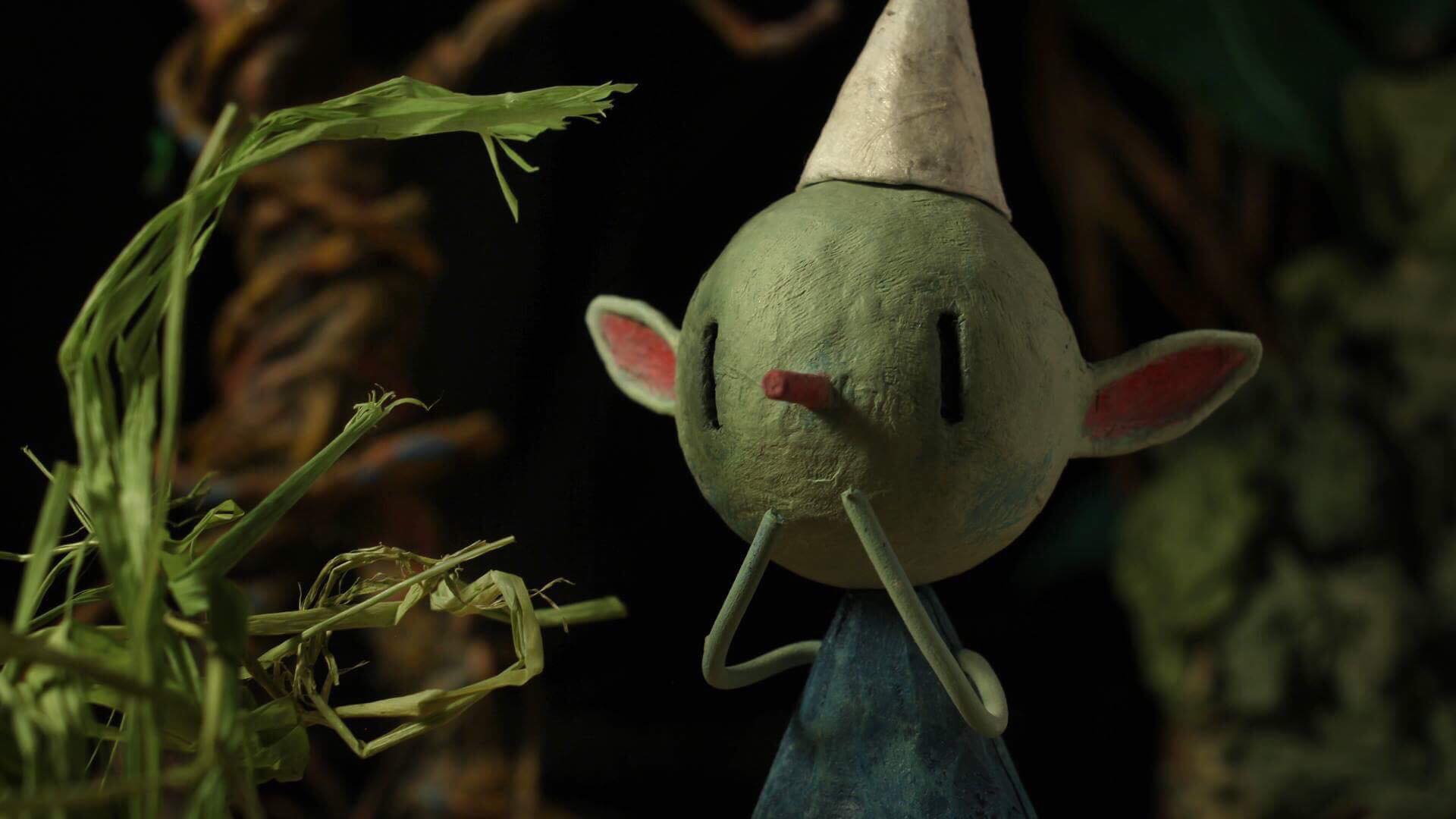 Fortunately, he develops Noah's Tree as a feature film now. So in this regard, I agree with Annaida that it's no surprise that many young directors make short films in co-production with countries like France or Croatia, and co-production can really help the projects in every way to become more successful.
The Hungarian National Film Fund was founded in 2011, and since then only one feature animation was born, the multi-awarded Ruben Brandt, Collector in 2018. One feature animation in seven years! For the record, they supported an Israeli–Hungarian co-production, The Legend of King Solomon by Albert Hanan Kaminski in 2017. While there are plenty of projects ready to be developed, there is no animation expert invited to the decision-making boards of HNFF and they can easily just turn down any projects by saying that the production costs of animation are too high. However, we have some great (female) producers too: Réka Temple at Cinemon (Tales from the Lake, The Legend of King Solomon, Candide), Éva Konrád at Umatik (Pixie Fix and the Lost Dewdrops, Bugaboo Garten), or Bella Szederkényi at Cub (The Wild Boar, As Many Kings, as Many Tales). Talking about producers: the Hungarian Animation Producers Association was founded not long ago to represent the Hungarian animation filmmakers. They will be publicly introduced at Primanima, and I'm really looking forward to seeing in what ways their presence can change the status quo in the Hungarian film industry.
The Primanima World Festival of First Animation takes place in Budaörs, Hungary, 30 Oct - 2 Nov 2019.
SIGN UP: Want to read more free articles like this? Sign up for Our Newsletter
Read More About: