Feature Animation
Nimuendaju by Tania Anaya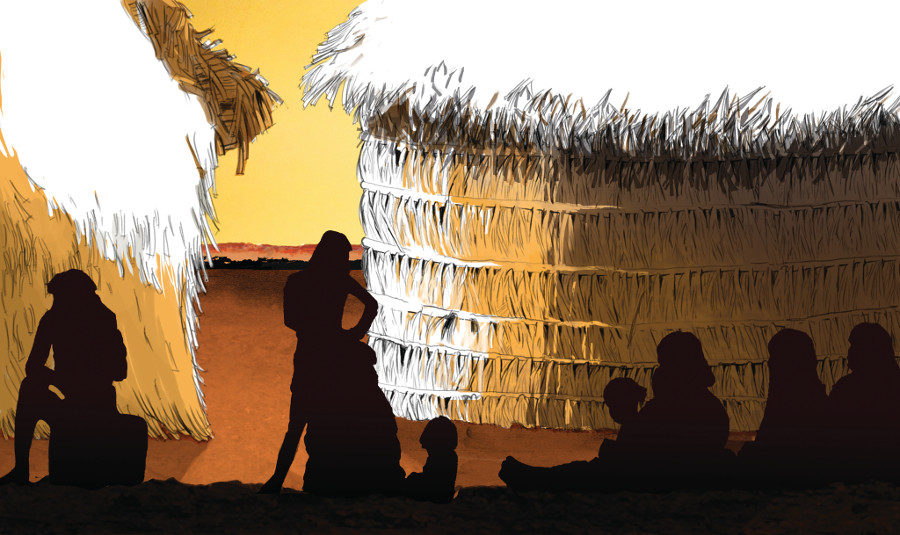 Curt Unkel, a 22-year-old German, arrives in Brazil in 1905, and then moves to live with the Guarani people in the interior of São Paulo state. He is there baptized with the name of NIMUENDAJÚ, which means "the one who found his place in the world".
Thus, this animated feature in production by Brazilian director Tania Anaya begins with a little-known history, even in Brazil, about this ethnologist who has lived among the Indians for more than 40 years. However, the feature shows more than the character's quirkiness. It is a cultural, historical, ethnographic, and even a memory review/redemption of this man who left Europe to dedicate his life to the indigenous cause. I talked to her, who is director, creator and producer of this animation, to know. what to expect for 2020.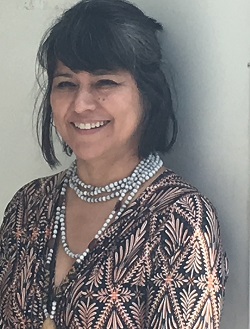 ZF: What will be the final title of the feature film?
TA: The Peruvian producer would like to be Nimuendajú + the one who found his place in the world: this what that indigenous name means. I prefer the name Curt Nimuendajú, which is the German name, followed by the indigenous one. I know that it is a difficult name to memorize, but it is also something that is used, for instance, in Fitzcarraldo (Herzog, 1982), Koyaanisqatsi (Reggio, 1982), Pirinop (Corrêa, Ikpeng, 2007).
ZF: What did arouse your interest for this story and did awake in you, the desire to make this feature?
TA: I wanted to make a feature film and reach a bigger audience - and not only the one from festivals, as it is the case of the short films that I have already produced. When I was researching for Ãgtux (2005) with the Maxakali tribe, I found one of text from Curt Nimuendajú (1883-1945) - they wrote about this people and about many others. When I saw the junction of the German name with the Guarani, it caught my attention: it could be a starting point for addressing the indigenous question.
Nimuendajú was an ethnologist, considered the father of anthropology in Brazil, who wrote about almost 50 Brazilian indigenous people. He had an intense relationship with the Indians: he was baptized, he married women of the tribes, he had several indigenous names… what it means, he evolved emotionally. And he became involved in fights about the delimitation of indigenous lands; everything indicates that he died due to persecution of  those who were  interested in the indigenous land: the landlords.

FILM SYNOPSIS: Nimuendajú - the one who found his place in the world. Animated feature film based on the true story of the German ethnologist Curt Nimuendajú, who lived in Brazil from 1903 until his death. He dedicated his life to the passion for Brazilian indigenous culture, being adopted and baptized by several people with whom he lived, among them the Guarani, Apinajê, Tikuna e Canela-Ronkokamekra. The survival of these groups and the preservation of their culture became his relentless struggle. Aware of the evils and the power of fire of his opponents - the Landowners, the Brazilian government and public opinion about the indigenous peoples Curt Nimuendajú acts, provokes and leads actions to disarm the attacks of the hostile world that surrounds him. He died at Amazonia in 1945, under mysterious circumstances.
ZP: And how did you design the construction of this film, in aesthetic terms?
TA: At first, I thought of using an easy-to-execute, but elaborated drawing technique. I was looking for an aesthetic that fits the narrative, and I remembered Egon Schiele (1890-1918). He is very succinct, with a very strong and powerful drawing. I intended to use cut-out animation. Nevertheless, it would be impossible to achieve the visual result that I wanted to have over time. So, I reviewed the budget: executive producer Hilário Bruno, who joined the team, reviewed the rules of Ancine Brazilian Audio-visual Secretary. It was then possible to re-evaluate our budget (which is still low), elaborating a new design production that allows us to development a more appropriated aesthetic.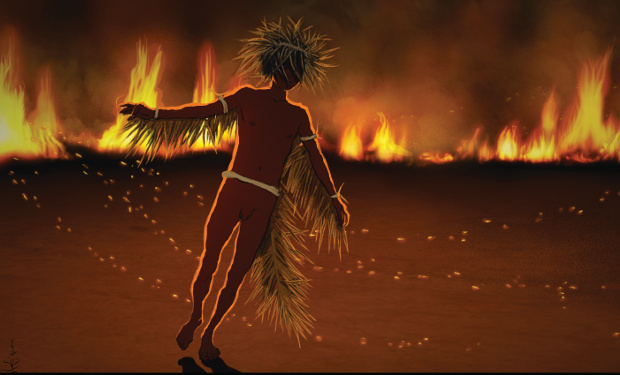 We now use a mix of full animation with rotoscope. It is not a simple film copied. We work with key frames, where the filmed material is just a guide, and we use the Egon Schiele aesthetics. It means we do not use all the frames from the filmed image, just some of them, and manipulate the movement. It is the same about the drawing: we followed the line of the body, but added things considering the Schiele style. It seems simple, but is not. It demands of the animators a deep knowledge of anatomy drawing. This forced us to produce animated bibles that are almost life model lessons.
ZP: What did iattract you to Schiele's aesthetic?
TA: I did not want a realistic drawing with a simple rotoscoping... it bothers me with its characteristic excess of movement, and I also think there must be stylizing. Here comes Egon Schiele with his strong drawing, with the expressiveness of the trace, the knotty hands, with an excellent anatomical representation.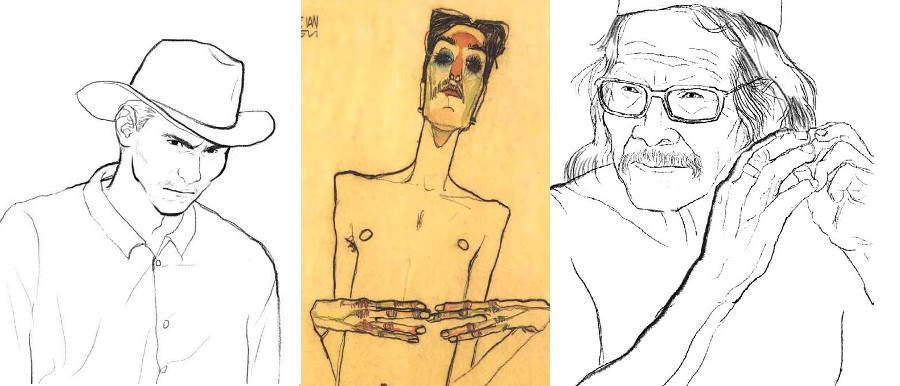 Nimuendaju drawings inspired by Egon Schiele
ZP:  I saw that you also put Waltz with Bashir as a reference for your production.
TA: Yes, Waltz with Bashir was a reference, and it made me think a lot. It showed me that it was possible to produce an animated feature with a lean structure, and low budget. It brought a light in that direction: even with a small staff, it is possible to make an experimental film to adult audience.
ZP: Yes, Waltz with Bashir's own approach mixes the documentary image and the emotional impressions of the characters. Are you employing this in your film too? After all, it is the story of a European inserted in the indigenous, mystical, ritualistic universe, which is very apart from the logic civilization.
TA: Well, in terms of narrative structure, it is a film that uses the technique of animation. So, independent authors are free to create everything... starting from the very line. There is always space to mysticism and magic in the indigenous world... yes, working with animation we can create a lot. If it was a live-action film, we would have to use animated resources. The language of animation takes you to other interpretations. Fluid, merged images... this aspect will be very present in the film.
ZF: I saw that the project is a co-production.
TA: Yes, the first co-producer that joined us was Peter Ketnath, from Cine Zebra (Germany). He was also our actor, who played Curt Nimuendajú. Hence, my first contact to him: I needed an actor for the character, a German guy that could speak Brazilian Portuguese. Since the beginning, he was very involved in the project, going with me to the indigenous areas... he played with the Indians... he then proposed a co-production.
The French partner, Samuel Chauvin Promenade Films, was contacted in the Market Meeting, at Brazil Cine Mundi, here in Belo Horizonte. However, only in the following year, 2017, at Annecy Goes to Cannes we finalized  our partnership. Finally, Gabriel Bonilla from Apus Studio (Peru), who gathered this year, we also found him at the Annecy Festival 2018. He saw our teaser and was interested in the project: animation for adults, indigenous issue ... So, we have these three fronts to develop the project.
ZF: What about production schedule?
TA: The production began in 2012, when I received a grant from the Minas Film Edict, an audio-visual development program development program, here in Minas Gerais. However, the research started well before. The first script treatment is from 2008. I had several gaps of time within those four years. The money issue always interfered with the schedule. Besides, there was a maturation period of the film aesthetic proposal, as well as the executive production one. Now we are in the animation production. We must start post-production at the end of 2019. The film is scheduled to launch in July 2020.
ZF: And which difficulties did you have to face during all this process?
TA: In the beginning, I had to find an executive producer for the project, who could work over the film: schedule, budget, team, artistic and animated aspects. It was fundamental for me to dedicate myself to animation. It was also difficult to gather a group of skilled animators who were able to do exactly what we need, and to put together a cohesive team. This took a while. When that was achieved, the process began to flow. And we managed to find a way to develop the aesthetic of the film. We  now have 3 teams: a direction and production team, another one  for animation, and a third one for art. Altogether we are 15 people in loco and five in the distance. However, this is the beginning of production. Presently we will be animating with our co-producing partners, involving new professionals.
ZP:  What I find interesting in this work is that it leaves the common place.
TA: Cool. I fit into the group of independent filmmakers. My interest is to discover aesthetic and narratives processes. That is what moves me.  I think it's important to explain why I wanted to use the filmed image in animation development. When I see films about Indians, they are usually indigenous people clichés. I work with the indigenous people, and my partner (and husband) has been working with the indigenous cause for more than 20 years. So, I wanted to show the differences among these people. For example: how the Apinayés are different from the Guaranis, and how the Guaranis are different from the Canela-Rankokamekrás. That's why I have chosen to shoot in advance to animate. Moreover, the audios captured, the dialogues in indigenous languages, all this is a very rich material. The  Indians also loved this process of playing their grandparents, their great grandparents. Some of them still remember Curt. It has been a very interesting process.
ZF: It was a real memory review...
TA: Yes, and besides it is a historic film. It's a story which occurs in the first half of the twentieth century, with the tribes of the time - the Guaranis from 1906-1910 - the Canelas from 1930s. I have a very good material, written and photographed, by Nimuendajú himself. This all becomes even more important because the Brazil's National Museum fire. The country is in mourning because of this tragedy - and one of the lost collections was precisely Curt Nimuendajú ones! Many references (photos, maps, objects, texts) present in the film, were based on that lost collection!
To come back to the poin, in the script there was a ritual scene, in which the Apinayés use wooden legs. When we went to the tribe and talked to them about it, showing what Curt Nimuendajú had written and photographed in 1930s, they reproduced this ritual. Something that they had not been doing for more than 30 years! It was a very strong experience that involved the whole village. These are unforgettable moments.
About the director:
Tania Anaya is a graduate and a Master of Arts from the School of Fine Arts, of Federal University of Minas Gerais. She studied animation at the Cinema Centre of Animation of Minas Gerais:, in cooperation between Brazil and Canada. Tania owns the company ANAYA, which has been active in the market since 2002. In addition to animation films, she is also dedicated to making documentaries. Among her short films Ãgtux (documentary & animation), was awarded at festivals such as 53th Internationale Kurzfilmtage Oberhausen, in Germany. She currently works in her first feature animated film, Nimuendajú. She also develops the following animation projects: Palmeiras do Alto, O Filho da Puta and Minas de todo delírio.
Credits:
NIMUENDAJÚ,  Animation | Fiction | SCOPE 4K | 80 min | Brazil
Production: ANAYACo-production: Peter Ketnath/Cine Zebra, Samuel Chauvin/Promenade Films, Gabriel Bonilla/Apus Studio, with the support of National Indian Foundation (Funai), National Museum/Federal University of Rio de Janeiro, Centre of Indigenist Work (CTI), Centre of Timbira Documentation University UNA/Belo Horizonte
Direction: Tania Anaya
Executive Production: Bruno Hilário, Kleber Gesteira and Tania Anaya
Distribution: Vitrine Filmes (Brazil and Latin America).
SIGN UP: Want to read more free articles like this? Sign up for Our Newsletter