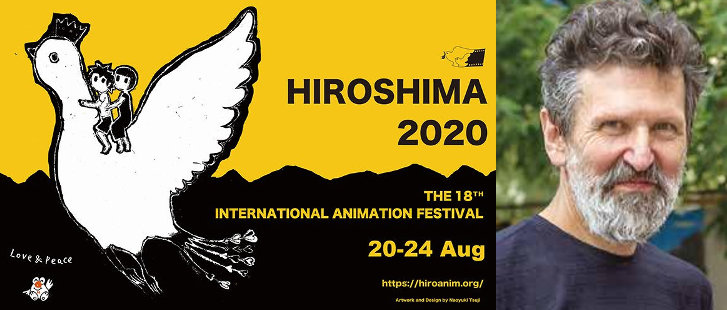 Academy Award winner Russian animation artist Aleksandr (Alexander) Petrov will become the International Honorary President of Hiroshima International Animation Festival 2020.
The acclaimed Russian animation director Alexander (Aleksandr) Petrov, an Academy Award-winning artist for his 1999 film The Old Man and the Sea (watch it here) is the international Honorary President of the 18th International Animation Festival in Japan - HIROSHIMA 2020 (20-24 Aug 2020).
Petrov has perfected the art of oil painting-on-glass also in later work, such as the 2006 film My Love;  the film premiered at the Hiroshima International Animation Festival in 2006, and won the Audience Award, as well as the Special International Jury Prize. 
Here's an excerpt:
Petrov released a statement, highlighting the "Love and Peace" 2020 festival motto. Read it in full below:
It is a pleasure to be able to come back to Hiroshima

When I visited Hiroshima before, I became a fan of this great city without realizing it. Seemingly, the life in Hiroshima is ordinary and has no difference from those in other cities in Japan, as if local people do not mind the past history of Hiroshima, and as if they don't want to make visitors feel sad. Thanks to their hospitality in Hiroshima, tourists could often loose their wariness and almost forget how horrible things actually happend in Hiroshima, how hideous memories hide behind beautiful appearances, shopping windows, cheerful smiles and loud sound of cicades. And suddenly those visitors realize it by feeling the weakness of existence as well as the perseverance of life reflexively. It is impossible for us to ignore these feelings here in Hiroshima.

All the more reason, Mr. Renzo Kinoshita and Ms. Sayoko Kinoshita established a festival under the sign "Love and Peace" here in Hiroshima. However, were they able to assume the slogan could keep living such a long term at that time? They just kept chasing their dream and patiently committed themselves to making Japanese animators encounter with world-wide colleagues. Those encounters have contributed to the development of Japanese animation, have provided Japanese audiences opportunities to find splendid American, European and Asian animation, and have discovered unknown directors, who became very famous later. The public competition in Hiroshima has become one of the events which attracts the most attention from the world of animation. Even after Renzo passed away, the festival keeps going on for many years. The festival has made great development owing to the great efforts made by the Festival Director Sayoko and the festival staff members as well as a great support from Hiroshima city. The Hiroshima International Animation Festival has become one of the symbols of the city and has continuously been faithful to creative ideas which unite people, to creators' freedom and responsibility and to the wishes for peace behind the establishment of this festival. Hiroshima has become a hub which attracts young creators of animation as well as great masters, and their dialogues are important and essential for us. Please join me to appreciate the great effort made by organizers and operation team of the festival, because they have committed themselves to let us bring the heartwarming hospitality and the joy of mutual understanding back home from Hiroshima.

I believe the memory in Hiroshima will stay in the heart of all of us.
Wishing you all good fortune and happiness,

International Honorary President,
Alexander Petrov