'Night Bus', 'The Nose or The Consipacy of Mavericks' in the Animafest Zagreb Winners
The 31st World Festival of Animated Film – Animafest Zagreb 2021 ended tonight with the award ceremony at the SC Cinema, affter more than 350 screened films and numerous accompanying events in the six days of the festival
The jury of the Grand Competition Short Film, consisting of Nadja Andrasev, Michael Frei, Shoko Hara, Draško Ivezić and Sasha Svirsky, decided to award the Grand Prix to the Taiwanese film Night Bus directed by Joe Hsieh, created in the author's independent production. 
On a late-night commuter bus, a necklace was stolen. This was followed by a tragic and fatal road accident, and a series of intriguing turn of events which revealed love, hatred, and vengeance. The film climaxes as the bus goes up in flames, burning and glittering against the dark coastal sky - Film Synopsis
Jury Statement: Night Bus is a miraculous journey that captures all the protagonists and the audience. Some of the jury members would die for this film. So that everyone remains unharmed, we award it the Grand Prix.
The Golden Zagreb Award for Creativity and Innovative Artistic Achievement went to Ismaël Joffroy Chandoutis for Maalbeek (France, produced by Films Grand Huit),
Survivor but amnesiac of the attack at Maalbeek metro station on 22 March 2016 in Brussels, Sabine is looking for the missing image of an over-mediatised event of which she has no memory - Film Synopsis
Jury Statement: A journey through particles reconstructed with archaeological precision, which does not give comfort to the stratified identity of the main character affected by fear
Home and family, relationships, desires, wishes: everything is summarized in a kitchen. The stuttering boy is alone there, playing with his imagination - Film Synopsis
The Zlatko Grgić Award for the best first film made outside an educational institution went to Mahboobeh Kalaee's Iranian film The Fourth Wall (produced by the Documentary and Experimental Film Center).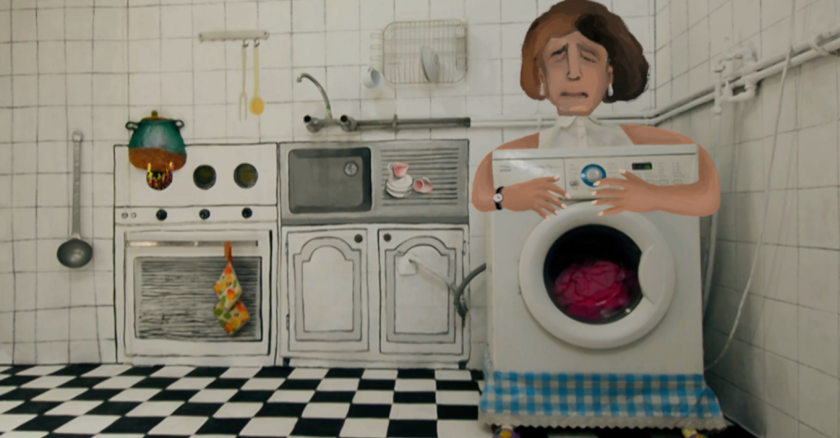 Home and family, relationships, desires, wishes: everything is summarized in a kitchen. The stuttering boy is alone there, playing with his imagination - Film Synopsis
Jury Statement: For an experimental animation technique that takes us to the mind of the protagonist who interprets family dynamics and social rules like a bird trapped in a windowless room.
Jury Special Mentions:
Michael Frei awarded Nicolas Keppens's Belgian-French-Dutch film Easter Eggs (produced by Animal Tank, Miyu and Ka-Ching Cartoons) for a carefully framed story of two boys who experience their worlds differently. It is graphically seductive, accompanied by the most wonderful sounds, but with a milky taste that makes my stomach uncomfortable 

Nadja Andrasev awarded the Belgian Monachopsis by Liesbet van Loon, produced by Fabrique Fantastique, for its portrayal of the fragile dynamics of emotional connection and the feeling of isolation of a seductive, restless visual style that puts the audience in a state of imbalance.

Shoko Hara awarded Daniel Gray's Hungarian-French-Canadian Hide (La Cellule Productions, Cub Animation and The National Film Board of Canada). The feeling of separation, longing, impossibility of action is told in a metaphorically dark world by strong surreal visual language. It is a sentimental personal journey to the end of innocence 

Draško Ivezić awarded the Spanish film In My Chest of Fire There Is Still Place to Temple Your Dagger by Pablo Ballarín, made in the author's production. This bitter-sweet story of jealousy is a unique homage to the gag genre, created by a simple but memorable visual style and an economical mise-en-scène with bold timing.

Sasha Svirsky awarded the Danish-British film Orgiastic Hyper-Plastic by Paul Bush (Late Love Production and Ancient Mariner Productions) for depicting love that doesn't last forever, and when it disappears, it leaves a deep mark on face of the Earth.
The Feature Film Competition jury (Otto Alder, Hrvoje Štefotić and Karin Vandenrydt) gave its Grand Prix to The Nose or the Conspiracy of Mavericks by Andrei Khrzhanovsky, produced by Studio SHAR.
Jury Statement: a lavish and daring film with a political dimension, which managed to portray the extreme duality of Russian culture. With recognizable Russian motifs and a widely known absurdist narrative style, this film won us over. It is always important to remember the cruelty of the past and prevent its recurrence. With a strong message and excellent images and sound, this film is a rounded animated masterpiece
Special Mention went to Kill It and Leave This Town by Mariusz Wilczyński (produced by Bombonierka), a touching film that evoked a melancholy world that immediately attracted us. The story is both very personal and general and shows us extremely creatively and inventively what sadness is, complemented by an incredibly poetic style of animation.
The joint jury of the Student Film Competition and the Croatian Film Competition consisting of Denis Alenti, Paula Bristot and Petrit Gora decided to award the Dušan Vukotić Award for the best student film to the Polish film I'm Here by Julia Orlik, made at the Polish School of Film, Television and Theatre in Łódź,
The financial prize in the amount of EUR 1000, which belongs to the winner of the Student Film Competition, is awarded by Zagrebačka banka.
Special mention went to the films Ant Hill by Marek Náprstek (Czech Republic, FAMU) for artistic 2D style and amazing character design and animation and Room With a Sea View by Leonid Shmelkov (Estonia, Estonian Academy of Arts) for a wonderfully unusual and witty depiction of unrequited love.
The Croatian Film Competition winner is Can You See Them? by Bruno Razum, produced by Zagreb Film.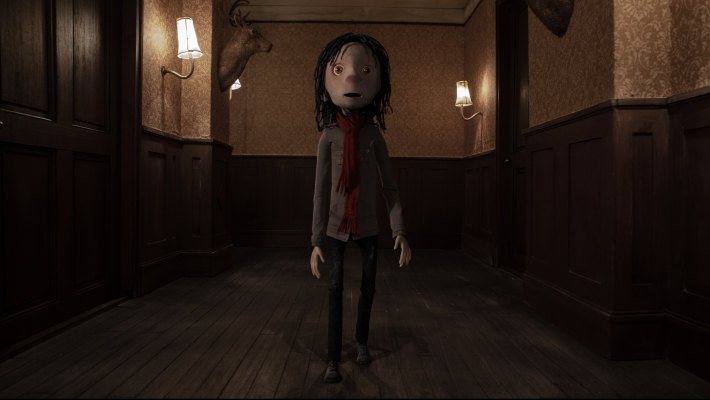 A schizophrenic boy witnessess the killing of a deer in the forest and starts running back home. A myriad of strange occurrences along the way worsen his condition. The safety of his home is only an illusion, and a series of visual stimuli forces him to go back to the beginning of the story in order to try and change the sequence of events - Film Synopsis
Jury Statement: for its excellent character and set design, as well as the performance of stop-motion animation.
The winner is also entitled to a financial award in the amount of 1000 euros awarded by the Croatian Film Directors Guild.
Special mention went to Lucija Mrzljak and Morten Tšinakov for The Stork produced by Eesti Joonisfilm for its humour and rhythm of storytelling.
The winner of the VR Animation Competition was chosen by a jury consisting of Agnė Adomėnė, Mario Kalogjera and Stefan Stratil. The award was given to the Japanese work Otawamure by Yoriko Mizushiri (produced by Kodansha VR Lab, Ltd.)
Jury Statement: it was fun to socialize in this psychedelic world that captivates with clear aesthetics as well as subtle and extremely entertaining parts. The soft and dreamy style of animation is inspired by Japanese pop culture and a beautiful soundtrack. Otawamure is a film of subtle humour that relaxes the mind 
Special mention was given to the Japanese-German-Indonesian project Replacements by Jonathan Hagard (produced by Kampung Ayu, Ossa Film and Suwe Ora Jamu).
Jury Statement:  The main characters in this film are the family home and the passage of time. As your eyes fly over the details of clear works of art and notice all the interesting elements that make up the private lives of three generations, the uninterrupted urban and demographic change of their neighbourhood brings the story of cultural and political change. This is a unique exploration of 360 technology as a democratic film device that allows the viewer to freely choose the focus and their own perspective on the topic.
The winners of the Films for Children Competition were chosen by a jury consisting of Flora Bokić, Tara Gladović, Ana Gladović, Luka Križanac and Tia Županić. The jury awarded the main prize to the Spanish film Reflection by Juan Carlos Mostaza (The Cathedral Media Productions S.L.).
Jury Statement: a film with a very important message, a theme that is very often present in the growing up of children and young people and to which we need to pay more attention. The consequences that the distorted reflection in the mirror leaves affect our inner world which is the most valuable thing we have. Dear audience, love yourself, your appearance and be proud of yourself and what you have.
Special mention went to the Danish film Bus Line35A (produced by The Animation Workshop): a film on difficult topics of harassment and insecurity of young people in everyday public space, society's perspective on this problem and how involved we are in trying to resolve such situations. Maybe we should more often.
The Audience Award Mr. M for the film from the Grand Competition Short Film went to The Stork by Lucija Mrzljak and Morten Tšinakov, while the same award for the film from the Grand Competition Feature Film went to the Irish-British-Luxembourg-French film WolfWalkers by Tom Moore and Ross Stewart from Cartoon Saloon and Melusine Productions.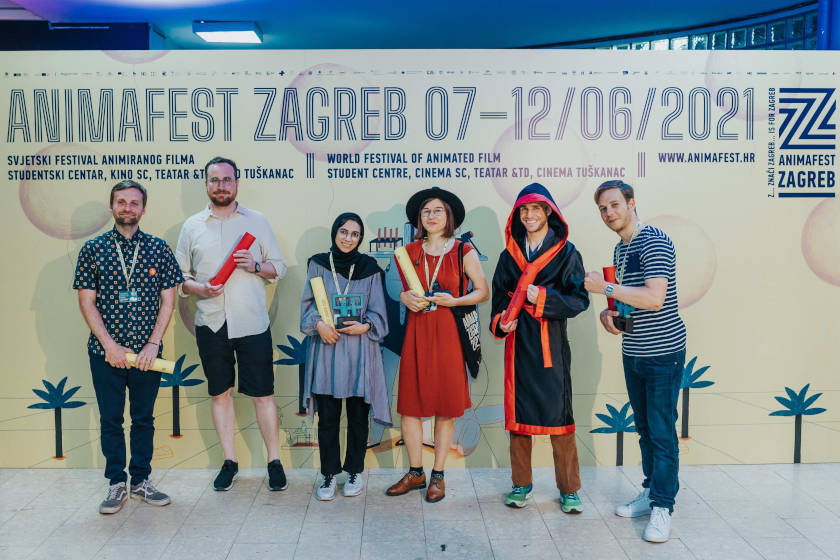 Animafest Zagreb 2021 Winners
The 32nd World festival of Animated Films Animafest Zagreb will take place 6-11 June 2022. 
SIGN UP: Want to read more free articles like this? Sign up for Our Newsletter