Marilyn Myller by Mikey Please wins Norman McLaren Award at Edinburgh Film Festival
 The award which bears the name of the Scottish-Canadian pioneer animator Norman McLaren was given to Marilyn Myller (Mikey Please dir.).
It was named the Best British Animated Short at the 2013 Edinburgh International Film Festival. Marilyn Miller by Mikey Please is a 6 min stop-motion short, with the cryptic summary: "Marilyn maketh. Marilyn taketh awayeth." The film had its world premiere at EIFF.
See the trailer (film produced by Blink Industries/ Hornet Films):
Mikey Please has already won the 2011 BAFTA Award (Best Animated Short) for his previous film, The Eagleman Stag. The Norman McLaren award was presented by the Oscar-winning animator Richard Williams (Who Framed Roger Rabbit) on 28 June .
Other nominees included  Eamonn O'Neill, Will Anderson (BAFTA winner with The Making of Longbird) , Sam Taylor, Felix Massie, the Cannes-screened The Magnificent Lion Boy (Ana Caro), and  X by Max Hattler, short-listed at Stuttgart Animation Festival.
See all participating films:
Left, Eamonn O'Neill/UK/2012/12 min
'We got older, we drifted apart. Neill changed and so did I.' BAFTA-nominated Eamonn O'Neill's graduate film from the Royal College of Art.
The Gravedigger's Tale, Min Young Oh/UK/2013/13 min
The gravedigger leads a solitary existence, so far from the living, yet so close to the dead. This is her story. A love story.
The House with No Doors, Oana Nechifor/UK/2013/7 min
Jon's routine life between his dull room and an imaginary shadow world (Edinburgh College of Art)
First Light, Wing Yan Lilian Fu/UK/2013/10 min
When Daniela opens her door one evening to find her home gone, she takes a journey that changes her view of her city forever.
Sweetie & Sunshine, Will Anderson/UK/2012/5 min
Mrs Panda Tian Tian and Mr Panda Yang Guang, aka Sweetie and Sunshine. Two Chinese Pandas gifted to Edinburgh Zoo to take up residence.
Sandy, Joseph Mann/UK/2013/2 min
Jospeh Mann graduated from the Glasgow School of Art in 2009 and this accomplished stop frame animation has a certain cheeky seaside postcard charm.
I Love You So Hard (Chocolate Covered Almond), Ross Butter/UK/2013/2 min
Ross Butter, nominated for this year's BAFTA New Talent Scotland, presents a bizarre and terrifying fantasy seduction featuring a mid-air battle with a rhinoceros.
The Nether Regions, Maria Lee/UK/2012/3 min
There's no escape from bureaucracy, even in Hell. Wonderful snappy stop-frame animation featuring the resonant voice of Brian Blessed as you know who.
In Sight, Alexandru Nechifor/UK/2013/5 min
An introverted observer tries to attain spiritual intimacy with the people that pass by him. Further painterly visions from the Edinburgh College of Art.
Everything I Can See From Here, Bjørn-Erik Aschim, Sam Taylor/UK/2013/7 min
A game of football turns deadly as an uninvited player joins in. Via alumni of Sylvain Chomets' The Illusionist.
In the Air Is Christopher Gray, Felix Massie/UK/2013/10 min
Felix Massie studied animation at the University of Wales, Newport, graduating in 2007. This tender tale of growing up is charming, subtle and moving.
The Hungry Corpse, Gergely Wootsch/UK/2012/10 min
A short tale set in London's bustling, yet desolate, Trafalgar Square starring a corpse voiced by Bill Nighy accompanied by Stephen Mangan as a pigeon.
Hart's Desire, Gavin C Robinson/UK/2013/6 min
An aspiring hermit, an aspiring socialite, and a shared flask of tea in this graphically rich fable from the Edinburgh College of Art.
The Search for Inspiration Gone, Ashley Michael Briggs/UK/2012/9 min
A poet awakens in need of his notebook, pencil & inspiration. A divine couple observe. A debate unfolds: would inspiration arise from help, or hinder?
Seams and Embers, Claire Lamond/UK/2012/6 min
Young Jim follows his coalmining forefathers into a rough working life underground, while die hard miners talk of how a rugged industry died hard.
The Man Who Mistook His Wife for a Hat, Ross Hogg/UK/2013/3 min 
Using only charcoal and three sheets of A1 paper, this film visualises one of Oliver Sacks' seminal works, describing a unique neurological oddity.
X, Max Hattler/UK/2012/6 min
This work is a version of a water screen projection commissioned by KXFS and Vauxhall, presented on Regent's Canal in London in September 2012.
The Lion, Peter Baynton/UK/2013/3 min
The troubled and redemptive family history of a singer/songwriter is told using a pride of cardboard lions. Music video from previous McLaren Award recipient.
The Magnificent Lion Boy, Ana Caro/UK/2013/10 min
A strange feral child raised by lions is discovered by a Victorian anthropologist who takes the boy back to London to civilise the creature.
Lagan, Peter Shaw/UK/2013/4 min
The post-apocalyptic tale of a hungry fisherman and son who catch a very unusual fish. Recent graduate film from Edinburgh College of Art.
Sleeping with the Fishes, Yousif Al-Khalifa/UK/2013/9 min
Sonja lives a lonely life as a fishmonger until one day a delivery man turns up who looks like a rainbow trout.
Last Breath, Ying Ping Mak/UK/2012/8 min
An account of events when Yeuk Seng slowly grasps the fact that he has become a social outcast as a breathing person.
Marilyn Myller, Mikey Please/UK, USA/2013/6 min 
The latest film from the director and animator of 2011's BAFTA-winning The Eagleman Stag, this profound short charts the torment of the artistic soul.
Edinburgh International Film Festival takes place between 19-30 June 2013.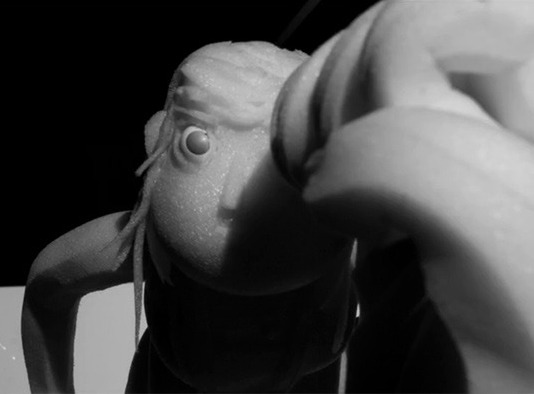 Read More About: