Monstra 2016 Festival Report: Expand With Rhythm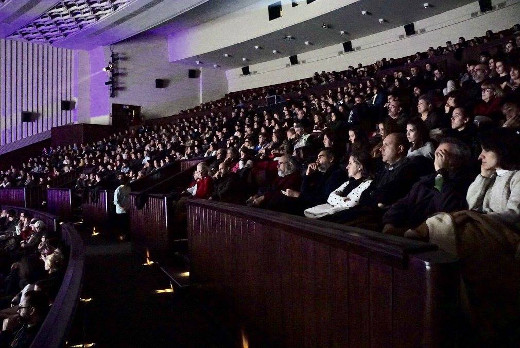 How easy it's to organize an animation festival during economic turbulence and stretch it into a 10-day feast?
MONSTRA Festival in Lisbon and its artistic director Fernando  Galrito (also a teacher of Animation at the Caldas da Rainha Superior Art School) believes it can be done, and the festival sponsors -not quite as noisy as Annecy, but still present- ensure that the festival has the means to survive.
 In a festival which takes place in a European capital (like Anima in Brussels), perhaps stretching is the answer.  605 films in 32 theatres and 61 schools invited to watch Monstrinha programmes are impressive numbers to go with, and they go well with Lisbon's endless avenues; space takes priority here.
Not that you can get easily lost either. Cinema São Jorge  was the main venue during the 2016 MONSTRA Festival (and the small and friendly team's headquarters), and its screening rooms (including a Manoel de Oliveira salle, where the opening and the award ceremonies took place) ensured that all animation lovers could easily watch their programmes.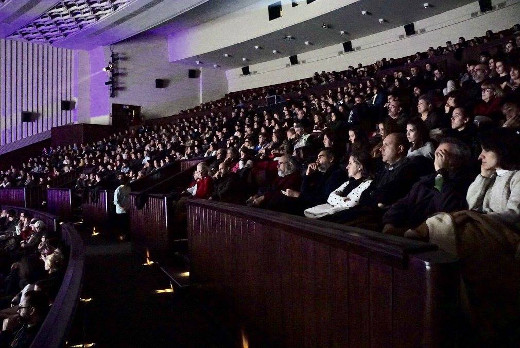 MONSTRA 2016 opening ceremony (c) MONSTRA
On the other side of the coin, homeless people living exactly outside São Jorge entrance only made prominent that animation festivals and their practitioners are not far away from the reality of the street -glamour and glitz has no place there.
But not everything took place at São Jorge. Bill Plympton's new, co-directed feature effort Revengeance [read more here] was hosted in a smaller venue, Cinema Ideal, packed with young people and students as well.
Plympton can make an impression even having a small piece of drawing parading around cinema lobbies, and he certainly captured the attention of the MONSTRA crowd.
With morning schedules devoted to schools, afternoon sessions coming up with masterclasses and screenings allocated to evening sessions, MONSTRA festival wants its visitors to present their own identities rather than vehemently impose its own. This works when you have people who have something worthy to communicate.
Steven Woloshen (both in his retrospective and workshop) is one of them, persistent in his cameraless animation technique throughout the years but ready to adapt when change is necessary.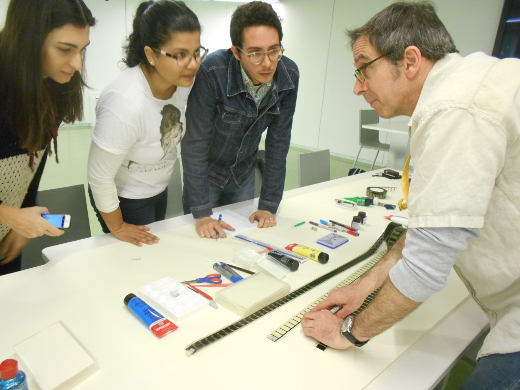 Animafest Zagreb artistic director Daniel Suljic (whose film retrospective was shown during the festival) insists on animation rhythm which can flourish only in places where mainstream animation does not really enter.
 A multi-part tribute to former Yugoslavia and their animated film tradition was well represented by Igor Prassel (Animateka, Slovenia), Mihai Mitrică (Anim'est, Romania), Milen Alempijevic (Serbia). The Anim'est programme in particular showed how the oppositional aeshetics of Romanian animators can be very colorful and psychoanalytic at the same time.
 Czech puppet animation had its say with the new version of The Little Mermaid by Jan Baleh -now titled Little From The Fish Shop. The exhibition at the Museu de Marioneta in Lisbon was impressive in the minute details of the sets that had to be built -even though the film itself left many unsatisified.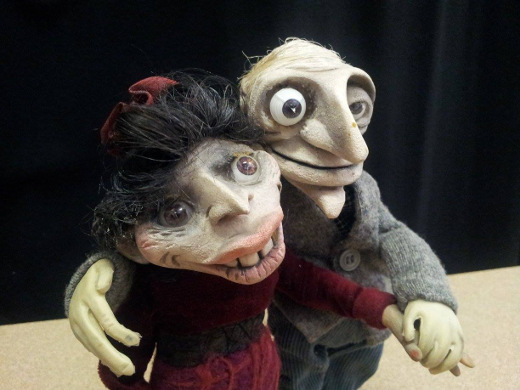 Jan Baleh & Michael Carrington workshop (c) MONSTRA
Troubled families had a field day in the competition programme, and Céline Devaux (Sunday Lunch, France) and Nina Gantz (Edmond, UK), and Studio Ghiblis's When Marnie was There took home the main festival prizes.
Other competition favorites include The Master by the Estonian Riho Unt, Izabela Plucinska's Sexy Laundry, the absurdist comic film Benches nº 0458 by Ivan Maximov (Russia), and the UK short The Evening her Mind Jumped Out of  Her Head by Kim Noce & Shaun Clark, a playful rendering of mindless thoughts in traffic.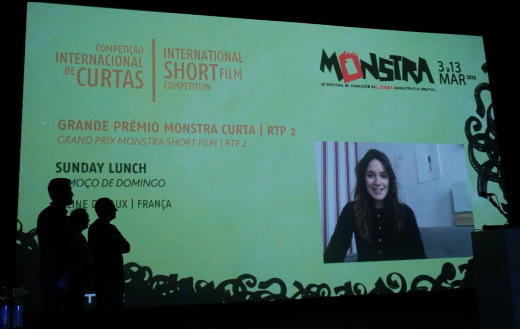 Céline Devaux wins the MONSTRA Grand Prix (photo: Lui Pereira)
A competition film in the Supershorts section (MONSTRA keeps track of short shorts as well) that made an impression was the By The Name of Boston by Grant Kolton. The film showed that US artists can also bring fine artistic results outside the studio system, and dutifully garnered festsival awards..
Student competition would benefit from a better programming. Standouts: Another Season by Anna Lytton, Zapletka by Stanislav Sekela, Afternoon Class by Oh Seoro, Cosmoetico by Martina Scarpelli.
 The much-neglected story of the visual artist Miss Hokushai by Keiichi Hara, told with compassion and daring imagery was clearly the winner of the features.
Contemporary Portuguese animation production proves to be very varied, from documentary animation (It Was Like That, Joana Nogueira & Patrícia Rodrigues) to slapstick (Countryside by the Sea, André Ruivo) to poetry (Our Lady of Apresentation, Abi Feijó, Alice Guimarães, Laura Gonçalves, Daniela Duarte) to war (the 17-minute Fragments by José Miguel Ruivo Ribeiro).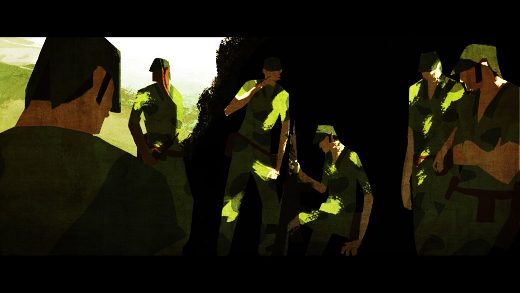 Fragments by José Miguel Ruivo Ribeiro
Still, the sensation of last year's Soot (Fuligem) by David Doutel & Vasco Sá was not matched by any of the films of the programme. Directors were present at MONSTRA, having a new animation short in their pockets, torturing an elephant in the process.
MONSTRA moved beyond animated films to cover areas like music and sound design, and expanded animation. Visual artist François Chalet, who can animate choreography and Facebook diaries at the same breadth gave insight on his work. The marvellous visual identity of 2015 Anima Brussels (umbrellas, anyone?) was his own creation.
Musician and sound design artist Pierre Yves Drapeaux (Tragic History With A Happy Ending, Regina Pessoa / Edmond Was A Donkey, Franck Dion) has worked under animation composer Normand Roger (The Man Who Planted Trees, Father and Daughter, My Love), but has his eerie signature style to distinguish him from the more lyrical soundtrack of his mentor.
Being a composer for animation shorts means finding solutions to the rhythm of the film, like the heart beat Regina Pessoa requested for her Tragic History.
Rhythm was not a problem for the 2016 MONSTRA festival, which organized its screenings, workshops and exhibitions with fine-tuning.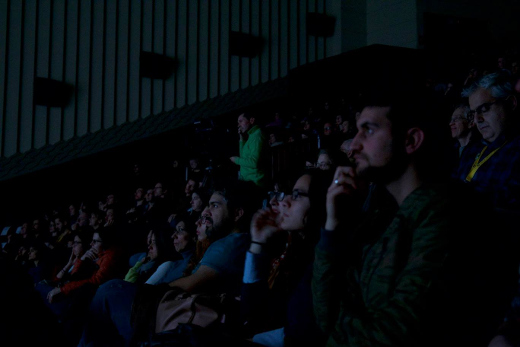 MONSTRA screening (c) Rui Pereira
Between the large animation festival (Annecy, Animafest, Stuttgart) and the smaller ones, MONSTRA wants to keep a spot as a big place which can still celebrate its art without going into big animation business forums.
A much-needed Q&A session with directors would really serve the festival's artistic purposes in that area. For all lovers of animation and its professional, it's a fine and friendly place to be.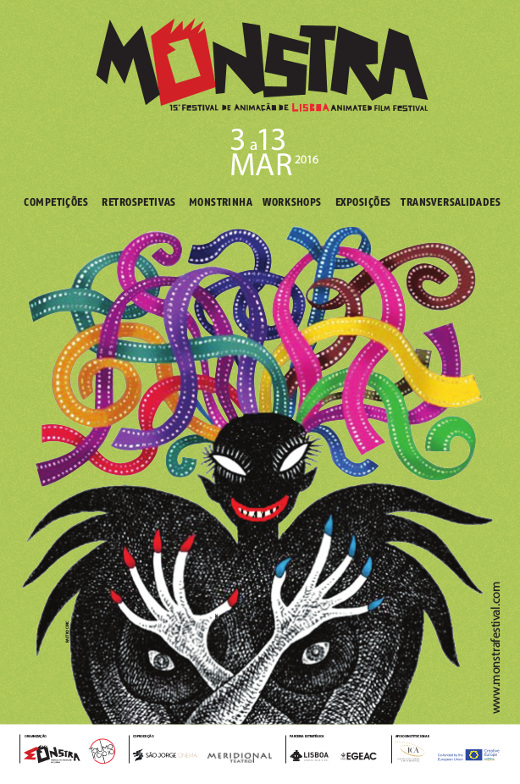 Vassilis Kroustallis
Read More About: