10 Years of StopTrik Festival: The Participants Talk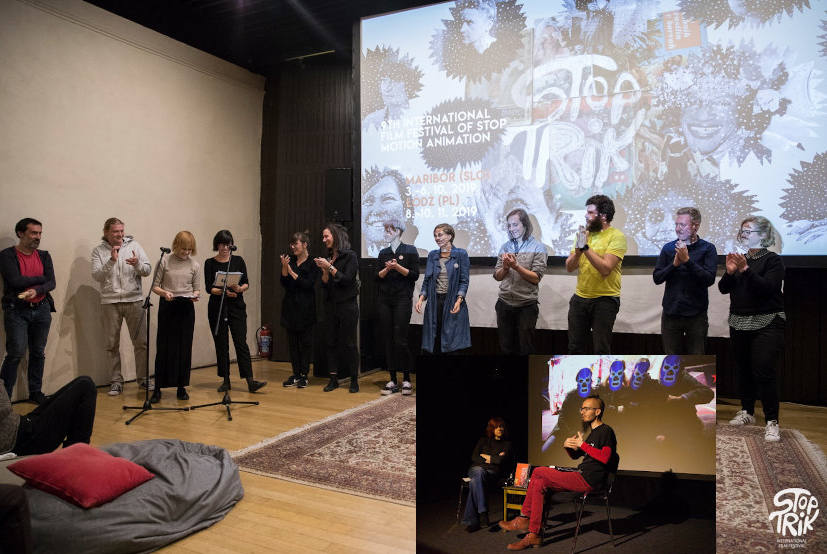 It's not unusual for a boutique animation festival to have a lot of friends. But Stop Trik Festival, first started in 2011, the brainchild of Olga and Michał Bobrowski  (plus their Lodz collaborator Piotr Kardas), has a devoted number of friends that won't stop talking about i -even after the festival ends its yearly fall edtion.
At Zippy Frames, we have extensively covered the festival (find everything here); yet this time, we decided to learn the participants talk, and give their own perspective of the Maribor / Lodz stop-motion festival throughout the years. There was a single question to those asked : What is your kindest / deepest / most extravagant /memory of StopTrik Festival (Maribor -Lodz)? 
Without further ado, here what our 11 interviewees had to answer (in alphabetical order):
Reinhold Bidner, director: It was my first time at Stop Trik Maribor in (I think) 2014 (overall I visited Stop Trik already 3 times, always being part of the Borderland Competition), I was invited with a music video, and back then I joined Trik Show, this nice Stop Trik-gathering of animators sharing their knowledge. Personally I am still not sure if I have specific knowledge in Stop Motion worth sharing ;) Anyway, during this event I also talked about my/our film "Impulse" which is also connected to Stop Motion/Animation in a rather experimental way (as always in my films): on the one hand pixilation but on the other we connected my collaborator (and actor in this film) Georg to electrodes (-> because the topic of the film was the human body in connection with technology / electricity) for this film, a technique which also creates animation "somehow" ;)
And back then at Trik Show I dared to use the term "Puppet animation" for our electricity experiments which was quite critically and sceptically discussed afterwards during the event with Puppet Animators. Back then I rather had no clue about the "Stop Motion Scene", rather coming from a media art background. So I guess my presentation was different (no "making of" from my films etc.) and at first I felt a little bit like a misfit in this community ;) But this is exactly the great thing about the Stop Trik Festival Team: it is very open and also includes and invites people from other backgrounds and brings together animators plus animation theorists plus festival organisers in a relaxed, charming and enthusiastic way
Nancy Denney-Phelps, animation journalist: Several years ago I was invited to StopTrik in Maribor to put out a newspaper about the festival with a group of students. When we first met as a group they were shocked to find out that I expected them to write. They thought that I was just going to talk for 5 days. They told me they couldn't do it and I told them you can! I also said that I was available 24 hours a day by email and phone.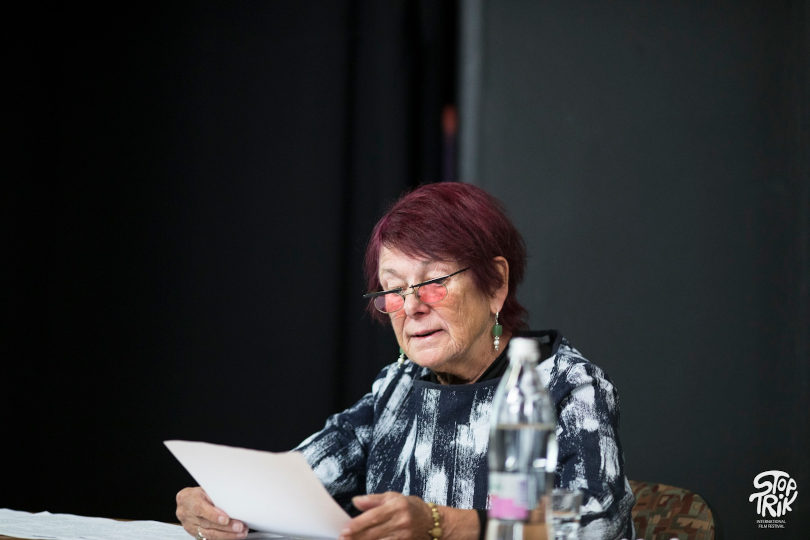 Nancy -Denney Phelps at StopTrik Festival, photo:  Andrej Firm
They were given three assignment: 1. Interview anyone at the festival, animator, staff or audience member, 2. Review a film or a program, and 3. Write an article as though you were telling your best friend what you had done and seen in Maribor. None of these students had ever written or attended an animation festival before. One did call me at 4 AM and was amazed when I answered the phone. In the end we put out a 10 page newspaper with photographs by my fabulous "staff photographer" Daniel Suljic. I was so proud of all of the young people and it was one of the most memorable things that I have ever done at a festival. The future of animation is in good hands with Olga and Michal, I am proud to call them my friends. Love to you both.
Waltraud Grausgruber, Tricky Women/Tricky Realities directress: StopTrik Festival is an essential event in my festival calendar! I appreciate the political approach and the special cosy community atmosphere for the exchange of creative ideas about animation. Congratulations and I wish you a looooong life
Bren López , ABEO (2018): Long talks with fellow animation lovers while eating delicious vegan food from a giant pot made with love by the festival team.
Ana Nedeljkovic & Nikola Majdak jr. (Rabbitland, Untravel)
Yves Nougarède, programme manager at Annecy International Animated Film Festival: Funniest moment for me was to introduce the Best of Annecy at 8:30am to some young Slovenian students, this was the earliest presentation I have ever made, I am not a "morning" person at all so I was a little bit destabilized ! And another "strong" moment was to finally meet in person the very talented but also quite discreet filmmaker Osbert Parker, such a nice and brilliant person
Igor Prassel, Animateka International Animated Film Festival: Drinking the whole bottle of tequila, before Mr. Kropka and the audience came out from the special mexican stop-motion program. (:
Daniel Šuljić, filmmaker, artistic director Animafest Zagreb:  I was only in Maribor so far, but it's definitively the energy of Olga and Michal and the Slovenian team which makes it a fine gem among the animation festivals! Vetrinjski dvor is a very nice festival base, and chestnut evening one of a kind :)! It's hard to pinpoint one memory cause for me there are many, with so many nice animators from around the globe. It's a great place to enjoy stop-motion!
Miloš Tomić, Serbian director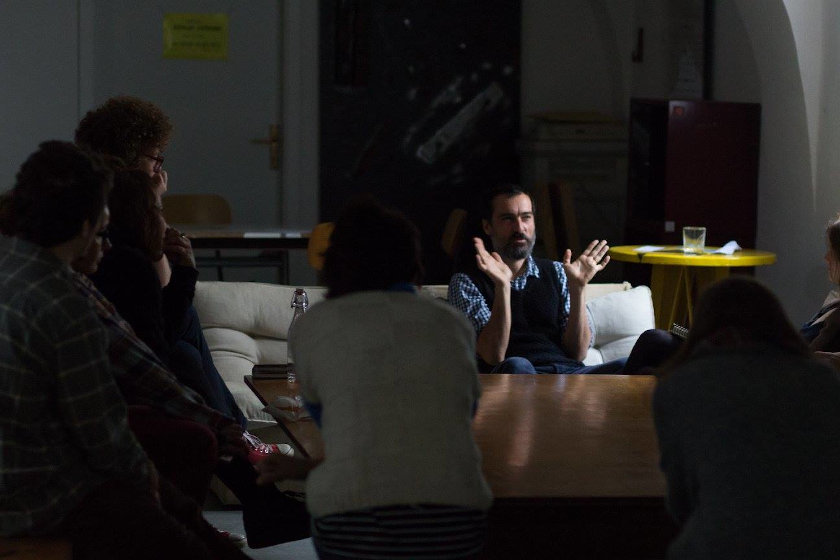 During workshop on Stop Trik, I gave task to play with everyday, cheap object. One group got plastic white, thin plate - festival guests were eating from them. There was a Swedish girl on a workshop and plate came to her hands with a huge hole in the middle, like broken window. She treat the plate very gently, slowly letting her palm pass through sharp-soft crack of the plate. Therefore, plate slowed down around her elbow, like a very expensive lo-fi necklace. She crossed all her fingers over broken plate and lean over table with very serious, even dramatic face. Pretty, fairy-tale face. Blue eyes, light hair, of course. She probably was thinking what to do next with the plate and she paused, l  I was moved.-) Thank you for that, Stop Trik!
Joseph Wallace - Director: I have only attended Stop Trik once but I loved sitting in the sun eating fantastic vegan food (probably some of the best festival food ever) and chatting to all sorts of wonderful people. Perfect. Oh and of course... the films!
SIGN UP: Want to read more free articles like this? Sign up for Our Newsletter
Read More About: