Swedish animation icon Per Åhlin honorary guest of Fredrikstad Animation Festival
50 years ago, Per Åhlin launched his first film, Out of an Old Man's Head, and the festival wishes to celebrate this moment.
Per Åhlin is most famous for his feature films and TV shows, such as (Resan till Melonia), Alfie Atkins (Alfons Åberg) and Christopher's Christmas Mission (Sagan om Karl-Bertil Jonssons julafton). Per Åhlin has served as a distinctive figure within the Swedish film community and has been a driving force for the development of an animated industry in Sweden. Per Åhlin's films are today regarded as an important part of Sweden's film history and have become popular in both Sweden and the rest of the Nordic countries. Today, Per Åhlin appears to be the foremost animation filmmaker in our part of the world.
The festival board of the Norwegian Animation Forum, the foundation behind the Fredrikstad Animation Festival, each year selects an honorary guest who stands out in the Nordic-Baltic animation scene for a lifelong career and contribution to the animation film.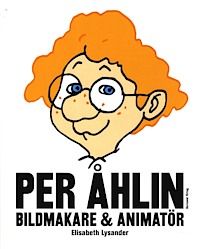 The Swedish journalist Elisabeth Lysander wrote a biografical book about Per Åhlin in 2013.
Fredrikstad Animation Festival is the oldest and largest of its kind in the Nordic region, dating back to 1994 and the festival Animerte Dager in Oslo, Norway. The annual festival now takes place each November in the town of Fredrikstad, outside Oslo.
One of the cornerstones of the festival is the Nordic-Baltic animated short film competition, with the awarding of the prize known as the Golden Gunnar. Fredrikstad Animation Festival is a part of the European Animation Awards, the Emile Awards, and the winner films are eligible to participate under the European Animation Awards. The festival jury also selects one film to compete in the nomination process for the Amanda award.
The festival is a professional arena for the animation industry as well as being an important event for students of and educational institutions within animation, graphic design and digital media production. Each year, top animation industry professionals hold seminars and lectures, and the festival has previously hosted guests from famous studios such as Pixar, Disney and Aardman.
Fredrikstad Animation Festivalake place from 9 to 12 of November in Fredrikstad, Norway.
Read More About: