Julie Baltzer: There's A Balance Between Practicality and Catering Too Much to Online Users (Indie Online 2020 Project)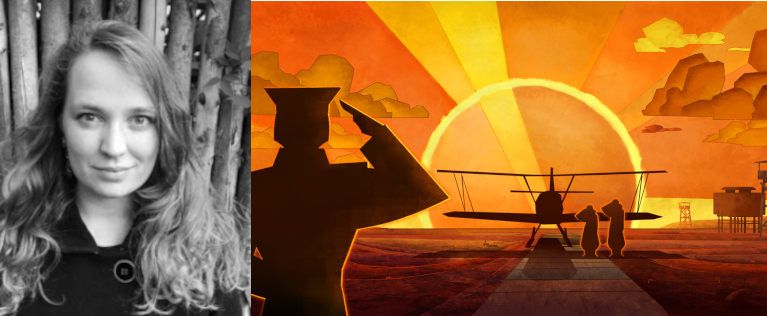 Julie Baltzer is one of the emerging voices of independent animation in Denmark. She graduated from The Animation Workshop with the animation short Nachtexen, a film that shows and showcases the much-neglected women in the Soviet Army.
She talked to Zippy Frames about her experience both consuming online content and coping/reacting to the pandemic and the lockdown, as part of the Indie Online 2020 project (headed by Michelle Kranot, supported by The Animation Workshop).
VK: You're from Denmark, but you made the film Nachtexen about the Soviet Union.
JB: My father found this article in 2011 about women in the Soviet Army, long before I decided to be an animator (I thought I was going to study history). He said that someone should make it into a movie. Years later, I researched it, because it was interesting; a lot of other people found it interesting as well. It resonated with the whole theme of women not being invented till the 60s. There were many women active in the Soviet Union, and we don't hear about it -largely because of the Cold War. Everything Soviet was a bit iffy.
One of the projects that I'm working on, the TV series (Women in War), concerns women resistance during WWII in Denmark, France, Poland and Germany as well actually. Resistance women were very active, but after the war, it was a kind of trauma -and nobody talked about it. Everyone dreamed of what it was like before the war: the perfect housewife with the perfect husband, and the kids and the car etc etc. We wouldn't acknowledge that mommy was a liquidator.
It started off with the Danish producer Irene Sparre, and we now have a French, a German and Polish co-producer. We're developing this for years. This is one of the projects we had to pitch this year at CARTOON Forum -and we also applied for Creative Europe funding. It's amazing that one of those fighters became a high school teacher afterwards; and Irene's good friend was taught by her at high school. And she remembered her as a really cool power lady, but no one talked about the war.
VK: Do you think that when we get over this pandemic thing will we talk about different things than we talk now? And will we have new heroes, and women heroes?
JB: I hope so; doctors and nurses were at the front of this pandemic, when no one really knew what it was. It was largely women on the nursing front. And, at least in Denmark, a lot of our care personnel are women.
VK: What was your own feeling on the first day of the March lockdown?
JB: Numb. Also the first month I just listened to news to let stuff sink in (this new reality), and then I turned to fantasy audio books to escape, complete fairy tales. I embroidered a cushion. Would that make me a hero? [she laughs]
Watch Nachthexen by Julie Baltzer
VK: In fiction and story terms, heroes persist and endure a lot during their course of their life, but they also have their big action moment. What would be your own big action?
JB: Actually, it was to shelve a project that I was working on for three years in May. I realized I was not the right person to direct. I really want to make this project, but it's going to have to be made later, and with me as a producer. It's a story about rebellion in the Old Caribbean Danish colonies; I've been working in collaboration with The Animation Workshop for years, and I've spent money, heart and energy. And this thinking break made my realized that this narrative is not my own project, but I can facilitate this still important narrative later -as someone who can get Danish money for that. It was not a heroic moment; it was a big pill to swallow, but it's going to be a later collaboration.
VK: What was your next step after that?
JB: I signed up for a writing course; I needed to work on my narrative skills. I realized I spent so much of my time applying for a script funding, but I never learned this narrative structure. I also realized I am going to work a lot on my own, and it will be a while before we start gathering in teams, and especially international teams. I started getting really serious about my own writing, and I'm taking classes. I think I'd better myself skill-wise than being so goal-oriented.
It's hard to get the jobs if you don't have the 'badge'. You have a sticker that says 'you're a scriptwriter'. It doesn't matter if you're compelling writer. I went to an art school, and we didn't learn the classic narrative structure, we worked with a freer narrative. My favorite films don't have the three-act structure.
VK: Which are your favorite films?
JB: The short film Two Cars, One Night (2005) by Taika Waititi. It's about children neglected, but not in a preachy way.
VK: Where did you watch this?
JB: On YouTube. And then he made the Jojo Rabbit film (2019), the whole dramedy film that I really love. Humor, heart and love into something super tragic. For feature films, I would mention Ladybird (2017) by Greta Gerwig and Call me by your name (2017) by Luca Guadagnino Ladybird is a lovely nice zoom in mother-daughter relationship that I really like, and I recognize bits of it.
VK: Where did you watch Ladybird?
JB: I think I've rented it online, during the lockdown. The last time I watched a movie in the theatres was Jojo Rabbit before the lockdown. It's nice to have a flexibility; I like the big picture and big screen for some things, but when I was watching Call me by your name it was just me on my couch weeping. It was very intimate.
VK: How did you work with your short film Nachthexen? Did it go to the festivals or online first?
JB: I think it came online first, and then did the festival rounds. The Animation Workshop people have this strategy of putting the film online first, to help people getting jobs etc. It's really awesome to have that boost when you graduate; the same month you're graduating the film you've directed is online.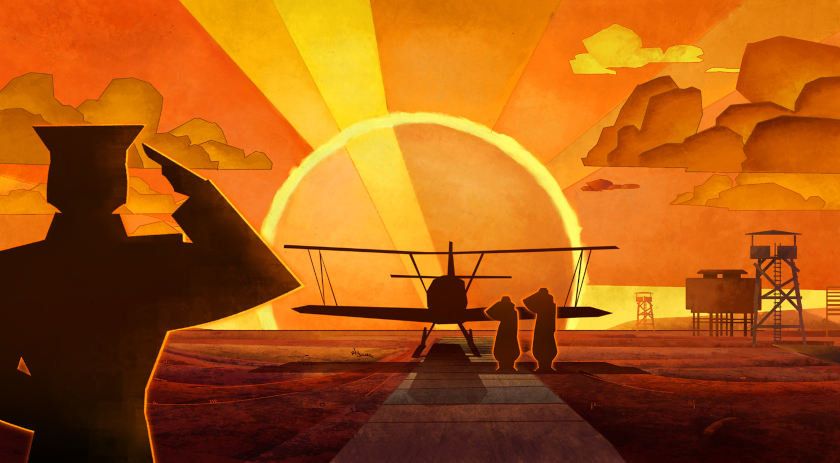 VK: But now online seems the only choice left. What would you have done if you were the producer of your film as well?
JB: We were flirting with this idea of Women in War being online before the lockdown; we found all these small podcasts, Instagram posts or blogs where female historians dived into this history. We realized there's a whole underground network of these quite 'niche' stories. We've been toying with the idea for long, but we haven't released anything yet. This online thing might add a little bit more flexibility, and might open it up at the same time. So, there will be less gates and gatekeepers, and we'll have more content.
VK: Would you be actually thinking of starting a development/production blog simultaneously with the film development/production?
JB: We're now trying to pick up our main characters in our stories with our co-producers. But what you're saying I haven't considered it actually, it's a fluid idea
Once you see their amazing women journeys, you start thinking that your own life is not that remarkable. It's not necessarily a bad idea; when I meet people and talk to them, everyone gets hooked by those stories.
VK: What you're looking for when you're browsing online content? Films, discussions, panel? What part of the animation/film culture actually attracts you online?
JB: Whatever falls on my lap, and mostly about friends sharing their content. But I definitely don't want to watch online something big and epic, something that should be watched on a bigger screen. I've been watching online content and interviews etc., but I've been doing this for years. Taika Waititi has some really good interviews about the writing process and directing. It's probably my procrastination period; if someone talks about something that I should be doing right now, I'd go and watch it.
And if I came across a boring talk or a panel, I'd just go away. That's the beauty of the online, whereas in the physical setting that's a different thing. There was a festival when there was a Q&A that was closely tied to the next screening; so, when the Q&A session started, everyone left -a terrible feeling!
In the online screening and attending, perhaps I get more honest with myself and how I spent my time and less polite -which might be good. But it adds flexibility as well, and you can see more stuff. If it's online, you can choose.
VK: But have you exercised your flexibility more in this period than you would normally have done?
JB: I have more time to be at home with my computer -and I actually have more time to watch films. But I went to one festival who managed to have a physical edition, OFF Odense International Film Festival. They made a really good job, and it was nice to be there. It had a different vibe this year, but they also had the films available online for a month. Here you could with an account and a password to watch all films online, which I think was a really neat trick to do. Like a kid in a candy shop.
VK: Did you actually think at some point that there was so much content that you couldn't actually start choosing what to watch?
JB: Definitely, all the time. Before you open your streaming service, you need to have decided what you're going to watch.
VK: Festivals now have curated content. Then there's the big platforms, YouTube, Vimeo, Facebook, and on the other side, there's your friends' and colleagues' online content. Which one is easier for you to follow?
JB: If I go to YouTube, I know what I'm looking for, for instance an interview with such and such a person. If I visit a festival site, the time I'll remain there depends on the festival site; a lot of festivals have (and it's not their specialty) sites which are a nightmare. I remember submitting to festivals and I just gave up, because the application process was hellish. So, regarding festivals it depends on the website and whether it's easy to figure out.
VK: But many festivals who provide online content are more streamlined and homogenized in their webpage design; they look like a version of Netflix.
JB: I haven't experienced it, so I wouldn't know. I wouldn't want everything to look like Netflix. In the physical days, festivals would get away with this online thing, because you would arrive there and the atmosphere was great, the vibes amazing, and great people and the volunteers etc. But now when you have to put your festival online and keep the vibe, a Netflix rip-off would probably not do. But for me, as long as it's easy to use and not too messy, that's fine; it doesn't have to be Netflix.
VK: In the physical environment, festival films are curated and put in order. In the online condition, there are just boxes waiting for you to discover them.
JB: I would choose a really good still, one that's very striking. Each still in our film looked like a propaganda poster. It was really good for the festivals. You're fighting for visual competition. "Look at me! I'm a neon flashboard". Still, there's potentially a larger audience than the ones who show up for a film festival. Potentially, it's a great thing for viewers out there, but you can also drown in information. That's the fine balance.
VK: But would you be happy to see your film and project exclusively online?
JB: I think so. The idea of the project is to bring forward forgotten histories to many people as possible. But a lot of the online content has to be short and sweet. If it doesn't grab you in the first minute, you're gone. The way we consume online product is so restless; a slower format could be damaged. For our project, we are back and forth with the project duration, now developing with a shorter format in mind. Each woman will have a short episode, but duration is not settled and it's not the defining thing.
VK: The episodic format works well for a web series.
JB: Up here in Scandinavia, a Norwegian web, live-action series Skam, with a very cheap budget became massively successful even back in 2016. It was so well produced and with so much realism and soul, and so well written, with crazy acting from the teenagers. It was as if someone popped a camera in the classroom and said, go up your life. It was really lucky that it came before the pandemic; so now you know you can actually make stuff beautiful, and compelling, and with a heart. It's the same with animation. You can sit and draw, you can visually make interesting stories without this costing a fortune.
VK: Do you have to adapt your work to be put online? Or it's just the wrapping (the 'marketing' aspect) you need to take care of?
JB: I think it depends. Broadcasters tell you that you have to say everything that's happening, because everyone is watching a TV show while doing something else in addition. All the dialogue has to be over-explanatory; but you can adapt a format to a certain degree and then stop by concentrating on what fits you. There's a balance between practicality and getting your stuff out there and catering too much to online users. I wouldn't go too much further on the latter; if someone is not going to watch my animated short that is going to cost a fortune for F* seconds, then it's not my audience. Either my loss or their loss -to be determined.
VK: We have been in this pandemic situation since March. What happened with your professional commitments apart from your personal projects? Did you have more or less offers?
JB: I had more freelance offers from abroad than I used to have. Everyone got used to working online. I had clients outside Denmark, which wouldn't normally have reached out to me. That's opening up the borders for the creatives and freelancers.
VK: Anything creative that you did apart from your own project?
JB: After I graduated from TAW, I got so many new ideas, and my notebook looks like an insane person's notebook. Ideas come in waves. So, it's been very rewarding to go back to school on some part of my creative process to stimulate my brain. It's a part-time Masters course (2 years) that's taking place in Odense by Syddansk University; a pretty good film city. I'm normally carpooling with a writer's group when we meet every second week, and we share our writing and notes. So, we're a little bit in the bubble. But, of course, every time you leave or enter the classroom, you have to sanitize. Everyone is standing in a circle with 2m distance.
VK: Did you actually embrace the isolation as a writer?
JB: Definitely. Everything outside was canceled, and I focused on my writing and research, and started watching online interviews with scriptwriters. I started out studying their technique, like making playlists for the mood that you're writing; so, you get yourself in the mood of your topic and writing. I know it's horrible on a global scale, and I know that people are sick and it's not a joke, but creatively for me lockdown was a blessing -not for the world, of course, I am much aware of that.
VK: Do you think festivals are doing the best they can for the filmmakers during the pandemic?
JB: At least they're trying. But I also know that it's underwhelming, especially for the film festivals that took place during the lockdown. Friends of mine made a feature film that was supposed to screen at Cannes; and Cannes online is not that moment they were building up for so many years. But they're adapting. We were supposed to pitch at CARTOON Forum, and we made a video pitch because we couldn't show up.
VK: How was your experience in preparing the video pitch?
JB: It was insane, because it was 16 minutes. We were supposed to be on stage with Irene Sparre and me, and our co-producer Joëlle Caroline (Godo Films, France). It was challenging, but we now have a 16-minute video pitch which we can send everywhere, instead of piling up a set of reading stuff.
Directing myself I felt very critical of myself; then you have the opportunity to go back, and you become critical of yourself. I think I did more takes than it was needed. If you're a perfectionist like me, it's hard enough to say, that's OK. That's why animation is rough on perfectionists; we just keep going on and never finish.
Normally, at CARTOON Forum there would be 200 broadcasters who look at your pitch and you could get it out there. We would now monitor how many people watched our pitch, and obviously it doesn't have the same effect as standing on the stage with 200 people in the audience -from super mainstream platform representative to smaller indie platforms.
VK: Do you think that online festivals should offer you screening fees now that they can't offer accommodation or traveling expenses?
JB: As a student at a festival, I paid a lot of my travel and accommodation a lot of the time; we were just happy to be there. Judging from my personal experience, they did the best that they could under the circumstances -even with the distancing restrictions, they ran very smoothly and professionally. Like Pitch me baby! at OFF Festival; it was physical, but they really embraced the online thing.
VK: Would you think that the stories you choose to tell, women stories, would find a better audience online? Or do you encounter the same or worse prejudices and haters online as you would encounter physically?
JB: Even the Internet has been very kind in criticism of our Nachthexen film; Some people were very anti-Communists, so they didn't understand the film either.. This kind of attitude may occur, but on the other hand more people can actually pass through what otherwise be regulated by gates and gatekeepers -especially with indie stuff. Haters and trolls, you're always gonna have them, and they feed up hate and anger. I had one instance of a person trying to convince me to remake the film and pointing out 'my mistakes'. I told him: 'you're the essence of mansplaining, but please keep going'. That was a beautiful instance of zero self-awareness. People are less polite on the Internet, but they are sad people who don't create stuff themselves; they often come before, during and after the pandemic.
VK: We are in 2070 and you have your grandchildren; you have young animators living in a covid-20 situation, who want your advice and lessons learned.
JB: Mainly just be kind to myself. It's OK if it's not your prime time; it's OK if you're worried and scared. It's OK to take a breather and not be goal-oriented, stop and think. Some people are over-productive (oops, I made a covid film!), but you don't have to be -I made a cushion myself. If life offers you a break, it's a good idea to dive in and focus on something you would never have time for. Be kind to yourself, stop and think.
About Julie Baltzer
Julie Baltzer is an animation director with a focus on historic tales on the verge of being forgotten. Especially female history and colonial stories from Denmark's imperialistic past – and present – that has been largely ignored for decades. Julie is a trained character animator from the class of 2017 at The Animation Workshop in Viborg, Denmark, and has production management experience as well.  In the Summer of 2020 Julie has started a Master of the Arts as a script writer and developer at Syddansk University, Odense, Denmark.
The interview was conducted October 2020 (interviewer Vassilis Kroustallis). It is part of the Indie Online 2020 research project, headed by Michelle Kranot and supported by The Animation Workshop/VIA University College, Center for Animation, Visualization and Digital Storytelling, Denmark.Viborg.
SIGN UP: Want to read more free articles like this? Sign up for Our Newsletter
Read More About: