Academic
Assistant/Associate Professor, Film/Animation/Video at Rhode Island School of Design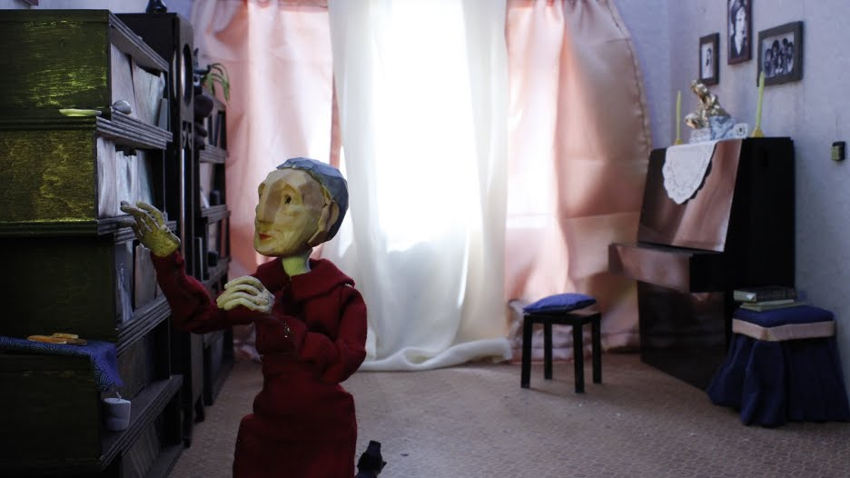 Oh, My Domovoi / Sonya Sofiya Fayzieva (RISD 2018)
The department seeks an accomplished animation artist with expertise in stop-motion animation and/or 3D CGI animation to complement the department's world-renowned program. The successful candidate will be expected to teach existing required and elective animation classes, in addition to courses in their area of expertise. Candidates should be prepared to develop syllabi with culturally diverse content and lead classes that model constructive and inclusive discussions through which students grow creatively and intellectually. Teamwork, collegiality and leadership potential are highly valued in the department and should be evident in the candidate's application and references. The applicant must also demonstrate an active animation practice with a significant record of achievement and a personal artistic vision that is reflected in their application.
Applicants should demonstrate expertise in some of the following areas:
-Stop-motion: Experimental approaches to materials and in-camera animation processes; stop-motion character animation and performance; miniature set and prop construction; puppet, armature and costume fabrication; rapid prototyping and motion control for stop-motion; stop-motion production, including cinematography, lighting, and camera operation; post-production for stop-motion animation.
[and/or]
-3D CGI: Innovative approaches to working with 3D computer animation processes; experience teaching experimental computer animation theory and practice; CG character animation and rigging; CG modeling, topology and surfacing; lighting, rendering and compositing for CG; live-action and VFX integration; immersive media, including VR, AR, MR, projection mapping, and holography; experimental game authoring; game development (Unity or Unreal preferred); digital fabrication; physical Computing; scripting (MEL, Python).
Required Qualifications
· Terminal degree: MFA or its equivalent in animation or a related field. In some cases, an undergraduate degree with commensurate experience may be considered;
· Significant professional (not limited to commercial) animation experience;
· Experience teaching college-level courses (candidates must have five years of full-time teaching experience to be considered at the rank of Associate professor);
· Proven or promised ability to teach across multiple levels, from introductory to advanced courses;
· A portfolio of work that reflects a strong personal vision and advanced competencies.

Preferred Qualifications
· RISD  Department of Film, Animation and Video is particularly interested in candidates whose research and practice centers on works and bodies of knowledge from historically underrepresented communities;
· A candidate who can teach both traditional and digital animation courses;
· Experience developing departmental curricula;
· Academic leadership experience.

Department /RISD Description
RISD's Film/Animation/Video department serves over 135 undergraduates, and many non-majors in adjacent disciplines. FAV students explore the art of the moving image, learning to master the tools needed to articulate a creative vision, whether using film, animation, installations, interactive media or a combination. FAV professors support the investigation of the technical, aesthetic and conceptual questions central to creating strong content with a unique voice.
Faculty Responsibilities
The full­-time faculty teaching load is six courses a year. In addition to teaching, full­-time faculty are expected to maintain a professional practice, serve on college committees, advise students, participate in curriculum development and other departmental activities and projects, and contribute to the vibrancy of the intellectual life of the college.

Please submit the following application materials:
· A teaching philosophy, including how the candidate addresses diversity and inclusion as fundamental to a learning community (1 page)
· A letter of intent (1 page)
· Online link/s to candidate's work (20 minute maximum, embed URLs in PDF)
· Online link/s to students' work, including captions and contextual information (15 minute maximum, embed URLs in PDF)
· Curriculum Vitae
· Evidence of teaching excellence, including sample syllabi
Names and contact information for three references are requested as part of the application process. Requests for reference letters are sent directly to the reference providers when candidates become finalists.
Review of applications will begin immediately, and continue until the position is filled. Candidates who submit their materials before December 1st, 2019 are assured full consideration.
Rhode Island School of Design is an undergraduate and graduate college of art and design with approximately 2,400 graduate and undergraduate students. RISD supports faculty professional practice with sabbaticals, pre-­critical review leave, conference funds, and professional development grants. RISD has a critical review process, which is similar to the tenure-review process. RISD is an Equal Opportunity Employer. Employment decisions are made without regard to race, color, religion, sex, age, national origin, disability, veteran status, sexual orientation, gender identity or expression, genetics, or any other protected characteristic as established by law.
SIGN UP: Want to read more free articles like this? Sign up for Our Newsletter
Read More About: