Alois Nebel wins at the European Film Awards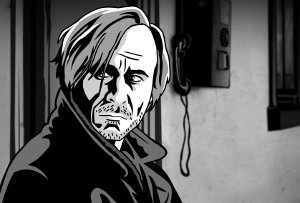 The black and white Czech thriller Alois Nebel (Tomáš Luňák, dir)[review],  tells the story of a shameful incident  from WWII that harrows those involved, up to 1989 and the fall of the communist regime.
The film was adapted by a Czech graphic novel by Jaroslav Rudis and Jaromir 99. Luňák cites that the legendary Czech animator and director Karel Zeman was one of the main inspirations in the visual aspect of making the film.
Alois Nebel has also won the feature film award at the 2012 Anim'est festival, Bucharest.
 Tomáš Luňák, clearly emotional, only made a short "Thank you" acceptance speech in getting the award.
The two other nominees were the Spanish, Goya-awarded Wrinkles  (Arrugas la pelicula, dir. Ignacio Ferreras, Petro Vedre Films)[review], and the UK/USA  stop-motion  film, Pirates! Band of Misfits (Peter Lord, dir., Aardman-Sony Animation).
The nominated films were voted by the 2,700 EFA Members, and were presented at the European Film Awards Ceremony in Malta on Saturday, 1 December. The 2011 EFA award for animated feature was given to the Cuban jazz love story, Chico & Rita (dir. Fernando Trueba and Javier Mariscal, Spain).
EFA has no separate award for short animated films, even though Villa Antropoff was nominated in the short film category.

Read More About: