4 Animation Winners in Student Academy Awards 2018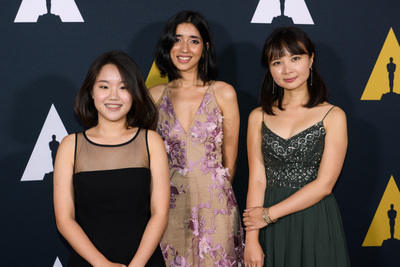 Hanna Kim (left), Eaza Shukla (center) and Yu Yu prior to the 45th Annual Student Academy Awards® on Thursday, October 11, in Beverly Hills. keywords: 45th Student Academy Awards Carpet credit: Richard Harbaugh / ©A.M.P.A.S.
The Academy of Motion Arts Pictures and Sciences has voted 19 students as winners of the Student Academy Awards®45th competition.  This year, the Student Academy Awards competition received a total of 1,582 entries from 278 domestic and 122 international colleges and universities, which were voted upon by a record number of Academy members.
In the animation department, here's the winners:
Animation (Domestic/US  Film Schools)
Gold Medal: Hanna Kim, "Raccoon and the Light," California Institute of the Arts
A raccoon finds a flashlight in the woods.
Silver Medal: Yu Yu, "Daisy," University of Southern California
Daisy is a young girl who is being cared by Ben, a caring robot during wartime. After a bomb attack, Daisy vanishes. This begins Bens' search for her.
Bronze Medal: Eaza Shukla, "Re-Gifted," Ringling College of Art and Design
This is a film about a decorative object that struggles to lead a meaningful existence as it gets stuck in the cycle of re-gifting.
Animation (International Film Schools)
For the first time, a team of five directors is being honored in the International Animation category.  Previously the limit had been two directors that could be honored per film. 
Pierre Perveyrie, Maximilien Bougeois, Marine Goalard, Irina Nguyen-Duc and Quentin Dubois, "The Green Bird," MOPA
This is a story of a green, noisy but lovely and caring bird who lays its first egg.
The 2018 winners join the ranks of such past Student Academy Award winners as Patricia Cardoso, Pete Docter, Cary Fukunaga, John Lasseter, Spike Lee, Trey Parker, Patricia Riggen and Robert Zemeckis.

All Student Academy Award-winning films are eligible to compete for 2018 Oscars® in the Animated Short Film, Live Action Short Film or Documentary Short Subject category.  Past winners have gone on to receive 59 Oscar nominations and have won or shared 11 awards.

The awards ceremony took place Thursday, October 11, at 7:30 p.m., at the Samuel Goldwyn Theater in Beverly Hills. 
The Student Academy Awards were established in 1972 to provide a platform for emerging global talent by creating opportunities within the industry to showcase their work. The 45th Student Academy Awards ceremony on Thursday, October 1 (The Samuel Goldwyn Theater,  8949 Wilshire Boulevard,  Beverly Hills)  is free and open to the public, but advance tickets are required (oscars.org).
SIGN UP: Want to read more free articles like this? Sign up for Our Newsletter
Read More About: