The Art of Happiness Wins Best European Feature Animation Award
 The European Film Awards ,presented each year by the European Film Academy and EFA Productions, aim to celebrate European cinematic cultural activity in a total of 21 categories.
 A single category for European animation features exists, in which the 27th European awards (given in Riga, 13 December 2014) awarded the Italian feature The Art of Happiness (L' arte della felicità) Best European Animation Feature.
In the Alessandro Rak directed feature (read his interview at Zippy Frames),  Sergio is  a Neapolitan cab driver in his 40s and former musician who receives news that will change his life forever. While the storm rages outside, he begins to unveil his music memories, which are tangled up with philosophical identity questions, and his relationship with his brother Alfredo.
The film is produced by Luciano Stella and Naples studio Mad Entertainment.
 L'arte della felicità won over the 2 French/Belgium features, Jack and the Cuckoo-Clock Heart (Mathias Malzieu & Stéphane Berla) and Miniscule-Valley of the Lost Ants (Thomas Szabo & Hélène Giraud).
Ari Folman's The Congress was the recipient of the 2013 European Animated Feature Award.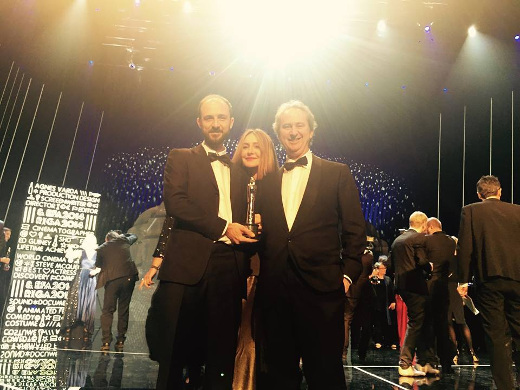 Alessandro Rak and the creative team of  L'arte della felicità at the 2014 EFA awards (c) L'arte della felicità-il film
Read More About: