10 European & Independent Animated Features for 2014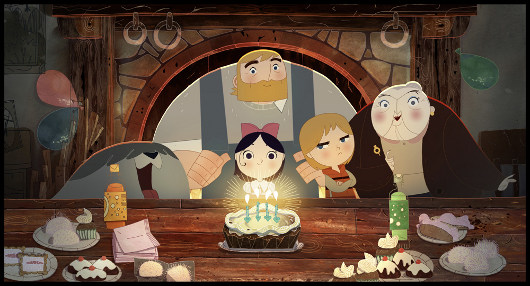 European animated features have made their entrance prominently into the international scene, after the worldwide success (and critical acceptance) of Persepolis (Marjane Satrapi, Vincent Paronnaud, 2007) and Waltz with Bashir (2008, Ari Folman).
 2 Oscar nominations in 2011 for Spain (Chico & Rita, dir. Fernando Trueba) and France (A Cat In Paris, Jean-Loup Felicioli, Alain Gagnol) surely helped the under-represented, and much less budgeted world of European animation to find a new audience -not to mention the US independent distributor GKIDS and its work.
 Below you'll find a list of European features & independent US animated features which were either released in 2013 in their country of origin (but still to be released internationally) or scheduled to be released in 2014. Necessary to watch.
The Art of Happiness (L' Arte Della Felicita), Alessandro Rak, Italy/Mad Entertainment
 An adult existential but compelling feature from Italy, it tells the story Sergio, a Neapolitan cab driver in his 40s and his own relationship with his brother and Buddhist monk Alfredo.
Philosophical questions are posed in the manner of Linklater's Waking Life, but the drama is more imminent here, as well as its elusive animating style.  The Art of Happiness has opened in Italy in October 2013, and continues its way to international territories.


Cheatin' , Bill Plympton (Plymptoons, US)
The new animated feature by Bill Plympton, Cheatin' is described as an  animated adult tale of love, jealousy, revenge, and murder – full of nudity and violence.

Cheatin' has entered the animation festival circuit, and will expand in US territory in 2014.

The Congress, Ari Folman (Bridgit Folm Film Gang/Pandora Film/Opus Film, Israel, Luxembourg Poland, UK, Germany, Ukraine, India, Philippines, Turkey)
Ari Folman's new multi-national feature after his Oscar-nominated Waltz with Bashir has already opened in France, but still awaits its US 2014 release. Based on Stanislaw Lem's The Futurological Congress, it is a hybrid of live-action and animation, in which the actress Robin Wright is persuaded to be digitally scanned to enter immortality. Her animated self faces further dangers in a dystopian world (the film has already won the European Film Award for Best Animated Feature).
Jack and The Cuckoo-Clock Heart (Stéphane Berla and Mathias Malzieu, France/ EuropaCorp/WalkingTheDog/UFilm)

Stéphane Berla and Mathias Malzieu sign an outcast film based on the latter's novel. In 19th century Edinburgh, the frozen heart of little Jack is replaced by a cuckoo-clock heart. This will work, as long as long as Jack doesn't touch the hands of the clock, doesn't lose his temper and, above all, doesn't fall in love.
The French animated feature (produced by the team of A Monster in Paris) promises a family tale of acceptance, but without the pop mannerisms of US studio films. It opens in France on 5 February 2014.
Jasmine, Alain Ughetto (France/Les Films de Tambour de Soie)
A political claymation film from France represents once more (after Persepolis) the 1979 revolution in Iran, but within the apparatus of a poignant autobiographical love story between the French Alain and a young Iranian student, Jasmine.

Jasmine has already screened for 7 weeks in French theaters, and was nominated for a European Award for Best Animated Feature.


Miniscule, Valley of The Lost Ants (Thomas Szabo, Hélène Giraud, France/Futurikon Films)
 More like Antz, but with non-drawn backgrounds, the story of Miniscule  starts when Thomas Szabo and Hélène Giraud, directed a  short film (and later a TV series) which mixed computer-generated insects and real, non-animated landscape shots.
 The feature film Miniscule, Valley Of The Lost Ants is an epic battle between two tribes of ants, and a ladybug caught in the middle. With a lot of comic adventure in its trailer, the film opens in France in 29 January 2014.
POS ESO (SAM, Spain, Conflictivos Productions)
 
The stop-motion horror comedy by SAM (Orti) is a must for comedy horror fans.
 The husband of the world renowned dancer, La Trini, whose husband and great matador, died as a result of a domestic accident. As if this were not enough her son Damian has begun to show signs of unexplained psychological disorder. The church and Father Lenin intervene, and all supernatural accidents start to unveil.
SAM employs an inventive, adult humor in his puppets that appeals to fans of Tim Burton's world -but his heroes are ordinary persons bored to death,  tangled up in a world of supernatural coincindences.
The POS ESO feature is scheduled for 2014.


Rocks In My Pockets , Signe Baumane (US)
 A funny film about depression? Latvian-born animator Signe Baumane has just finished the purportedly first feature animated film about depression, Rocks In My Pockets. A semi-autobiographical feature that was partially funded via Kickstarter, the traditionally animated film promises a welcome entry into the female psyche -via animation. To be released in spring 2014.
Song Of The Sea, Tomm Moore (Ireland/Cartoon Saloon)
The follow-up to the Academy Award-nominated Secret of the Kells, Song of the Sea is set in 1987, and tells the story of siblings Ben and Saoirse, who has never spoken. This mystery fable was presented (extensive footage) during the 2013 Annecy festival. Expect release during the second Annecy festival. (French release: 10 December 2014)
Tante Hilda! Jacques-Rémy Girerd &

Benoît Chieux, (France/Folimage)
Aunt Hilda is a nature lover, who suddenly becomes an activist for the environment and its new magical solution for hunger: the cereal Attilem.
This unusual theme for animation (but too familiar otherwise) is developed by the Oscar-nominated Folimage studio (A Cat In Paris). Already scheduled for Berlinale 2014, Tante Hilda! will be released in France in 12 February 2014.
Read More About: