Animarkt Stop Motion Forum 2020: Full Programme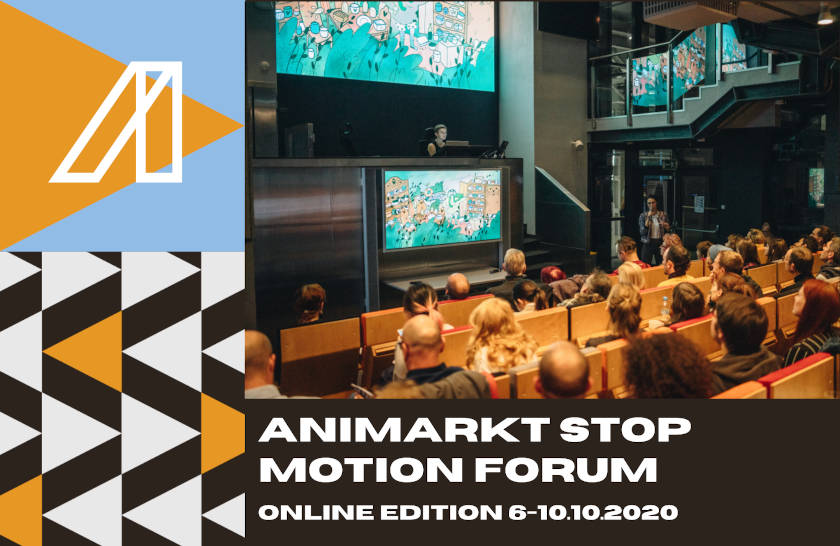 Crème de la crème of world stop motion animation, that is Mike Cooper, Andy Gent, Magda Bieszczak and Melani Coombs – masters known for their work on the films:'Wallace & Gromit: The Curse of the Were-Rabbit','Miss Peregrine's Home For Peculiar Children', 'Isle of Dogs',' Harvie Krumpet" or "Mary And Max".
Five days full of business meetings and one-to-one consultations, unique opportunity to work in American LAIKA studio and pitching competition – the program of ANIMARKT Stop Motion Forum has been announced. The Jubilee edition begins in Łódź on October 6th.
The ANIMARKT Stop Motion Forum that has been organized in Łódź for the last 5 years. Is the only industry event in the world that integrates the stop motion film community. It is here that business relations and international cooperation are established, and young artists have a chance to present their own projects to a wide audience including their masters. It is here where films appreciated by critics and audiences are born.
The MOMAKIN team who organizes ANIMARKT decided to perform the event on a virtual platform, thanks to which the forum will strengthen its power, but not lose momentum. – We didn't want to resign from our mission of integrating the stop-motion movie industry. That is why we have taken the challenge of creating an online alternative, thus giving the opportunity to participate in the forum for those who would not come to Łódź, for example due to geographic limitations or restrictions related to COVID-19.An extensive internet platform will allow ANIMARKT participants to maintain the atmosphere of closeness despite remaining geographical distance - Paulina Zacharek, forum organiser.
The program consists of three main sections: MASTERS, PITCHING and BUSINESS. MASTERS are master workshops for puppets makers, operators and animators.
The organizers managed to invite artists who contributed to the success of the award-winning films by Wes Anderson and Tim Burton, who also have extensive experience in commercial projects. Distinguished guests of the forum are: Andy Gent – puppets creator also known as Wes Anderson's right hand, Kim Keukeleire – director of "My Life as a Zucchini" who worked also for "Chicken Run", Tobias Fouracre – animation supervisor in "Isle of Dogs" and key animator in "Fantastic Mr. Fox". Last but not least Malcolm Hadley – British Cinematographer with 20-year-old stop motion experience including "Corpse Bride" and "Frankenweenie" who will supervise workshop for cameramen.
As ANIMARKT is an intersection of film art and business, a highlight of the program is the BUSINESS segment, which enables industry networking meetings with the participation of the most decision- making people in the animation world. This part includes the recruitment for the positions of experienced storyboard artists and puppet builders for the legendary LAIKA Studio in the USA, consultations'Ask the Expert" with among others representatives of Miyu Distribution, Maur Film, New Europe Film Sales and presentations of full-length films and series at 'Show me your project'.
Moreover, in the BUSINESS section there is a 'Meet your partner'event, which focuses on the dialogue between Argentinian and Chilean representatives and European producers.
The list finalists of the PITCHING section, which is the presentation of ideas for a film, at the stage of the first script and outline of the visual concept, is closed. This year, 15 stop motion projects from around the world will compete for valuable prizes. The best of them will receive vouchers with a total value of PLN 100,000 to be used in the Audiovisual Technology Center in Wrocław, an artist-in- France in 2021. The final fifteen featured new projects by already recognised young artists, including Electra. A Poem by Daria Kashcheeva, who was nominated for an Oscar in 2019 for her diploma film Daughter.
The pitching winners will be announced on October 9th. All presentations will be available online, so that every stop motion enthusiasts can learn about global animation trends and follow the early stage of films, which may be on Oscar-winning lists in a few years. In addition, the creators of the animation can prepare to participate in next year's pitching by attending this year's presentations. The masterclass, conference and discussion panels as well as the much less formal 'Breakfasts with Animation' will also be open to the participants without registration. During'Breakfasts with Animation' participants will talk about, among other things, how to operate on the Chinese animation market.
All forum events are free of charge. 

ANIMARKT Stop Motion Forum is co-financed by the Minister of Culture and National Heritage of the Republic of Poland from the Cultural Promotion Fund, International Visegrad Fund and co-financed by the Polish Film Institute.
SIGN UP: Want to read more free articles like this? Sign up for Our Newsletter