MAI 2021! Market Welcomes Continuing Success in Its 8th Edition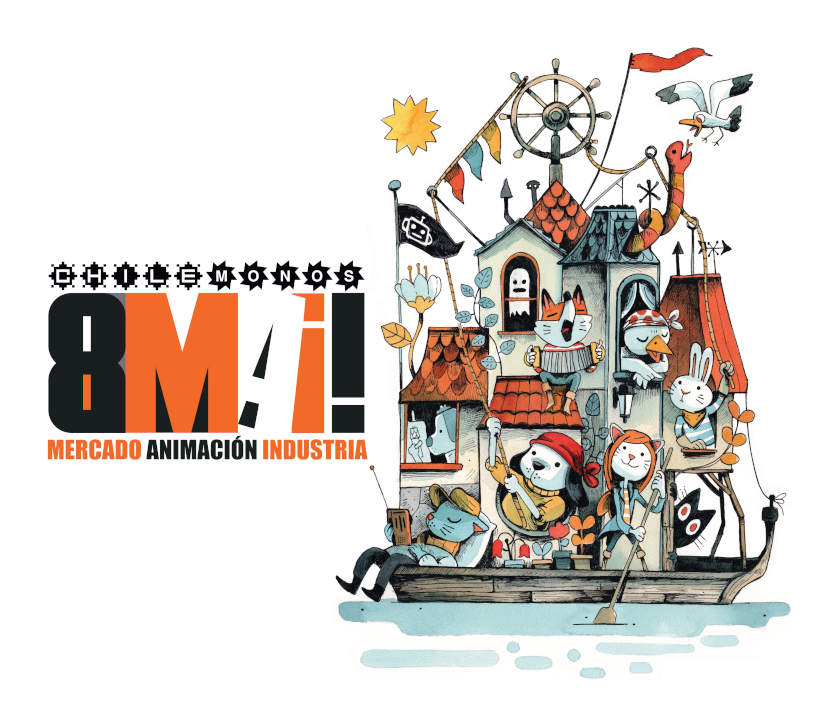 MAI! Mercado Animación Industria welcomed its continuing success for its eighth consecutive year.The market is considered a unique opportunity in Chile by those wrelated to the world of animation: meeting tables with world-renowned executives and the instance for emerging studies to present their projects on Cartoon Network's channel, are just some of the spaces provided by MAI! 2021.

MAI! Initiated as the meeting and business market of the Oscar-qualifying CHILEMONOS International Animation Festival. Exceeding expectations, a total of 700 business meetings were requested with 210 representatives from 12 countries and 2,000 people registered in their second edition 100% online.
This year, 12 countries participated in MAI!, represented by senior executives related to the world of animation through studios, companies and television channels, such as Disney Channel, Netflix, Discovery Kids, Cartoon Network, Crunchyroll, Unreal Engine, TV Cortos, Átomo Network, TVE, Televisa, TVN, CNTV, Canal IPe, Pakapaka, Señal Colombia, Dandelooo, Fametoonz, Filmsharks and Amashort.
Also, representatives from Argentina, Colombia, Chile, Mexico, Peru, El Salvador, Ecuador, Uruguay, and some others countries, participated in meeting tables, provided explanation panels, masterclasses and free workshops open to all audiences.
In addition, the 8MAI! for the first time, received delegations from Brazil, Costa Rica and Spain, who participated with more than twenty studi0s each. We highlight from this last country, a big time alliance and collaboration with two of the most important organizations related to the animation industry of Spain: Animayo and Diboos.


B2B Meetings
Executives, director and makers from the 14 participating countries in MAI!, arrange dmeetings between them, with the only purpose of creating connections and closing important businesses for the animation industry. Meetings were held at rotating tables (hence their name), but, because of the pandemic, since last year they have been operating through a digital application, which has produced very good outcomes. In 2021, 700 meetings were requested among 210 participants.

Feedback
Feedback is an activity that brings together recently graduate students and emerging studios from Latin America who are currently developing a project, with the purpose of presenting it and receiving feedback from representatives of large channels. This 2021 participated in the Feedback representatives of Disney Channel, Discovery Kids, Unreal Engine and Cartoon Network, who reviewed 4 projects each and interacted with their respective filmmakers, providing guidance and wisdom on their work.
Conference
This year, MAI! gave the conference 'Produce in pandemic', given by representatives of three important Chilean animation studios: 3 Tercios, Dinogorila and The Magic Factory.

Panels
Are lectures given by representatives of the 3 focus countries. This 2021 focused countries were Brazil, Spain and Costa Rica, who exposed the state of the animation industry from the inside of the countries. Brazil's panel was represented by Pinguim Content, Druzina Content, Birdo and was led by Brazilian Content and its Executive Manager, Mary Morita; the Spain's panel was represented by Apolo Films, Rokyn Animation and Bliss, led by Diboos, through its president Nicolás Matji; meanwhile, Costa Rica was represented by Tropics Creative, Marte Estudio and Estudio Flex, led by Procomer through its Sector Export Promoter, Kevin Villalta.
Masterclass
These are classes or seminars dictated by animation experts. This year, MAI! offered the masterclass 'Unity is Force: Los Amigos', given by Pato Escala, of PunkRobot (Chile), Milton Guerrero, of Red Animation Studios (Peru), and Gabriel García, of Hype (Brazil), who talked deep about the collaborative work experience that led them to unite their three studies into one, becoming one of the most important associations.
Workshop
This year, MAI! offered 2 workshops, free of charge and open to all audiences. Named 'First steps of an animation script: World, Characters, Research and Structure', given by the co-founder of the animation studio Polirama (Peru), shortfilm designer, director and screenwriter, Luigi Esparza; Also, the workshop 'How to order a 3D project from the idea to the final piece', given by animation director Ruben F Stremiz, who has worked above 15 years on animated projects for major brands such as FOX, MTV, Netflix, Amazon, Nickelodeon, and such.
Cartoon Network Pitch
It is one of the most valued activities by the directors and emerging studies, as it represents the opportunity to present a project to executives of Cartoon Network Latin America; The release of the new bases for participating took place on June 10 and it will be accepting projects for competition until October 01.

This 2021 will be the 6th year that CHILEMONOS / MAI! makes Pitch in partnership with CN, and will take place between 09 and 13 November. Register here

MAI! Mercado Animación Industria, developed between June 8 and 13, 2021 and is part of the activities of the CHILEMONOS International Animation Festival, which will take place from September 30 to October 24 this year.MAI! Mercado Animación Industria, is an activity financed by the Support Program for the Realization of International Meetings in Chile 2020-2021, of the Ministry of Cultures, Arts and Heritage, and ProChile.
SIGN UP: Want to read more free articles like this? Sign up for Our Newsletter
Read More About: