Chilemonos Leads the Largest Animation Co-Production Animation Market in Latin America with MAI!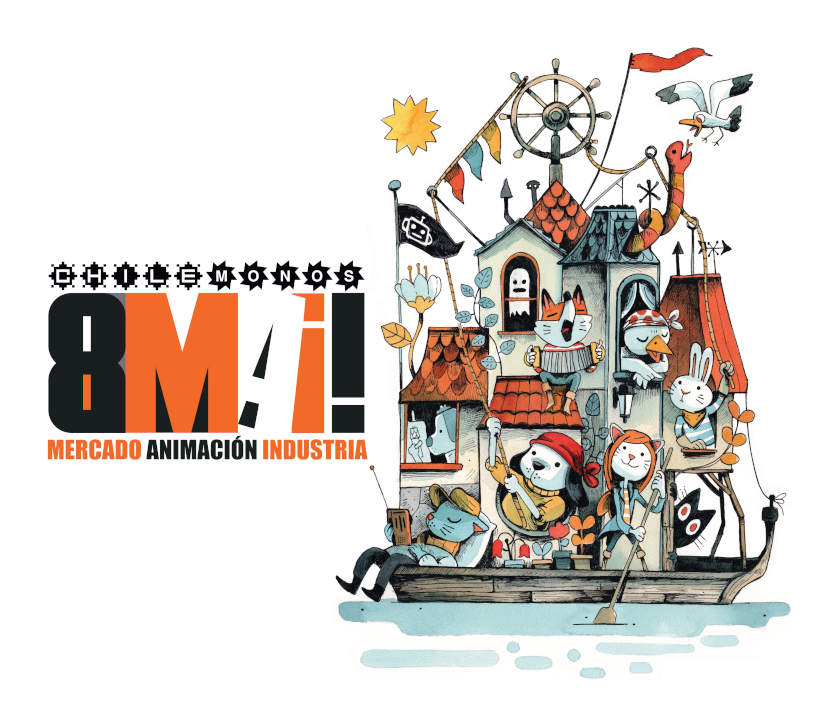 With more than 210 representatives of Ibero-American studios, companies and distributors, and with 14 countries on boar, on its tenth anniversary the CHILEMONOS Foundation invites Latin American executive producers of animated series and feature films in development to participate in the 8th edition of MAI! Mercado Animación Industria. The largest free market of animated co-production, arrives for the second time in online size to support the economic revival of the industry, maintain the production chains and promote the protagonist that Latin American directors have managed in recent years, waiting to realize 1,100 business meetings.

The market edition will be completely online.
We are very happy to be able to realize this new MAI! It is the biggest market we have ever had… We would never have thought that in pandemic times we could grow so much! It is the result of a huge amount of work and effort, of trying to define the right format and taking a step further this 2021, based on the good results of last year and which is reflected in the presence of all the studios, producers and executives that accompany us again - Margarita Cid, CEO of CHILEMONOS

This year, MAI! will be the meeting point of 14 Ibero-American countries, among them Argentina, Colombia, Chile, Mexico, Peru, El Salvador, Ecuador and Uruguay, which will be present through studios, companies, TV channels and senior executives connected to the world of animation, like Disney Channel, Netflix, Discovery Kids, Cartoon Network, Crunchyroll, Unreal Engine, TV Cortos, Átomo Network, TVE, Televisa, TVN, CNTV, Canal IPe, Pakapaka, Señal Colombia, Dandelooo, Fametoonz, Filmsharks and Amashort.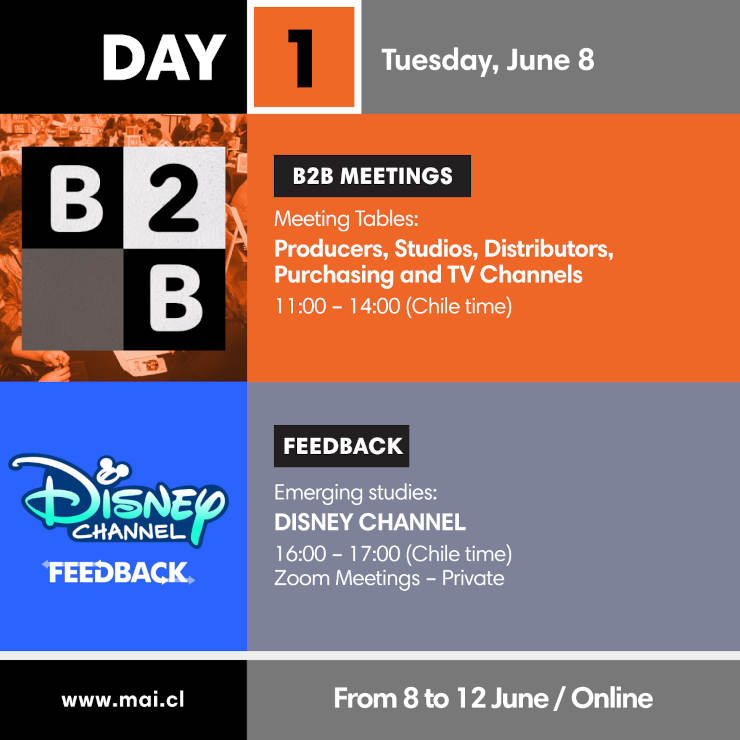 3 focus countries, Spain, Brazil and Costa Rica, will offer open panels to all audiences, where they will talk about the situation of animation in their respective countries.

CHILEMONOS/MAI! has its large organizations alliances in Spain, including the alliance with the Conference and International Film Festival of Animation, Visual Effects and Videogames, Animayo Summit (the first animation festival in Spain to be Oscar-qualified). It also collaborates the Spanish Federation of Associations of Animation and VFX Producers, Diboos (since 2007 represent more than 80% of the Spanish animation production). Diboos and its president Nicolás Matj  will lead the panel of Spain, conformed by representatives of the three outstanding Spanish studios Apolo Films, Rokyn Animation and Bliss.

Other Spanish studios that will participate in the meeting tables are: Toonz Media Group, Lightbox Animation Studios, Piaggiodematei, Mr. Klaus Studio, Hampa Studio, Uniko, TV on Producciones, Angelgrafico, Pangur Animation, Saltarinas, Most Wnted Studio, Apolo Films, Wise Blue Studios, Morgana Studios, WKND, Filmax, 3 Doubles, Bliss, Big Bang Box, Rokyn Animation and Magoproduction.

Also, for the first time a Brazilian delegation will be present at MAI!, there will be more than twenty studios, among them we find: 2DLab, Copa Estudios, Um Films, Coala Filmes, Cabong Studios, Belli Estudio, Hype, Spirit Animation Studio, MONO ANIMATION, Estudio Paulares, Limonka Criatividade Audiovisual, Oz produtora, Forest Comunicação, Movioca Content House, Primo, Content/PBA, PushStart, Bactéria Filmes, Astrolábio Studio and Alopra Estúdio.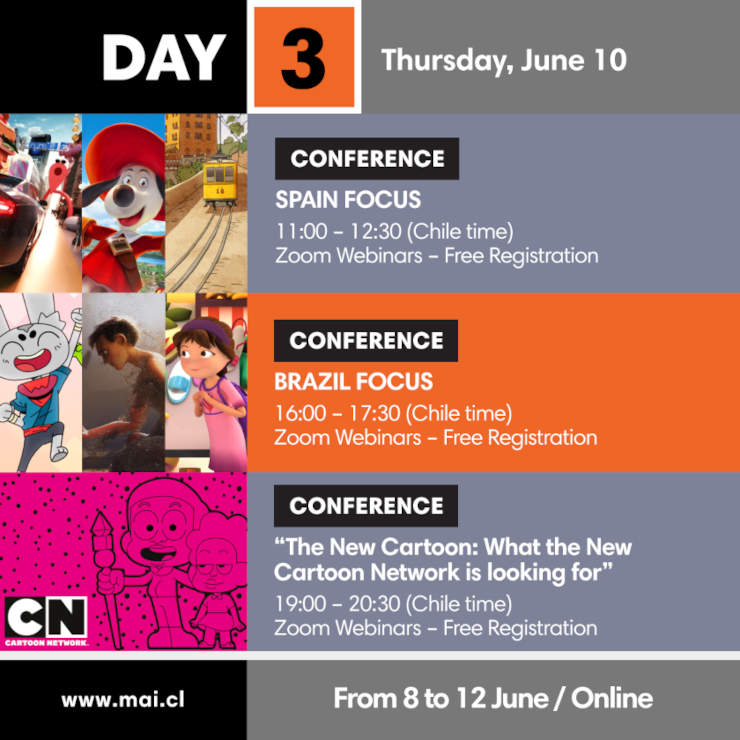 Brazil panel to be led by Brazilian Content, through its Executive Manager, Mary Morita, she will be accompanied by some of Brazil&'s most important studios: Pinguim Content, Druzina Content and Birdo, they will talk about the functioning of the production and the animation market in Brazil, which is one of the largest in the continent.

Costa Rica will be present in MAI! Too, with a delegation that includes studios such as Casa Garabato (Animation Costa Rica), Tropics Creative, Marte Estudio, Estudio Flex and Promise Entertainment, which will participate in meeting tables. Also, the Costa Rica&'s panel will be led by Procomer, through its Sectoral Export Promoter, Kevin Villalta, who will be accompanied by the 3 outstanding studios Tropics Creative, Marte Estudio y Estudio Flex.
They will be talking about the operation of the production and animation market in Costa Rica, which has a long history in the animation industry, positioning itself to this day as one of the most specialized in the region and a very interesting model to observe, characterized by the export of services of high standards and open to co-production with Latin America.
§ On Wednesday, June 9 at 19:00 (Chile time), the "Produce in Pandemic" conference, where representatives of Tres Tercios, Dinogorila and The Magic Factory will discuss about the obstacles that they have face-off in these times and how they have overcome them.

§  On Thursday, 10 June at 19:00 (Chile time), the screens of the attendees will be taken to the conference "The New Cartoon: What the New Cartoon Network is looking for", where the new bases and standards for the 6th Pitch CN CHILEMONOS will also be launched.

§  On Friday, 11 June at 11:00 (Chile time), Luigi Esparza, Director of Polirama (Peru), will preside over the workshop "First steps of an animation script: World, Characters, Research and Structure".

§  On Friday, June 11, at 19:00 (Chile time), Pato Escala, CEO of Punkrobot (Chile); Milton Guerrero, CEO of Red Animation (Peru) and Gabriel García, of Hype (Brazil), will perform the masterclass, "Unity is Force: Los Amigos", where they will talk about the alliance that has united these 3 great studios in "Los Amigos", which combines production lines for children in 2D and CGI, in one of the most influential teams of today.
We believe that unity is strength, but more than that, it makes us exchange experiences and so we evolve faster. With this vision in mind, three Latin American studios come together in one group. We are better together - Los Amigos
§ On Saturday 12 June at 11:00 (Chile time), Ruben F Stremiz, Director of Bandidoguapo (Argentina), will hold the workshop "How to order a 3D project from the idea to the final piece".
Watch the trailer for MAI! 2021
Opening more opportunities to those
emerging animation studios,
the
Feedback
event will be opened for the first time to the entire Latin American community (
here's registration details
). This much-weighed activity is the place where those who are starting a path in the animation have the chance to share their projects and receive comments, ideas and wisdom from top executives of renowned producers, such as Disney, Discovery Kids, Cartoon Network and Unreal Engine, with whom will be possible to meet in a closed event.
MAI! will be held free of charge, from 8 to 12 June 2021 with networking meetings, masterclasses, workshops and conferences. The meetings will be conducted through a digital application specially designed to facilitate virtual events.
MAI! Mercado Animación Industria is an activity financed by the Support Program for the Realization of International Meetings in Chile 2020-2021, of the Ministry of Cultures, Arts and Heritage, and ProChile

SIGN UP: Want to read more free articles like this? Sign up for Our Newsletter
Read More About: