Training /Residencies
StopMoLab: A New Training Programme in Stop-Motion Animation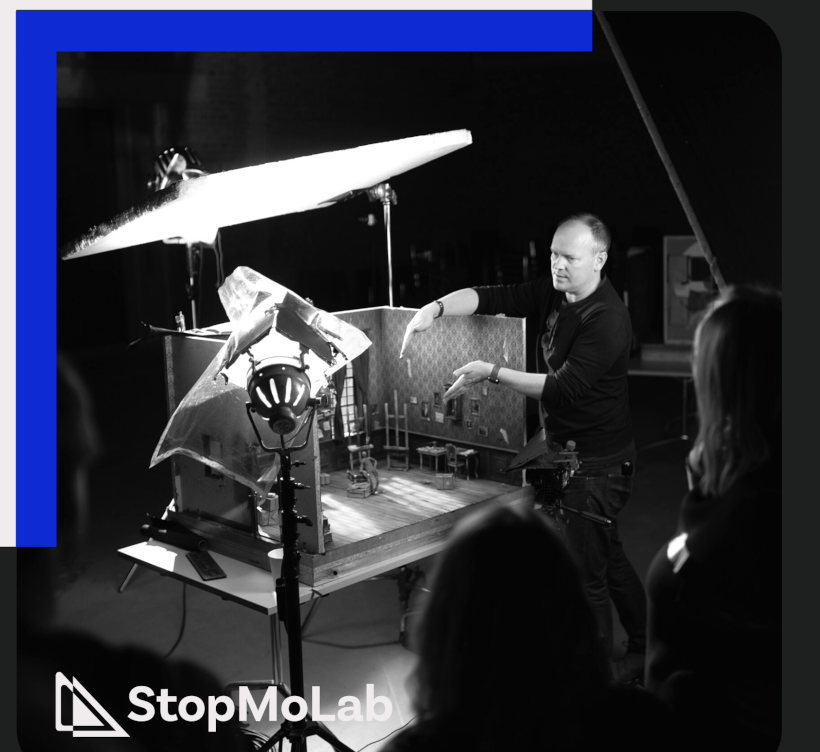 Master workshops, talks, case studies, mentoring and lectures are part of StopMoLab, an international training program for the stop-motion animation industry. 9 months of intensive work and study will be provided by a group of top-class specialists and professionals who are associated with such productions as "Corpse Bride", "My Life as a Zucchini" or "The Red Turtle". 
Training themes and topics:
How does the modern animated film market work?
Where are they and how to apply for artistic residencies?
What does an eco-friendly film production process look like?
These are just a few topics that will be covered during the intensive educational course for beginner stop-motion animation creators. StopMoLab will start in April 2022 and will run for 9 months. The program is exclusive with only 25 seats, for 5 people of each profession: animators, puppet makers, production managers, art directors and screenwriters.
The project fills the natural gap between the knowledge gained in art schools and the realities of functioning in the contemporary animation industry,  It gives participants a few additional months to recognize and find their path in the industry - Paulina Zacharek,  Momakin, the creator of StopMoLab project 
SKILLS, BUSINESS and GO GREEN are three keywords and, at the same time, modules to which the program is subordinated., discovering new trends, business models and the topic of pro-ecological activities are the most important directions in the development of the animation industry.
The course has been created and will be conducted by specialists and professionals working daily in the production of stop-motion animation.
The program board includes such masters as Francesca Berlingieri Maxwell (known, among others, from "Corpse Bride", "ParaNorman" or "Fantastic Mr. Fox"), Denis Walgenwitz (associated with such productions as Oscar-nominated "Red Turtle", "My Life as a Zucchini" or "Despicable Me"), Angela Poschet (working on such films as "Isle of Dogs" or Oscar-nominated "Frankenweenie") or Tim Allen and Magdalena Bieszczak (both currently working on the production of "Pinocchio" directed by Guillermo del Toro). StopMoLab is a whole lot of hours of mentoring meetings, lectures, case studies, master workshops and lectures. The course will be conducted online and offline in Lodz through an extensive online platform.
 The programme will be both online and in Łódź (July period and during the Animarkt Stop Motion Forum).  
Recruitment to StopMoLab has two stages,
in the first stage the candidate's application will be assessed by a specialist on behalf of the profession and industry representative in the field of business development
the second step includes online interview.
Participation is paid in the amount of EUR 500 for the entire course. . 
More  participation and event info at Zippy Frames 
StopMoLab is co-financed by the European Union from the Creative Europe Media program. The event is organised by MOMAKIN,
SIGN UP: Want to read more free articles like this? Sign up for Our Newsletter
Read More About: