Interviews
City of Pirates (A Cidade dos Piratas): Otto Guerra's Masterpiece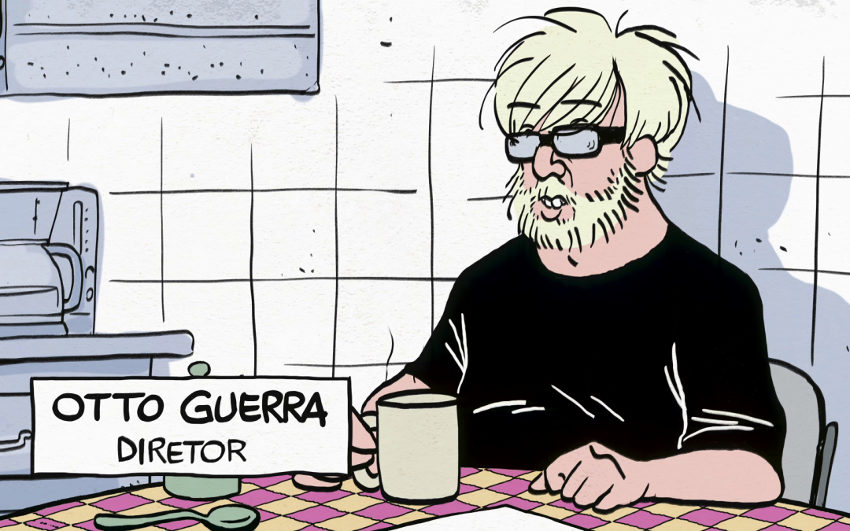 City of Pirates (2018) is an animation feature film that has stood out internationally. Its director, one of the most recognized and respected animators in Brazil, Otto Guerra (Guerra means "War" in English), who has maintained his productions for 41 years, despite all adversities The film is admittedly and in fact, it is his best work receiving several awards, including Best Film at Anima Latina (Argentina), Cinanima (Portugal), and the Festival Internacional del Nuevo Cine Latinoamericano (Cuba).
A moviemaker faces a complex situation half way thru the production of his animation feature: the author of the comics the narrative is based upon starts to reject his 'pirates', main characters in the film. In a desperate attempt to save his work, the moviemaker decides to tell his own drama, creating a chaotic labyrinth between fiction and reality - Film Synopsis
The full understanding of the City of Pirates is not easy, but it is very exciting anyway. At the same time, it addresses issues of gender, politics, social. It is documentary, historical and fictional. (An upcoming review will be presented at Zippy Frames as well).
It is scheduled for the launch of Monstra Festival, which had to be postponed due to administrative actions against the coronavirus. The event should occur in the coming months, probably between May and June.
Watch the City of Pirates (A Cidade dos Piratas) trailer:
I talked to Otto about the film on behalf of Zippy Frames and its readers. Since the film is very localized and enmeshed in Brazilian culture and politics, here's some more info: Brazilian transgender cartoonist and screenwriter Laerte is an old friend of Otto Guerra; she is a recognized and respectable Brazilian cartoonist, who even worked in left-wing newspaper Pasquim during the country's military dictatorship (1964-1985). [Nowadays, Brazil has an extreme right-wing government,with the support of new Evangelist religious groups].

ZF: How did it come about and what was your initial idea for "City of Pirates"?

OG:  Well, it was the work of Laerte, Angeli, Glauco (Glauco Villas Boas), and Adão (Adão Iturrusgarai), three friends who have known each other since the 80s. Adapting the work of those artists, who came from the comic genres, was kind of obvious even to me, because I have a great deal of identification with them. Perhaps because I work in advertising I have not created my universe, I don't know. So, I drink from other authors' sources - from those I admire, of course.

ZF - How long did the production of the film last, between having the idea, writing the script, animating and the film's theatrical release?

OG - The idea comes from 1993, when we register it [for copyright] at the National Library in Brazil. We earned money to develop a script in 2002, but we got involved in a script only in 2013.  From 2013 to 2018, it took five years to produce, animate and release. In fact, in 2019 we tie. It was six years then.

ZF - And how was your relationship with Laerte? Did she agree with your ideas?

OG - Laerte is extremely generous but we paid her a fee. We say that the film was based on her work. It is important to say, it is not her work. She collaborated in every way possible; she did not even want to appear in the film because she thinks she is an uninteresting person (laughs).
However, she collaborated in all possible ways and we captured, I think, her sensitivity, the soul of the film. She liked the movie after all.
ZF - Did you have any idea that you were doing something different? I say this because it is a documentary, a meta-documentary, and a politico-social critic film at the same time ...

OG - No. Let's say that real-life ran over fiction. We had a script with a beginning, middle and end, with "The Pirates" (Piratas do Tiete, a comics story by Laerte). In the middle of the road, Laerte changes his genre and begins to disown the old characters, such as the homophobic. Anyway, characters she didn't like anymore and her work also becomes something else. And I had cancer too. This reality ran over the same story, and as I was going to die, I decided to make the film that I wanted to make. This mixture, I think has to do with kicking the stick of the tent. Give a damn it.

ZF - Even in the film, you as a character, make it clear that at a certain point everything became very complicated (aggravated by your state of health), and also confused. How did you deal with these difficulties? What did it make you want to go around and finish the movie?

OG - The script is something that I would call, our Achilles heel in Brazilian animation. We didn't have a graduate specific course for this, we don't have a tradition of screenwriters ... so, I thought that if I would write the script, it would be a way of, say thus, to put something, to put more passion. Passion to do something that I wanted, that I believed it was right. That scene about the producer quitting happened,  Marta Machado got stressed with me, because I stuck my foot in the door of the movie. And, as it would be my last film, I wanted to do what I understood I did. Now I keep saying at the festivals: "I was going to die, but I didn't, so, now I'm here embarrassing myself with this film".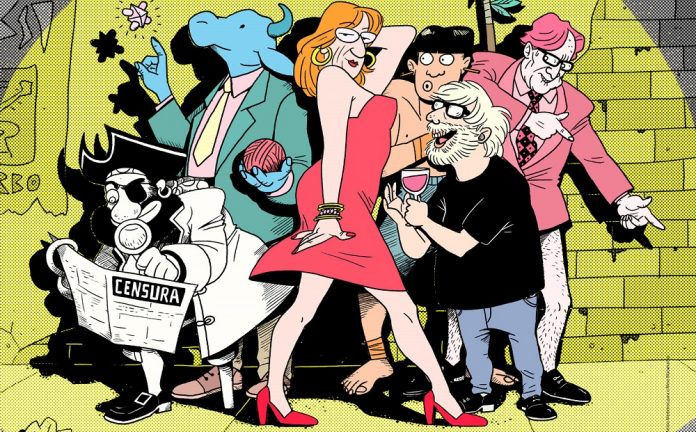 However, on the contrary, I like it very much. I think it was the best work of the producer. I didn't give up anything, I didn't submit. Of course, there were obstacles, there were a lot of people involved, but the scriptwriter and the production companies initially disavowed the way I played the song. Although in the end, I think it was okay. And they love me, and I love them too.

ZF - What was your intention behind placing the Portuguese poet, Fernando Pessoa in the story himself? As a character, is he an alter ego of yours, or Laerte's?

OG - The Pessoa story is a comic book by Laerte, published in the 1990/2000, and it is not an original of the film. I am a fan of Pessoa's, I think that he's the most interesting poet, he is the guy! Ah, the final poetry "listening to stars" is not from Pessoa. The film character represents Pessoa, and a voice comes from a Portuguese actor.

ZF - Knowing your films always well-rooted in the culture of Southern Brazil, I realized that he had to talk about daily-life in São Paulo (Laerte's city), a very different environment altogether. How did you adapt your way to another city ambiance?

OG - São Paulo is a greater Porto Alegre. A metropolis of the world is indeed quite different. So, I mixed everything ... the Bamboo' bar that appears in the story is from Porto Alegre. The bars are the same, being in São Paulo or Porto Alegre. Our culture is very similar. The film takes place in a neutral environment - not in São Paulo or Porto Alegre. It takes place in Brazil.

ZF - What is the film reception in Brazil and abroad?

OG - Although it was  difficult to release the film, it won  the best film in Buenos Aires, Portugal, Havana, and it couldn't have been better. It is a controversial film. In Annecy, we were invited to go, but we did not want to release the film in the non-competitive session. It went to several festivals, it's been very good. So, this path puts Otto Desenhos Animados in a legitimate position as a producer who makes history with 41 years of activity.

ZF - Did you realize the importance of your film in such a "closed" political-social moment?

OG - Yes. It was a very happy coincidence, you know.  Those little buttons of hate that Azevedo character keeps hidden of are her creation from 10 years ago. It seems that she foresaw this barbarity that is happening in Brazil now. And yes, I think the film has a lot to do with that moment, but it was a coincidence. I say it is a happy coincidence, but in reality, it is an unfortunate coincidence. We did not need to be living in this situation.

ZF - Do you think that foreigners achieve to understand the scope of the animation approach?

OG - I think not. I think it is already a difficult film for Brazilians to understand, so, it is much more complex for someone from outside to figure out Laerte's humor. It is that thing that you laugh, laugh but you are also mad, suffering. It's a crazy laugh. However, I think that everyone can get the story, can understand the core of Ivan, the mayor, Laerte, or my own character's story. That is not out of this world.

ZF - What do you want to tell people coming to watch your film?

OG - I say to the people who ask me: "this film is not a film to be understood, it is a film to be felt. You can feel things watching this movie, and not understand it. I didn't make the film so that it would be a story that had a beginning, middle, and an end. A friend of mine who commented: "Otto, your film is great, because it has the genius of Bacurau [author: a Brazilian life-action feature film, by Kleber Mendonça and Juliano Dornelles (2019), nominated for the Palme d'Or and won the Jury Prize in Cannes Film Festival 2019] - but it does not have the triumphalist ending, which is something that bothers me". That is the formula, which in the end, the viewer must leave the cinema, feeling that the good overcomes the evil.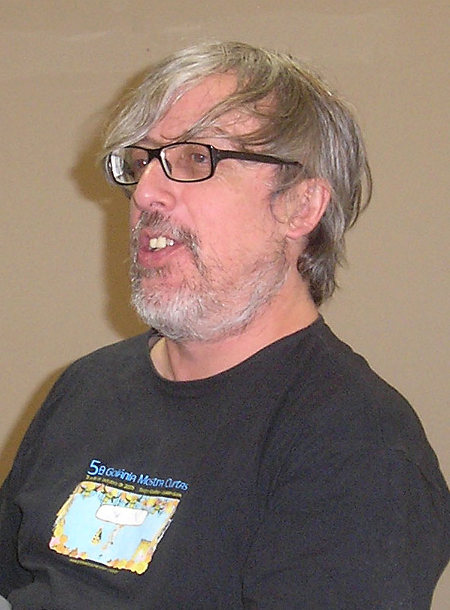 Otto Guerra is a director, scriptwriter, and animation producer. He was born in one of the southern states of Brazil, the Rio Grande do Sul, and had his inspiration in comics. Director at Otto Desenhos Animados for 41 years, he has more than 500 films in his curriculum, including shorts, features and advertising. He is one of the five Brazilians mentioned in Animation Now (Taschen, 2007), and one of the most important personalities in Brazilian animation, always with a coherent, authorial and underground artistic work.
Filmography (Feature Animation)
1995-Rocky & Hudson- gay cowboys
2006-Wood & Stock: Sex, Oregano, and Rock'n'Roll
2013- Until Sbornia takes us apart
2018- The City of Pirates
contributed by: Eliane Gordeeff
SIGN UP: Want to read more free articles like this? Sign up for Our Newsletter