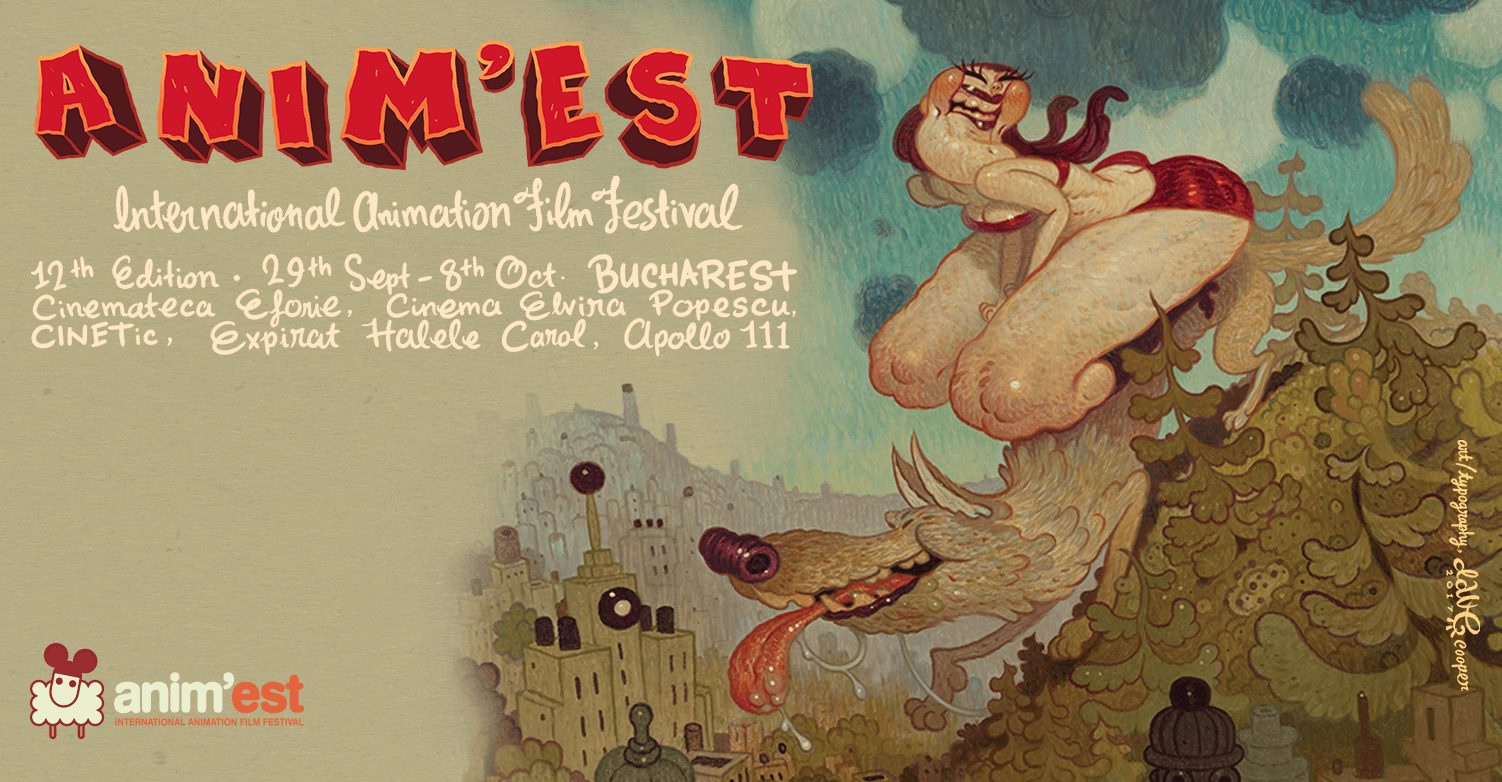 The Bucharest festival celebrates its 12th edition with a special theme on Comics.
The new edition of Anim'est International Animation Film Festival,  has its own special theme: The Comics Edition, celebrating one of the most significant and constant sources of inspiration for the animation film, the comic strip.
The special guest of the festival this year, and the creator of Anim'est 2017 visual theme, is Canadian comic book artist Dave Cooper. Cooper began his activity in the 1990s as an underground comic book illustrator for Fantagraphics, one of the most avant-garde and respected independent US publishers. He later became known for his oil paintings, populated by bizarre female characters who defy conventions and for his contributions to animation.
He is of the main designers of the Emmy award winning Futurama sitcom, and the co-creator of the Pig Goats Banana Cricket animated series, broadcast by Nickelodeon
Dave Cooper will be part of the jury (international short film and student film competition), will have his works exhibited in Bucharest, and  also show off his latest book, Ripple, for which a special autograph session will take place.
The latest short animation inspired by Cooper's comic strip and directed by Rune Spaans, The Absence of Eddy Table, will also be screened during Creepy Animation Night - Dave Cooper created the poster of this year's edition of the festival: Raluca Descends on Bucharest.
The Comics tribute includes Persepolis and  the 1969 Tintin and Temple of the Sun restored version, while the Annecy-awarded Loving Vincent (D. Kobiela and H. Welchman) opens this year's Anim'est .
Illumination Mac Guff (The Lorax, Despicable Me) is  invited to the festival.  Jacques Bled, the company CEO, will talk about how the studio managed to gain such enormous success (Friday 6 Oct).
The Lebanese director Ely Dagher of the Cannes-awarded Waves '98 will also give a masterclass at the 2017 Anim'est (Fri 6 Oct).
Don't forget to check out Trippy Animation Night  (Friday 29 Sep) curated by Michael Helmerhorst, a selection of fast & furious animations, psychedelic videos and shocking commercials.
Creepy Animation Night (Saturday, September 30) follows,  a marathon of bizarre and horror animations, with the newest titles the genre has to offer in selection.
The twelfth edition of the Anim'est International Animation Film Festival will be held from September 29th to October 8th 2017 at Eforie Cinema, Elvire Popesco Cinema, CINETIC Center, Expirat - Carol Halls and Apollo111.
Anim'est International Animation Film Festival is an Oscar-qualified festival (animation short section).   It is a member of the pan-European Cartoon Network. It is is organized by the Este'n'est Association, funded by the National Center for Cinematography, the Ministry of Culture, the National Cultural Fund Administration, the Romanian Cinema Union, Bucharest ARCUB, Romanian Cultural Institute, Japan Foundation.