Klik! Amsterdam, 12-17 Nov 2013: Programme Revealed
From November the 12th until the 17th (EYE filmmuseum, Amsterdam), KLIK! Amsterdam Animation Festival  presents the competitions: Animated Shorts, Animated Student Shorts, Animation For Hire, Political Animated Shorts and 3-D Stereoscopic Animated Shorts.
 On Saturday (16 Nov) there is a special preview of  Ari Folman's The Congress, the long-awaited successor of  his Oscar-nominated Waltz With Bashir [more about the film]. The film will not be released in Dutch theaters before the beginning of January.
 The Dutch premier of the documentary Bronies: The Extremely Unexpected Adult Fans of My Little Pony seems destined to ignite the audience's attention with the intriguing phenomenon of 'Bronies', the male fans of the My Little Pony: Friendship is Magic series.
 The documentary Persistence of Vision review] is all about the best animation film never made; a fascinating life project of animation director Richard Williams (Who Framed Roger Rabbit?).
As a fan of the unfinished work, director Garrett Gilchrist decided to make a finished version like Williams intended named The Thief and the Cobbler: Recobbled Cut. Both films can be seen at KLIK!.
Every year KLIK! dedicates part of the festival program to an exciting theme. This year it's The Fabulous Fifties.  Animation in that era was greatly influenced by modern design, with its use of graphic, almost abstract, forms and primary colors, earning its term 'Cartoon Modern'.
 This period produced works like The Jetsons, The Pink Panther, 101 Dalmations and those wonderfully cheesy TV-commercials. Together with animation historian Amid Amidi , KLIK! presents an extensive program. Visitors will be treated to programs such as The Nuclear Family, Cartoon Modern: The Essentials, and Contemporary Cartoon Modern, as well as the 1962 feature film Gay Purr-ee (featuring the voice of Judy Garland)

 On the Friday and Saturday Night, KLIK! stirs EYE and Toren with some dance moves. On Friday the live jazz music from The Ob6sions will move the audience in a fifties-stylized party.
 And last but not least, there is always time for dancing during KLIK! KLIK! BOOM! on the Saturday night of KLIK!. This night, the French duo Gangpol & Mit will treat the audience on a visual spectacle.
 Discover the fulll programme of Klik! Amsterdam 2013.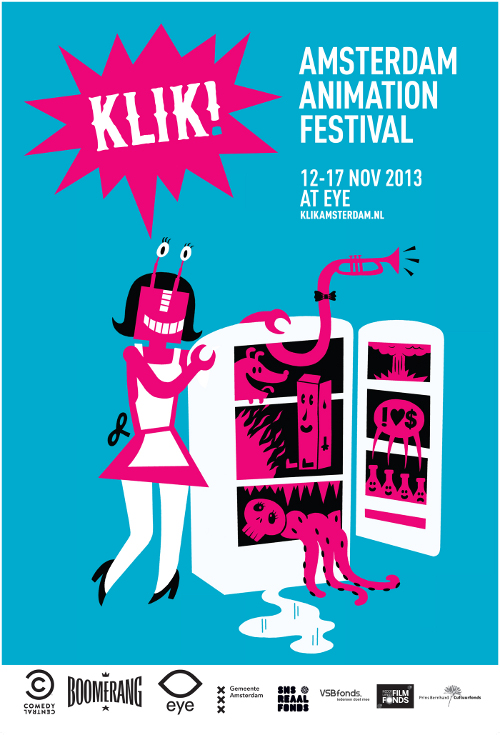 Read More About: