Immigration and magical realism as inheritance: Interview with Mitchelle Tamariz ("En Avant")

Immigration is always a wild act. It means leaving a life, surviving a path, and building a new life. But always with the emptiness from the life that we leave in our home. En Avant is a film that narrates the creation of the emptiness when the place of origin is left to pursue the dream of a better life. But the film is not focused on the sufferings that immigrants are exposed to, it explores the inner pain of leaving the place where they have grown to face uncertainty. Our woman character walks through the desert of Mexico towards the border with the United States, but the closer her goal gets, the stronger the memories of her place of origin become. The thread of her sweater got stuck in her home and has been unraveling throughout the journey; the thread is the only connection to her past life and is lost when she crosses the border.

Immersed in an atmosphere that oscillates between reverie and reality, Mitchelle Tamariz offers us a sensitive portrait about a problem that feels omnipresent and forgotten at the same time: immigration. She made political denounce in a very subtle way. With a simple but universal story and a very careful aesthetic, Mitchelle reveals herself as the heiress of the magical realism in animation and debuts, with great acceptance, in the world of independent animation. We will be looking forward to her next films.
Watch En Avant Trailer by Mitchelle Tamariz
ZF: How did you discover animation?
MT: Well, at first I was studying Digital Art and Media in Monterrey (Mexico). But the animation we were seeing there was the one made in the United States, that is 3D, and it was not interesting to me. Then, in my last year of study, I went on a school exchange to Prague and this changed my perception about animation. Everything was very free there and I made a short film having no idea of stop motion. It was when I saw the result, and my characters moving, that I realized how wonderful animation was. And when Gene Dietch (legendary Tom and Jerry animator) once came along, he told me that the most important thing for a good animation was the story; then I knew that animation was my thing.
ZF: How was En Avant born?
ΜΤ: I've always had this nostalgic feeling since I started traveling. The nostalgia of being away from home, I wanted to talk about it, but I did not know how. Then I remembered a story by Julio Cortázar called "Don't blame anyone". The story tells about a character who gets stuck in his sweater. That feeling of being trapped was mixed with my idea of nostalgia and I began to fantasize that my character can see her country when she goes into the sweater , but I could not find structure, or representation for what I wanted to say. So I discarded the idea but I kept the sweater.
I remember that the immigrant caravan from Central America crossing Mexico to reach the United States began at about the same time.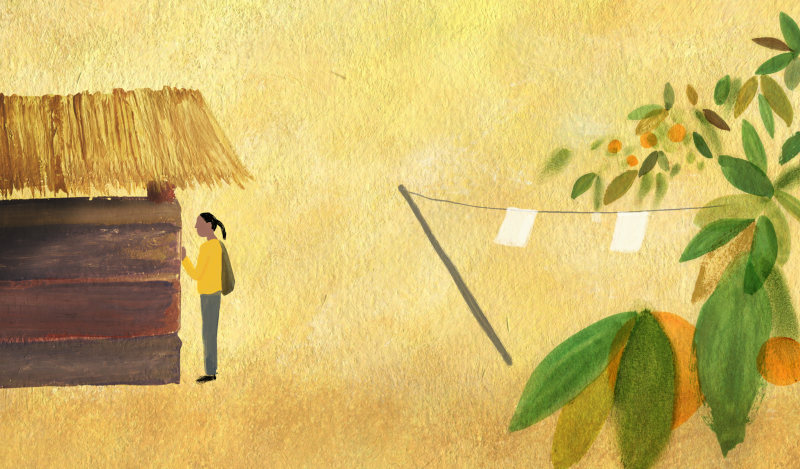 I am very sensitive to social issues, so I started to investigate and see the testimonies of the people who joined those caravans. Their stories seemed surreal to me. I knew nothing about many of the things they told. And then I realized that I had and wanted to talk about it. About a person who leaves everything - family, fiends, roots - to fulfill a dream, to achieve a better life. I saw myself reflected in them because I am also an immigrant, fortunately I do not have to suffer what the people from the caravans do, but, in the end, feelings like nostalgia or the loss of your roots unite us as human beings.

ZF: Does animation as an art have to be political?

MT: I wouldn't dare say that animation always has to be political. I think it depends on the vision of each artist, and on what one wants to tell. I think you can have a good time with and enjoy a story that is not necessarily political. The only important thing for me is that the story you tell is universal. I think it is necessary for a story to reach everyone.

ZF: In the textures, the atmosphere of your film I found several reminiscences, among them Rufino Tamayo. Is he one of your artistic references?

MT: Rufino Tamayo, yes, he is one of my main and greatest inspirational models . However, at a stage of my creative process, I was thinking about making En Avant in black and white, and following that idea my main reference became Graciela Iturbide. She is an amazing artist. Her photographs portray reality, but at the same time they capture the surreal essence of Mexico. I tried to make En Avant in black and white - it didn't work. But I kept the surreal part.

ZF: I also find echoes of Juan Rulfo in your film. It seems that your intellectual and artistic background have prepared you to follow the way of magical realism?

MT: Yes, yes. When I presented my project I said that I wanted to make a magical realism film. In my previous short film I explored it with the topic of death seen through the eyes of a little girl.

ZF: What does the selection at Cinéfondation Cannes mean to you?

The truth is I didn't even believe it when they told me. I was very excited. And it means, above all, that I can continue doing this. That all the time invested, the days spent animating, without going out for fun, are worth it. I'm very happy.


ZF: Your short has been selected for ReAnima in Bergen, it will be screened in Pixelatl in Mexico and there are other festivals that we can't reveal yet, but how do you feel about it?


MT: The fact that festivals ask for your film is a very pleasant feeling because at the end it is my way of communicating to the world. If the festivals screen my film then it means they want to listen to me.

ZF: Are you planning a new film?

MT: Yes, the truth is that I won a scholarship!

ZF: Oh, great! Congratulations!

MT: Yes. Thank you! The scholarship is to develop the script and I will be immersing myself in the new story in the coming months.

ZF: Could you tell us something about the new film?

MT: Well, it's about salsa, the musical genre, a young woman looking for her father and there will be magical realism for sure. (Laughs)

We ended the interview, not without first talking about food, like two good Mexicans abroad.


SIGN UP: Want to read more free articles like this? Sign up for Our Newsletter
Read More About: