Interview with Jack Wedge: Neo-Expressionist Animation on Adult Swim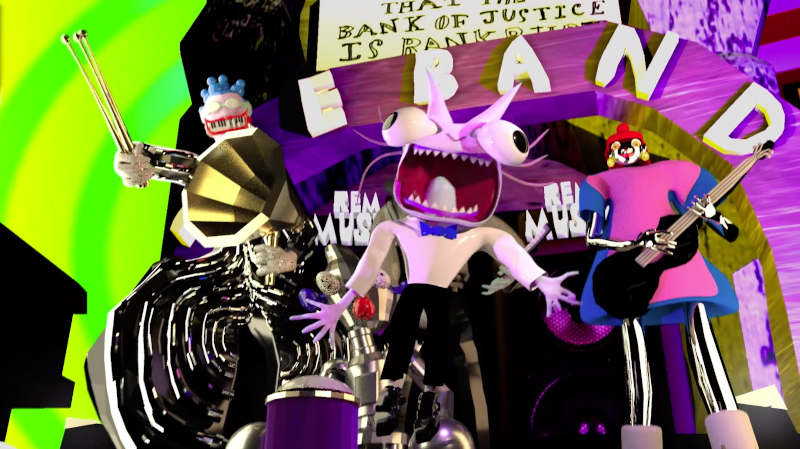 In recent years, the Adult Swim branch of Cartoon Network has introduced a radical and innovative range of new programming, much of it animation. In the UK, Adult Swim represents a really fresh, irreverent and darkly humorous platform for contemporary and experimental forms of animation. Their willingness to embrace new approaches, and to support young and up-and-coming artists and filmmakers, has meant that a breadth of new work is available to viewers, giving a voice to a new, often less-traditionalist generation of artists and animators, with new types of story to tell.
Adult Swim initially saw Wedge's work online and made contact directly via his website. Jack Wedge described how he has autonomy over the content and approach of his work. In particular, the Adult Swim Smalls programming system has enabled a real fluidity to the range of commissioned content, with the artist supported in making deeply experimental independent work that would not fit on more traditionalist platforms.
New York-based Wedge described how his key influences include cartoons, both hand- drawn and CG, and cites the artist Moebius as of particular relevance to his own creative development. The strong experimental looseness and vibrance in his work reaches back to German Expressionist painting, such as the vividly hued landscapes of Ernst Ludwig Kirchner.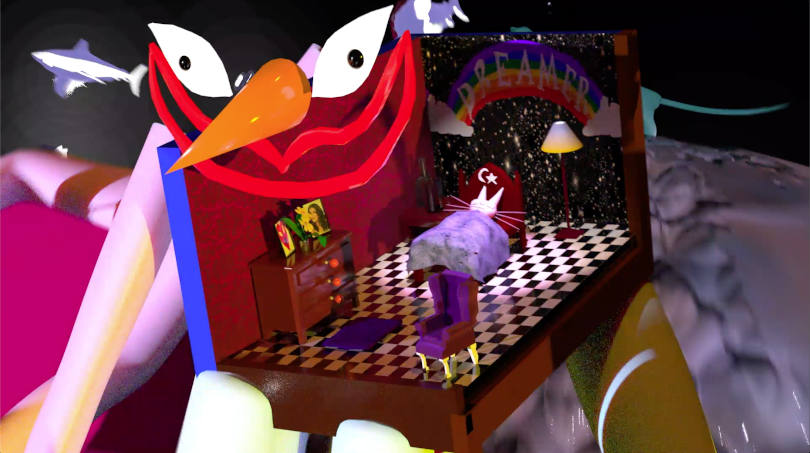 Initially self-taught, Wedge went on to study animation at Tisch School of Arts, at New York University. He explained that the rough and loose qualities in his work are an antidote to the perceived message that the 'inherent value in animation lies in its craft'. This theme, of rejecting a craft-oriented approach, leads to the animation developing more like a 1970s punk gig: an explosion of looseness, a frenzy of energy and discordant voices, in contrast with the pervasion of slickly-produced animated content.
Wedge has previously stated that the characters in his work inhabit one shared, overlapping world, and he has expressed his love of films with their own distorted rules and logic (such as David Lynch's Mulholland Drive). Across the breadth of Wedge's work, there is a glee to the fusion of characters and objects caught up within a weird, spiralling reality, exploring very Lynchian subconscious narratives such as in the film Inland Empire.
In 'Domo is Put in the Mail', the story begins in 2d, with Domo writing a love letter which he puts in the mail box. He then goes to sleep, and thus we enter his dream. Now in 3d, he awakes to a talking mailbox, and climbs inside an envelope, ready for posting. The world spirals sharply, vivid psychadelic colours drenching the landscape and characters, as the letter is now passed to a weird flying dolphin-creature. The letter is dropped from the sky into a toytown, where it is delivered to the object of his affections: Domo then wakes up. The work is irreverent, exuding a wild imagination, twisting and spiralling through a punky landscape.
In discussing his integration of 2d and 3d CG, Wedge explained that he wanted to retain the same looseness of character design within a wonky, brazenly textured world. There is a strong scribble quality to his drawing approach, linking back to the 1980s graffiti-influenced paintings of Jean-Michel Basquiat.
Other reference points for Wedge include the films of Charlie Kaufman, for their bizarre storylines: in particular, Kaufman's weird new film Cerebral, which follows a nonsensical, spiralling thought process. This sense of meandering, subliminal storytelling feels key to understanding Wedge's overarching approach of looseness and immediacy, and sits in opposition to more pre-determined animation, which typically follows a tightly planned narrative using storyboards.
There is a sense of trusting in immediacy, and a refutation of controlled pre-visualisation processes. This aesthetic of looseness makes for a punky, DIY aesthetic, highly accessible and bringing a certain anarchic spirit to invade a world populated by otherwise tightly controlled characters and stories across mainstream animation. Wedge described his approach to storytelling as futuristic, in a manner reminiscent of the films of Fritz Lang, such as Metropolis; the idea of making a historical story would be antithetical to his concerns; instead, Wedge seeks to tell stories which are set in the future, a reflection of our world not too far away from where we are now.
The German Expressionist influence can be located specifically in relation to the art movement Die Brucke, defined by a radical anti-traditionalist approach, using vividly unnatural colours and distorted, wonky forms, which ultimately resulted in emotively affecting art: this same aesthetic can easily be applied to Wedge's work. In addition, artists such as George Grosz, in depicting debauched and chaotic nightclub scenarios, reflected a seedy underbelly, and this adult-oriented approach informs Wedge's process.
Wedge also cites the Brazilian neo-Western, Bacarau, as a key reference point. The film contains a clear sense of genre-fusion and an embracing of wildness in the imagery and cutting of scenes, reminiscent of the Domo animations. Jack Wedge's animated work is a fresh and engagingly punky addition to contemporary animation, and it is exciting to watch such a fluid and irreverent approach alongside other new works on Adult Swim.
contributed by:Joseph Norman
SIGN UP: Want to read more free articles like this? Sign up for Our Newsletter
Read More About: