4 Animation Features for European Film Awards 2020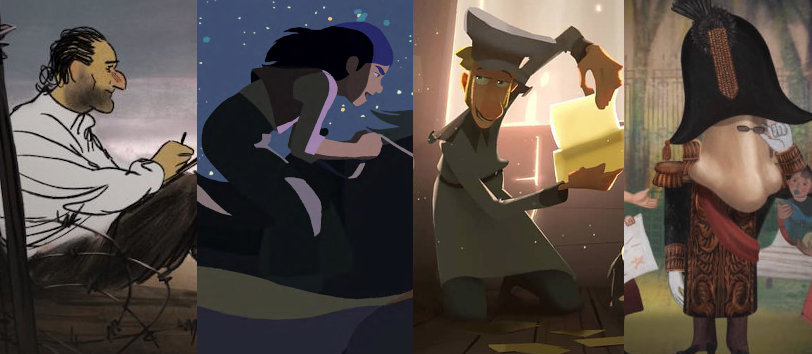 The nominations were determined by a committee comprised of EFA Board Member Béatrice Thiriet (France), director Anca Damian (Romania), producer Antonio Saura (Spain) and, representing CARTOON, the European Association of Animation Film, Diogo Carvalho (producer, Portugal), Camilla Deakin (producer, UK) and Norbert Laporte (institutional, Luxembourg).
NOMINATED ARE:
CALAMITY France, Denmark, WRITTEN & DIRECTED BY Rémy Chayé |
PRODUCED BY Henri Magalon & Claire Lacombe
1863, a convoy in the American West, Martha Jane needs to learn how to take care of horses to drive the family wagon. Except she ends up wearing pants and cutting her hair. The scandal that its stark character provokes will force her to face all the dangers in a gigantic and wild world where everything is possible.
Our film review

 JOSEP ,France, Belgium, Spain, DIRECTED BY Aurel
WRITTEN BY Jean-Louis Milesi | PRODUCED BY Serge Lalou
February 1939. Spanish republicans are fleeing Franco's dictatorship to France. The French government built concentration camps, confining the refugees, where they barely have access to hygiene, water and food. In one of these camps, separated by barbed wire, two men will become friends. One is a guard, the other is Josep Bartoli (Barcelona 1910 – NYC 1995), an illustrator who fights against Franco's regime.
KLAUS, Spain DIRECTED BY Sergio Pablos
WRITTEN BY Sergio Pablos, Jim Mahoney & Zach Lewis | PRODUCED BY Jinko Gotoh, Sergio Pablos & Marisa Román
ANIMATION BY Yoshimichi Tamura, Victor Ens, Sergio Martins, Charlie Bonifacio, Slaven Reese, Matt Williames & David Lamas Grimaldi
After proving himself to be the worst postman at the academy, a postman is posted to a frozen town in the North where he discovers Santa Claus is hiding out.
THE NOSE OR THE CONSPIRACY OF MAVERICKS (НОС, ИЛИ ЗАГОВОР "НЕ ТАКИХ"), Russia  DIRECTED BY Andrey Khrzhanovsky
WRITTEN BY Andrey Khrzhanovsky & Yury Arabov | PRODUCED Andrey Khrzhanovsky & Nikolay Makovsky
ANIMATION BY Stepan Biryukov, Yekaterina Boykova, Andrey Voloshin, Fazil Gasanov, Dmitry Ivanov, Natalia Marchenkova, Lidia Mayatnikova, Alla Soloviova, Anastassia Sembon, Mikhail Tumelya, Natalia Fedosova, Alexander Khramtsov & Varya Yakovleva
Stalin's reign of terror in Russia during the first half of the 20th century. Described using a combination of historical settings, biographies and masterpieces from Russian avant-garde artists, composers and writers from this totalitarianism period
The nominated films will soon be submitted to the more than 3,800 EFA Members to elect the winner. The European Animated Feature Film 2020 will then be presented at the virtual 33rd European Film Awards Ceremony.
SIGN UP: Want to read more free articles like this? Sign up for Our Newsletter
Read More About: