Swiss Animation Focus at Annecy Festival: A Comprehensive Guide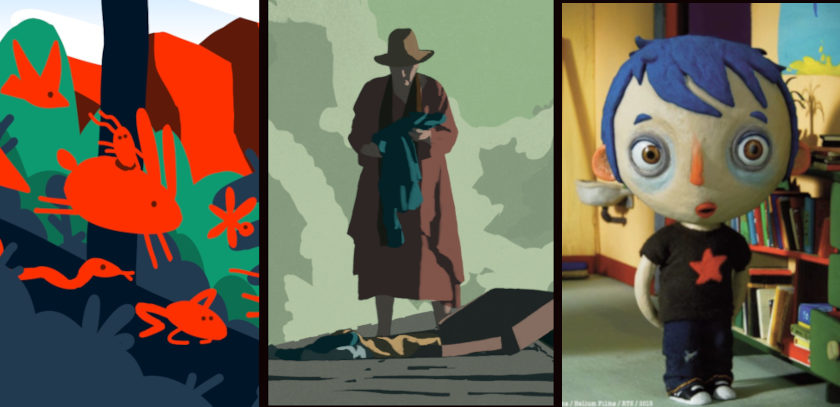 During the Swiss Films press conference (26 April 2022, Geneve), the Swiss agency responsible for the promotion of Swiss Cinema, the whole Swiss Animation Focus programme of the Annecy Festival was revealed. Switzerland had already been announced (during the 2021 award ceremony) to be the country in focus.
Hosted by Marcel Müller (Consultant films, VOD & Programmes), and with interventions by Annecy artistic director Marcel Jean and Fabien Géry (Annecy Deputy Mayor for Culture and Cultural Associations, in the presence of  Mickaël Marin (Annecy director) it looks like a well-rounded animation programme is underway, molding the old and the new, and the marketing aspect with the hardcore cinephile side of indie animation.
Swiss independent animation boasts authorial sensitivity (figures like Georges Schwizgebel and Gisèle und Ernst Ansorge loom large here); while it has seriously started to move to the more family-friendly sector as well -most eloquently after the recent success of 'Zucchini'. Currently, the animation studios in Switzerland like Nadasdy Film (Geneva), Helium Films (Lausanne), Studio GDS (Geneva), YK Animation Studio (Berne), CINÉ3D (Fribourg), Team Tumult (Zurich), Virage Film (Zurich), try to combine both approaches there.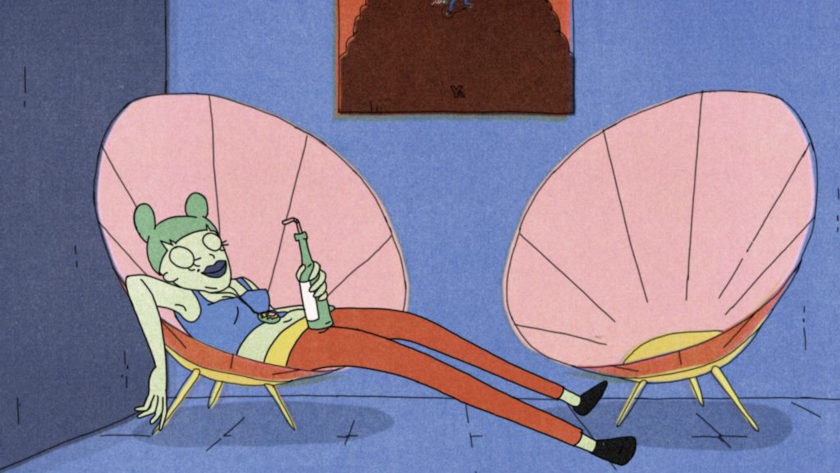 Little Miss Fate,  Joder von Rotz
This has been reflected in the recent connection between Annecy Festival and Swiss Animation was briefly sketched by Marcel Jean here. No longer than 6 years ago, Swiss director Claude Barras won the Crystal for a Feature Film (in 2016) for the eventually Oscar-nominated puppet film, 'My Life As A Zucchini'.The master of Swiss auteur animation Georges Scwhizgebel won the Honorary Cristal of the festival one year later -before a short film, 'Ecorce' by Samuel Patthey & Silvain Monney won (for the first time for a Swiss film) the Cristal for Best Short Animation Film at the 2021 Annecy Festival. This is what Marcel Jean called in his intervention 'the dynamism of Swiss animation filmmaking'.
Obviously, the first gift that we get out of the Swiss Focus is the Annecy Festival trailer, jointly prepared by Frederic Siegel (Team Tumult) and Marjolaine Perreten (Nadasdy Film). which combines young creators with a very large tradition.
Watch the Annecy Festival 2022 trailer
A stylish and quirky spot that follows suit the personalities of its creators.  4 Swiss Films in the Official Short Animation competition, and 13 Swiss animation films overall feature in the French festival lineup, coming from both veterans (Claude Lyuet) and newcomers (Jonathan Laskar) -scroll down for the full lineup.
In addition, no less than 14 programmes have been decicated to the Swiss Animation this year at Annecy (with the help of numerous institutions -including Fantoche (Baden), Animatou (Genève), Cinémathèque suisse (Penthaz), HSLU (Lucerne), GSFA (Zurich).
'Zucchini' has always been an audience favorite, but the Claude Barras 'Carte Blanche' programme reveals even more works than the Oscar-nominated animation feature. The Swiss director has directed seven animation short films (now currently developing two feature film projects). His own retrospective promises a more highlighted aspect to his work.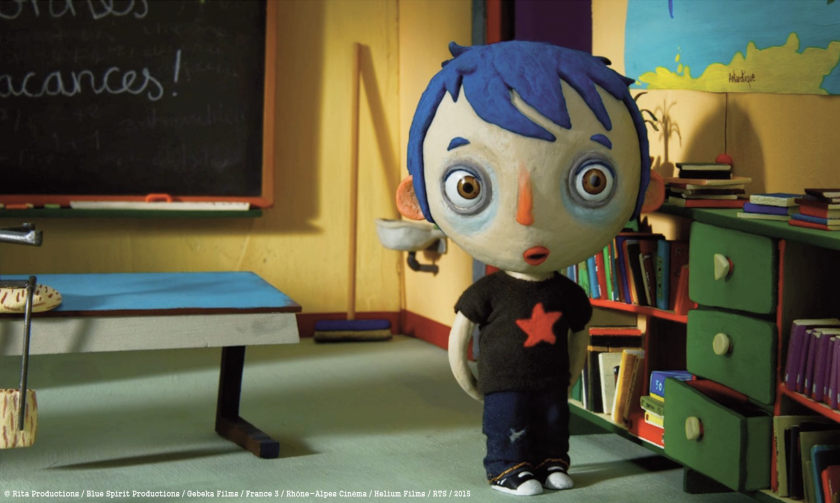 Isabelle Favez has a knockout stylish but also contentful directorial look; her own retrospective (which includes her latest short 'Lost Brain' will be presented during the festival.

Another Swiss animation director under the spotlight, Marcel Barelli (also interviewed here) knows how to mix nature, animals, and the laugh-out-loud funny situations in his animation shorts. His work inlcudes'Vigia' (2013), 'Lucens' (2015), and his most recent, LGBT short 'Dans la nature'. Marcel Barelli will be present to present his program and for a question and answer session
3 short animation programmes for adults, 'Crossings', 'Travels' and 'Transitions' are here scheduled, with an array of recent Swiss animation films, thematically presented.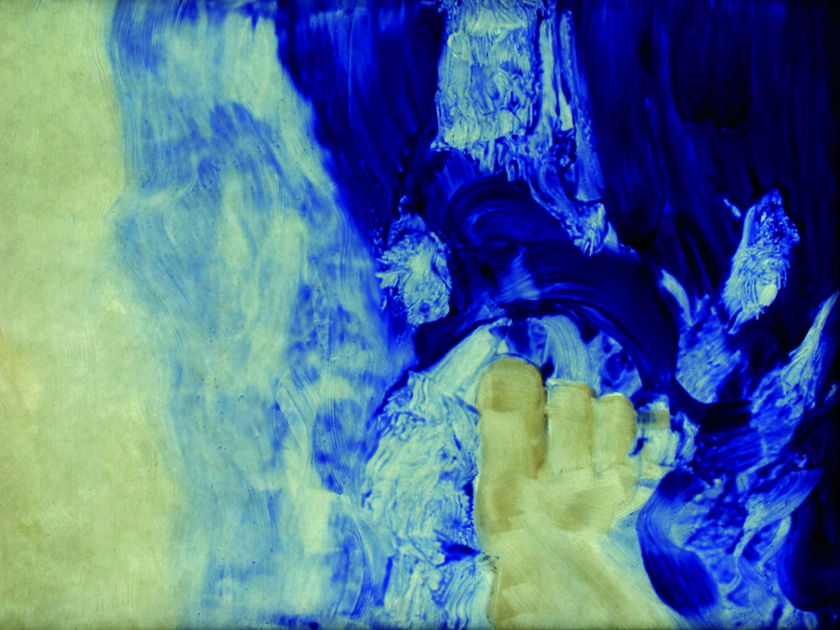 Miramare by Michaela Müller , part of the 'Crossings' tribute programme
History is equally catered for by the Swiss Animation Association (The Groupement Suisse du Film d'Animation), which has put together four film programs that turn the clock back to 1921. 41 films are here waiting for everyone's attention (both for children and adults).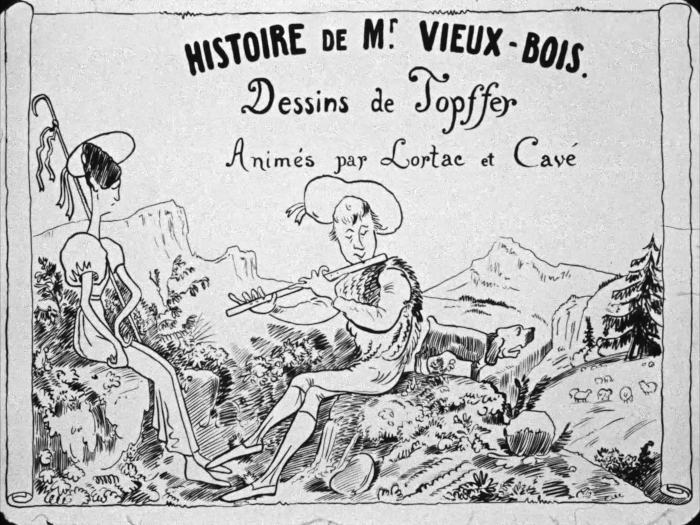 Histoire de Mr. Vieux-Bois, Lortac & Cavé (1921)
Fantoche and Animatou festivals, the two prominent Swiss animation festivals taking place in September and October dates respectively, have their own curated sections; Fantoche focuses on the Swiss experimental animation shorts.  A special programme of erotic animation devoted to animation historian Bruno Edera (and a previous collaborator of the Annecy Festival) will be curated.
The pioneer of German advertising, the Swiss-based Julius Pinschewer has produced over 700 advertising films before migrating to Switzerland in 1932 where he continued his career as a director. A special programme showcases his work (presentation: Pierre-Emmanuel Jaques, Professor of the History of Cinema, Lausanne University)
Gisèle and Ernest "Nag" Ansorge are a couple of animators who started out using animation as a therapeutic tool to treat patients with mental illnesses. They are best known for inventing a sand-based animation technique. Annecy Swiss Focus includes a tribute to their work (presentation: Chloé Hoffmann).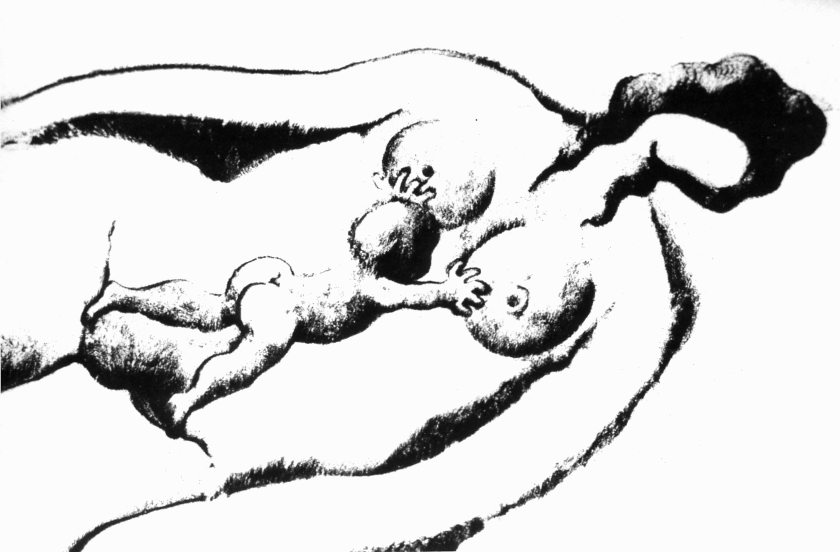 Anima, Gisèle Ansorge, Ernest Nag Ansorge

Georges Schwizgebel does not have a film in competition this year, but he will surely participate in the festive activities. The renowned director will give a cine-concert with his son, Louis Schwizgebel-Wang, at the Annecy Museum-Castle on Friday, June 17.
A photographic exhibition of Charlotte Desigaud dedicated to the shooting of the animated film 'My Life as a Courgette', directed by Claude Barras and Cristal of the feature film in 2016. As part of the exhibition event, Gilles Paris, the author of the novel "Autobiography of a Zucchini" from which the film is adapted, will attend.
Double Trouble: a really fine initiative of combining a short with a feature animation. The short film 'Sur le pont' by Samuel Guillaume & Frédéric Guillaume (production: Ciné3D & Andolfi) will be combined with the feature film 'Red Jungle' by Zoltán Horvath & Juan-José Lozano (production: Intermezzo Films & Dolcevita)
'Sur le pont': Women and men board a mysterious train that takes them to a suspension bridge between heaven and earth. Each one lives in its own way this state of on the edge of a dream, as during a rite of passage towards a presumed end.
'Red Jungle': Raul Reyes, FARC's number 2, died in 2008 under the weight of bombs dropped by the CIA and the Colombian army. In the devastated camp, among the corpses, computers with ten years of correspondence of the man who served as foreign minister of the oldest communist guerrilla in the world. An open door in the heart of the sinking of a revolutionary utopia that in its final hours has become a nightmare.
This will be the feature film's French premiere during Annecy Festival 2022.
The full line up of Swiss animation films in the Annecy competition

Short Films in Competition
Lucky Man, dir Claude Luyet (Production: Studio GDS)
A man plays and wins. He's euphoric, but... A different game, a different winning player. Nature shows its presence. In the end, the praise of slowness.
Miracasas dir Raphaëlle Stolz and Augusto Zanovello (Production : Nadasdy Film)
A corpse participates in the grand opening of a cemetery against his will. Facing his own death, he starts to appreciate life and tries to inspire the villagers, who are so intrigued by death that they're neglecting life itself.
The Record, dir. Jonathan Laskar (Production : Papier perforé),
A traveller gives an antiques dealer a magic vinyl record: "It reads your mind and plays your lost memories". Obsessed by this endless record, he listens to it again and again.

The Invention of Less, dir. Noah Erni (Production : Studio uuuh!)
Due to global warming, a young polar bear has to leave her home in summer 2031 and move to Zurich. She tries to make a living until she suddenly has an idea that will change the world forever.
Student Films:
Mosaic, dir Eleonora Berra (Production: Peacock Film AG, HSLU)
Three beings are paving the floor of a cave with gemstones. After an accident, they see each other in broad daylight for the first time and realize that parts of their skin sparkle, except for one of them. A conflict emerges.

Boddyssey, dir Jonas Bienz (Production: HSLU)
This is a journey through a surreal landscape covered with human skin. Processes of birth and growth, death and decay show the downfall of a curious ecosystem.

Manchmal weiss ich nicht wo die Sonne / (Sometimes I Don't Know Where the Sun), dir Samantha Aquilino (Production : HSLU)
A lobster, a cat and a deer. Dangerous rebels. A human. He wants connection. He comes across the deer. He meets the cat. Rejection. Our human follows the way of the sun, to reach the animals.
Short Films (Young Audiences)
La Reine des renards , dir. Marina Rosset (Production : Marina Rosset)
In the hopes of seeing their Queen smile again, a group of foxes rummage through the city's trash, searching for all the love letters that were never sent.
Paolos Glück (Germany / Czech Republic / Switzerland), dir. Thorsten Drößler & Manuel Schroeder (Production : Filmvermögen, Dschoint Ventschr, Maurfilm)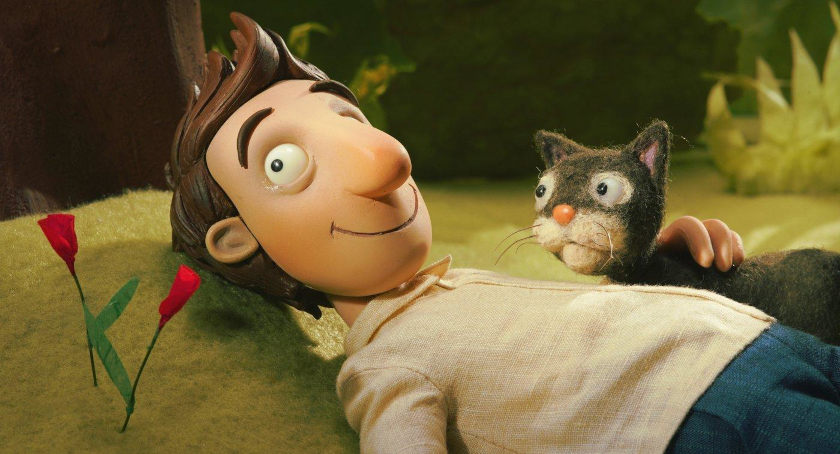 Paolo Piangino is a very happy man because he is able to cry. He cries at stories whether they have sad or happy endings. Paolo's tears make other people happy too. They can pick Paolo's happiness as if it was a flower, but they can't hold on to it.
Short Films (Off Limits)
Arrest in Flight, dir. Adrian Flury (Production : Adrian Flury)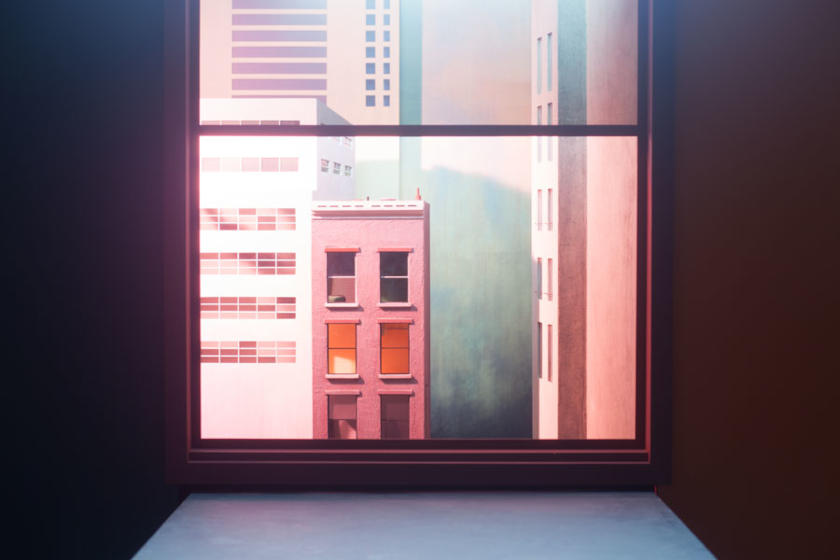 This film experiment focuses on the non-obvious character of movement when transferred to an alien object thus endowed with the life derived from the movement's true-to-life source.
'Intersect', dir. Dirk Koy (Production : Dirk Koy, Bild und Bewegung)
This is a visual investigation of the interface of the real and virtual world in 5 chapters. Digital interventions are made using natural surfaces.
Short Films (Perspectives)
'Idodo' (Switzerland/US/ New Guinea), dir. Ursula Ulmi (Production : Ulmi Film)
Based on a legend from Papua New Guinea, where the director was born, the film features the colors of reef fish. A unique & dedicated collaboration between artists from Papua New Guinea and Switzerland.
TV Films
Giuseppe, dir Isabelle Favez (Production : Nadasdy Film, Les Films du Nord)
In spite of the scary legends of what happens to hedgehogs that don't hibernate, Giuseppe decides not to sleep this year. But this winter, the snow doesn't arrive as expected. So Giuseppe and his two rabbit friends are going on a quest to find snow!

Τhe MIFA Swiss pavilion this year (as told by Vero Encranaz, during the press conference) will have an enhanced presence, from Tuesday 14 June. Co-production meetings and networking events to follow, including the all-necessary Swiss cocktails party. The opening night of MIFA will be in the colors of Switzerland (in partnership with HSLU (University of Lucerne), the Swiss Embassy, SWISS FILMS, and Présence Suisse).
But, of course, Swiss animation projects in the Annecy MIFA market are also present. Two selected Swiss projects pitched in the XR space of Mifa: 'Sunset Motel' (Category Digital Experiments), directed by Gilles Jobin, based on the graphic work of Thomas Ott.
Check also 'Amazing monster! (Category Digital Experiences), written by Raphael Penasa and Allison Crank, based on an original idea by Jonathan Droz. In addition, an XR pitch session will be organized in partnership with the Geneva International Film Festival in the same MIFA XR space.
Last year's Annecy Cristal winner, Samuel Patthey, co-director of 'Écorce', will talk about his experience in the production of the film (17 June).
Check out an excerpt from Patthey's previous interview with Zippy Frames:
A number of Swiss festival programmers will also have the opportunity to meet with film institutes from all over the world, in the framework of the 'Meet the festival programers' event, in order to highlight Swiss short films and feature films and thus contribute to their good distribution in the world.
Georges Schwizgebel, Isabelle Fave, Matilda Tavelli (artistic director of Animatou), Claude Barras, Marcel Barelli, Mariama Balde, Michael Frei,Raphaëlle Stolz, Frédéric Guillaume,Saskia von Virág, Claude Luyet, Zoltán Horvath will be present during the 2022 Annecy Festival.
There's definitely time to learn more about Swiss Animation. Zippy Frames has its own stories to tell, with its Swiss Animation Portraits 2022 theme starting soon to unroll -up to the Annecy Festival dates.
Annecy International Animation Film Festival takes place 13-18 June 2022
SIGN UP: Want to read more free articles like this? Sign up for Our Newsletter