News
Uli Meyer campaigns for The Animated St. Trinians
St. Trinians was a cartoon series created by the British cartoonist Ronald Searle (1920-2011). The first cartoon appeared in 1941, and depicted a British boarding school for girls unlike any other. Pupils are wicked and armed, and scenes of murder, violence and gambling were frequent.
 4 books were published between 1948 and 1953, and some live-action films were produced, with mixed reviews.
 In 2010, shortly before he died, Ronald Searle granted Uli Meyer permission to make an animated film with his iconic characters, provided that it would be hand-drawn, with pen and ink. Searle was persuaded after watching this animation test.
 Uli Meyer is now planning to make a 30-minute featurette on St. Trinians.
However, production is slow since funding proposals suggest the film should be 'lighter' and 'less dark'. If those suggestions were adopted, it would only damage the film's identity and integrity. Therefore, Meyer and his producer Jamie K. Bolio are organizing a LA Kickstarter campaign in the next few months. The film production will take place at Uli Meyer Studios in London, UK.
Visit Uli Meyer's Animated St. Trinian's blog for more details, and spread the word.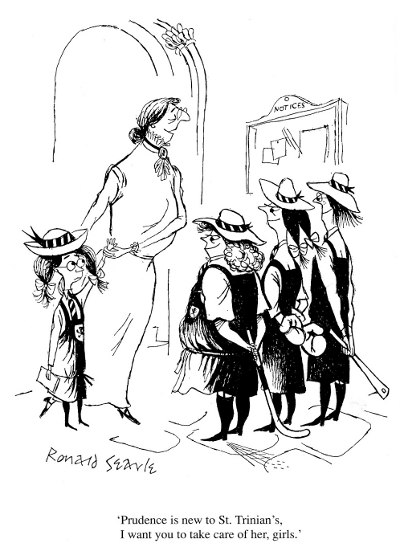 Read More About: