News
The 20 Best Indie Animation Features of the 2010s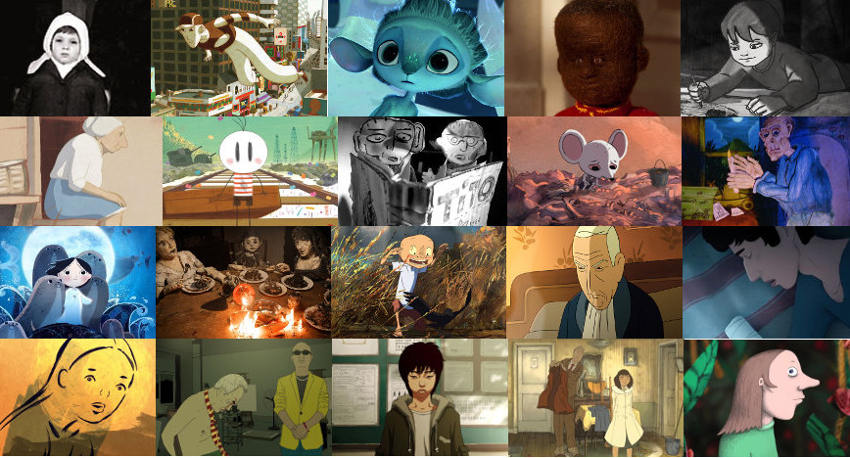 It's that time of the year and the decade.  European animation and independent animation feature films are now talked about, participate in big festivals, are Oscar-nominated (yet almost never win), and they definitely need to be taken into account.
For our decade review, we considered films from 2010-2019 coming from Europe and the independent animation world in general. Japanese anime was here excluded (the number and the scale of production merits a different list), but Asian films otherwise were considered.
Those careful enough will notice the omissions, which include films already awarded / nominated / otherwise acclaimed. Here decisions had to be made, and the list is not governed by awards/nominations considerations, but by the skill to communicate successfully your clear and distinct vision all along the length of the feature film format. Yet the fact that the following films didn't make it to our list, this is no reason you shouldn't watch them -they are worthwhile films of this decade.

So, here's a shout-out (among others) to A Cat in Paris, Adama, Alois Nebel, Another Day of Life, Buñuel in the Labyrinth of the Turtles, Cafard,  Chico & Rita, Ethel & Ernest,  Ernest & Celestine, My Life As A Zucchini, My Mommy is in America and she met Buffalo Bill,  POS ESO, Sabogal,The Apostle, The Breadwinner, The Red Turtle, Τhe Stressful Adventures of Boxhead and Roundhead, Truth Has Fallen.
Our list reveals a polarization between films for children and films definitely for an adult  or arthouse audience. We didn't want to separate the two: storytelling is storytelling, no matter which way you decide to bring it forward. Films for children will continue to be made, and now more political films and animated documentaries are being made - a product that started with Persepolis and Waltz with Bashir, and continues up to the present decade.
We particularly like that young directors (some of which in their first feature project) co-exist with established and veteran directors; also, the rise of stop-motion and the 2D look (even for films made in 3D) is non-negligible. Short animation films have their own tradition and and establishment, yet European and independent feature animation looks like a child needing all our attention to grow up. And we should let it grow, otherwise formulaic products are all too ready and prosperous to capture the hearts and minds of real kids.
The 20 Best Indie Animation Features of 2010s
20. The Wolf House by Joaquín Cociña and León Cristóbal (Chile, 2018)
A stop-motion film that exposes its artistry from frame 1. Detailed, disturbing and painstakingly scrupulous in its depiction of 'house' troubles, it takes its inspiration (and its prologue) from Anna, a disobedient girl from a German idyllic community in Chile; Anna finds herself a shelter in the woods, only to becomes entangled in a nightmare involving two escaped pigs and the house itself. Unwavering in its artistic treatment, The Wolf House very obviously (yet cryptically) mirrors political plights in the recent Chilean history. It is visceral, unsettling and true.


19. Mune: The Guardian of the Moon by Alexandre Heboyan and Benoît Philippon (France 2014)
3D characters usually come associated with cheap thrills and dazzling (but unnecessary) visual effects. Not in Mune: The Guardian of the Moon, a fantasy fairy tale where both day (sun) and night (moon) need to be saved by an unlikely hero. All characters are more part of the team than superheroes, operating in a visually inspired environment that gives the fantasy genre a distinct touch.
18. The Illusionist by Sylvain Chomet (France / UK, 2010)
A love letter to Jacques Tati, Sylvain Chomet's second feature film after The Triplettes of Belleville really solidified the impression that there is room for 2D animation in the already exploding CGI world (and got another Academy Award nomination). As meticulous in its handling of details and as persistent in its silence of its main characters, its nostalgia vibes are still potent.


17. Tito On Ice by Max Andersson and Helena Ahonen (Sweden  2012)
A zombified and mummified but harmless Marshal Tito parades former Yugoslavia, in a hybrid of documentary and stop-motion; yet the film by Max Andersson and Helena Ahonen is something more than an animated documentary, is a statement about how to re-animate a person, a place and a situation long gone, and what comes of it. The travelogue that explores borders and art is as relevant today as it was back in its original release.
16. Wrinkles by Ignacio Ferreras (Spain, 2011)
Animation usually cares for the young, but in Wrinkles it cares for the old. Wrinkles by Ignacio Ferreras (based on the graphic novel by Paco Roca) breaks the taboo subject-matter of ageing, and gives a sincere, bittersweet and heartbreaking account of being old and helpless. Emilio, a former bank manager,  is now being dropped off at a nursing home, at his early Alzheimer's stage. The whole film taking place inside the nursing home and its inhabitants it is a solid reminder that animation can really alleviate what otherwise be an almost unbearable topic to watch; alternate between reality and dreams almost indistinguishably, and bring back the warmth inherent in all things, good and bad.
15. Chris the Swiss by Anja Kofmel (Switzerland / Croatia/ Germany / Finland, 2018)
An integrative hybrid of live-action and animation, Anja Kofmel's investigating essay on young people and their impulse to join the war moves between narration, recreation and interviews. The subject-matter is her uncle Chris, a young journalist to fight  and die in the recent Yugoslav wars; her treatment is solid, and so is the film's animation; the outcome is a strong piece relating to one of European history's recent horrors.


14. Phantom Boy by Jean-Loup Felicioli and Alain Gagnol (France 2015)
It seems to have been overshadowed by their first animation feature attempt, A Cat in Paris (2010); yet, the sophomore animation feature by the French directing duo has the same ubiquity of colored film-noir aesthetics, coupled with a silent dramatic anguish for the fate of its main character; a boy who cares to become a superhero. A difficult combination, but the film pulls it through in an excellent manner.
13. The Boy and the World by Alê Abreu (Brazil, 2013)
Sometimes, it takes a daring move to go back to the basics. This is what Alê Abreu did by showing a class stuggle in stick figures, enchanting backgrounds and soundtrack and a desire to live together. A kid looks for his father in the big city, and he becomes immersed in a symphony /cacophony of sounds and images. A primer that has already inspired young animators worldwide, The Boy and the World is its own, sincere testimony against an age of effects loudness and meaningless pop-cultural testimonies.


12. Crulic, The Path to Beyond by Anca Damian (Romania / Poland, 2011)
The very essence of an animated documentary, in which issues of liberty and European integration find their total failure in the true story of Romanian Claudiu Crulic. The story of a young man charged for a theft in Krakow, and ultimately dying as a result of hunger strike is here treated from a first-person perspective (post-death witness); Anca Damian uses all available forms of animation (cut-out, drawings, photos among them) as evidence: the audience becomes the jury in this sardonic tale of European consciousness.


11. Song of the Sea by Tomm Moore (Ireland / Belgium / France / Denmark / Luxembourg, 2014)
If Irish forests were the first to explore in The Secret of Kells, Tomm Moore's sophomore feature effort in Song of the Sea takes up the vast seascape ; and the stunning background and aesthetics is not the only reason to celebrate. Ben and his sister Saoirse (who still won't speak, but could sing) investigate forms of storytelling; the perennial separation between the reality of facts and the fantasy of the stories here finds its most exquisite expression. It's storytelling and art which will save the world, and it is this pertinent belief that really gives the film a lasting status for this decade -and more.


10. Have A Nice Day, Liu Jian (China, 2017)
Liu Jian made a politically non-standard (to put it mildly) work of art about China, ostensibly withdrawn from Annecy Festival. Making use of the Tarantino style and narrative -and its offbeat humour and quasi-philosophical rants, Have A Nice Day is a slick reminder (also in its drawing style) what an exclusively market world would give back to its devotees. Starting with a boy who steals money to get his girlfriend a plastic surgery in South Korea, a parade of characters make our modern world a pretty bad place to be in -save for the music.
9. Rocks in my Pockets Signe Baumane (US, 2014)


The very definition of a self-made independent feature animation, one in which you can almost see the artist drawing the sketches before presenting them to the public. Self-described as a "funny story about depression", Signe Baumane bravely and imaginatively adopts a first-person perspective to talk about the plights and exceptional courage of five women. Her locus is a distorted, patriarchical, Eastern Europan / American society, and her focus is always transition: how do you navigate throughout time, space, and sanity. Coming before the #metoo movement was ever adopted, it is a surrealistic and poignant tale of empowerement that it is an essential element of this decade.
8. The Girl Without Hands by Sébastien Laudenbach (France, 2016)
A bare-bones approach to matters of love, faith and persistence (the same way its the main character is), the 2016 film by Sébastien Laudenbach is one of the most eloquent sketchy designs in feature animation in years. Based on a lesser-known tale by Brothers Grimm (a girl pursued by the devil himself away from society and happiness), it enters boldly both the world of fairy tale fantasy and the reality of choices to be made. It is this combination of ethereal but persistent visuals and the woman who needs to be more than the sum of her parts that give the film its continuous allure.
7. Psiconautas (Birdboy: The Forgotten Children) by Alberto Vázquez and Pedro Rivero (Spain 2015)
An impressive graphic menagerie accompanies a tantalizing script in the disturbing, but very true, post-apocalyptic, eco-horror fantasy of Soul Searchers (Psiconautas). The forgotten children Birdboy and Dinky need to travel amonst family and societal abuse for a moment of happiness. If Disney's world promises false redemption from the start, Alberto Vázquez and Pedro Rivero's opus promises true suffering from moment zero. If nightmares were as colorful, they would have the visuals of Psiconautas.
6. Day of the Crows by Christophe Dessaint (France/Belgium/Luxembourg/Canada, 2012)
Taking elements from the Miyazaki universe, but tending to be between the real and the fantasy (instead of a full-blown fantasy), The Day of the Crows rests on our identification with the world of savagery and civilization at the same time. Constructed as a full-blown drama, it reserves its aesthetics in the cinematography and the gorgeous-lit exteriors, without missing a bit of a human needing to become a compassionate person and being. An epitome of the journey towards the adult life, its limitations and compromises, and its acts of redemption.
5. This Magnificent Cake! by Emma De Swaef and Marc James Roels (Belgium / France / The Netherlands, 2018)
A production and distribution gamble in its 45-minute screening time, the first mid-length feature of the creators of Oh, Willy! paid off. Our need to be connected to our old ancestors and then be utterly disgusted by their actions, made this tragicomedy of Belgian kings and a fitting tale of cultural gap as the second decade of the 21st century moved towards its end. Stop-motion movement is here contrasted with grand spaces, and deadpan humour accompanies an envied environmental sweetness. An animated treasure to watch.
4. Consuming Spirits, Chris Sullivan (US, 2012)
There are dysfunctional families, and there are the characters of the 15-years-in-the-making Chris Sullivan's harrowing but totally sincere opus Consuming Spirits. The three cut-out characters of the Daily Suggester newspaper of Magguson town won't really dare to dream much; they hate their present, and are irrevocably stuck into their own, hand-drawn past. The fact that Sullivan gives its characters an illusion of change (helped by a menagerie of animation tropes) doesn't hide the fact that truth can be both complex and inevitable. Hypnotic in its unfolding, Consuming Spirits is a more than sober treatment of small-town lost hope, perfectly executed.


3. I Lost My Body by Jérémy Clapin (France, 2019)
Another first feature effort, here by the director of Skhizein, Jérémy Clapin. The mesmerizing story of a lost hand in I Lost My Body has quickly become both a festival hit (starting from the Cannes Critics' Week victory) and a critical sensation, outside the animation world. It is deserved, for Clapin never sacrifices his vision to enter into a more 'mainstream' feature film format. I Lost My Body is a definite arthouse film, which seeks genuine contact (bending its 3D characters to a 2D look) instead of flashy concerns. The world of the pizza delivery boy Nouafel Clapin describes feels abandoned and solitary, yet very real at the same time. Nothing is wasted in this impressive film.
2. The King of Pigs by Yeon Sang-ho (South Korea, 2012)
Violence can be a fortuitous element, but there's nothing fortuitous in this gut-wrenching study of human animality in Yeon Sang-ho's 2013 work. Former schoolmates Kyung-min and Jong-suk have past reasons to be together and present dangers to confront. Taking issue with a deeply entrenched class hierarchy in Korean society, The King of Pigs proves that a corrosive influence will leave no stone unturned, including interpersonal relations and friendships. No one is safe in this new, 21st century world.
1. Louise by the Shore by Jean-François Laguionie (France, 2015)
It is almost a cultural crime that the heart-wrenching animation feature by French veteran director Jean-François Laguionie did not get the recognition it deserved in major animation festivals and events. The self-abandoned old lady Louise in the Bretagne shore waits for the summer to come back, yet her mind wanders around. Looking back and forth in time, Jean-François Laguionie paints his thoughts in a visual palette that in turn brings more thoughts, in a never-ending cycle of longing, remembering, forgiving and then contemplating. And at the same time, this 2D effort is as vigorous as penetrative. Louise by the Shore perfectly captures the essence of a decade of animation constantly looking back for inspiration, where old and new would (hopefully) happily co-exist.  An exceptional work.
Vassilis Kroustallis
This story first appeared on Zippy Frames animation news magazine (zippyframes.com). You can always share its original article.To reproduce its content in professional media, please email This email address is being protected from spambots. You need JavaScript enabled to view it.
SIGN UP: Want to read more free articles like this? Sign up for Our Newsletter