Animafest Zagreb 2024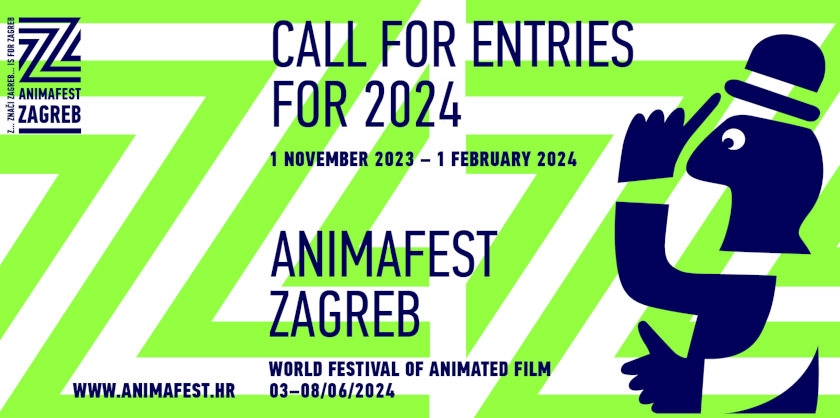 Category
ANIMATION & FILM FESTIVALS
Deadline | Event Dates (period)
Email
This email address is being protected from spambots. You need JavaScript enabled to view it.
Final submission deadline
2024-03-15
Submission/Registration Fee
No
Festival Description:

The World Festival of Animated Film – Animafest Zagreb, established in 1972, is the second oldest film festival in the world completely dedicated to animation. Launched thanks to the global reputation of the filmmakers sprung from the Zagreb School of Animation, founded based on the decision of ASIFA, International Animated Film Association, Zagreb Film production company, and the City of Zagreb, Animafest Zagreb takes place every year early in June. Until 2005 the festival was held biennially and afterward continued in the annual rhythm, devoting even years to short films and odd years to feature films. After Zagreb Film and Zagreb Concert Management, in 2007 the festival organisation was taken over by the private production company Hulahop with the aim of further development and balancing the programme with the requirements of contemporary tendencies, approaching broader audiences and providing added values to professionals.
Animafest Zagreb always has been, alongside festivals in Annecy, Ottawa, and Hiroshima, a part of the obligatory circuit in the animation community's calendar. Animafest's Grand Prix winners directly qualify for the Academy Award and the European Animation Award.
Since its establishment in 1972, this festival and its competitions, retrospectives, presentations, exhibitions, pitching forums lectures, awards, panoramas, workshops and all other additional events have consistently influenced and greatly contributed to their city's artistic life, as well as promotion of animation art throughout the world.

This is a festival by the filmmakers for the filmmakers. Creative animation, in all its different forms – from traditional drawings, to stop motion, CGI, to most experimental cross-media explorations – has been the focus of attention since the very beginning Daniel Šuljić
, Art Director
2024 Call for Entries
Short films (maximum running time 40 minutes) can be submitted to the following competition categories:
Short Film Competition
Student Film Competition - films produced in an educational institution (art schools and film schools)
Films for Children Competition
Croatian Film Competition - films whose majority producer is Croatian and/or films by Croatian directors.
Feature films (minimum running time 40 minutes) can be submitted to the following competition category: Feature Film Competition
VR/360/interactive projects can be submitted to the following competition category: VR Animation Competition - open to immersive works (created for the Oculus, HTC Vive, or Samsung Gear VR) that include animation as the main component

Films compete for awards that are given by international juries. There is no entry fee.
The submission deadline for short films in all categories is 1 February 2024.
The submission deadline for feature films and VR projects is 15 March 2024.
2023 Festival Coverage
2022 Coverage
2021 Coverage
2020 Festival Coverage
2019 Festival Coverage
2018 Festival News:
Event Dates
From

03/06/2024

to

08/06/2024